Bolt Locks displayed two new locks at SEMA that feature the company's popular single key technology.
The Fifth Wheel King Pin Locking System works in conjunction with Bolt Locks' 5/8-inch Receiver Lock, which is sold separately, to prevent fifth wheel trailer theft.
"The Fifth Wheel King Pin Locking System was developed to expand the uses for our very popular 5/8-inch Receiver Lock," said Erika Garcia, Bolt Locks' national sales manager. "Adding our new King Pin Locking System to our 5/8-inch Receiver Lock enables users to secure anything that is being towed with a fifth wheel type receiver, ramping up security for either work-related or recreational towing applications."
Bolt's King Pin Locking System features a U-shaped black powder-coated, hardened steel collar that wraps around the Fifth Wheel King Pin and attaches to a Bolt 5/8-inch Receiver Lock to securely hold the fifth wheel in place in the bed of the pickup.
Together, the system acts as a visible theft deterrent, allowing the trailer to be secured with the owner's truck key.
Next up is Bolt Locks' highly visible Off-Vehicle Coupler Lock, which secures a trailer when it's not attached to a vehicle.
Made of hardened steel for extra security, the Off-Vehicle Coupler Lock works with 1 7/8-inch, 2-inch and 2 15/16-inch couplers to keep a variety of trailers secure while unattended.
"We have a hardened stainless strap that goes into a hardened plate on the bottom. It's powder-coated red to ensure high visibility," explained Steve Gilles, director of new business development at Strattec, Bolt Locks' parent company.
In addition to being a visible theft deterrent, the lock is designed with a unique plate tumbler sidebar to prevent picking and bumping. A highly durable powder-coated finish is factory applied to the lock to keep dirt and moisture out while protecting the locking mechanism from harsh weather.
Both the Fifth Wheel King Pin Locking System and the Off-Vehicle Coupler Lock feature Bolt Locks' patented one-key lock technology that permanently programs locks to the vehicle's ignition key for single-key use no matter how many Bolt locks are being used.
The lock is easily programmed the first time the ignition key is inserted into the cylinder through the use of spring-loaded plate tumblers, which move up and down to code the cylinder to that specific key.
Toro introduces bagger attachment, premium fuel
Toro is offering a new bagger attachment for the GrandStand and GrandStand "MULTI FORCE" stand-on mowers. The Powered Bagger attachment is compact in design – a side-mounted soft twin bagger and vertically mounted blower allow for excellent maneuverability in tight spaces and maximum visibility during operation, Toro says.
"Having a machine that can perform year-round, in the case of the MULTI FORCE model, helps drive a strong return on investment for landscape contractors," said Chris Hannan, Toro senior marketing manager.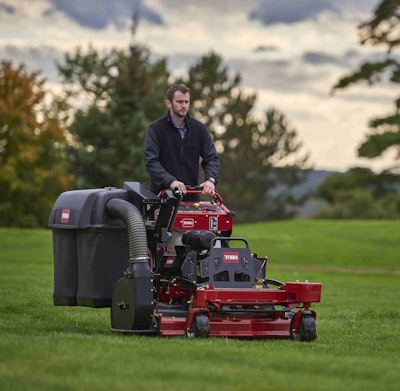 The Powered Bagger boasts a 10-cubic-foot (8 bushel) capacity, ensuring fewer trips to empty the bags. In addition, the top cover of the bagger attachment opens easily for simple access to the bags and the quick release design allows operators to switch from bagging to side discharge.
In an unrelated news release, Toro also announced recently its introduction of four-cycle and two-cycle ethanol-free fuel to maximize the life of outdoor power equipment. The company now offers ethanol-free, 92+ octane All Season Fuel to improve equipment performance while minimizing wear and tear on engine parts.
Toro says the new engineered fuel is ideal for a broad range of lawn care and snow removal equipment.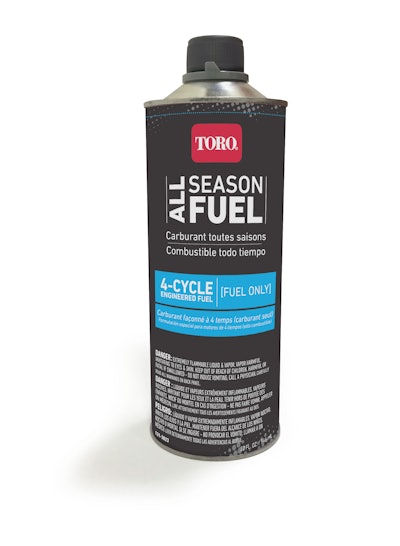 Maintenance-saving features of the new All Season Fuel include a powerful detergent to help prevent deposits, an integrated stabilizer to prevent corrosion and friction modifiers that lubricate engine parts while increasing fuel economy.
All Season Fuel is specially formulated for long-term storage and will not degrade or oxidize like typical gasoline, Toro says. The two-cycle fuel is premixed with premium full synthetic oil at the proper ratios to eliminate fill errors and save time. Both the two-cycle and four-cycle formulas feature a 2+ year shelf life after opening.
The suggested retail price for Toro All Season Fuel is $6.99 per quart.
TRP brings out new lubricants, engine oil
TRP has expanded its product offerings to include a full line of lubricants for all makes of trucks and buses, the company says. TRP says its industry-leading, premium-grade products enable owner/operators, fleet managers and equipment maintenance managers to further extend the longevity of their vehicles.
TRP Engine Oil, TRP Synthetic Transmission Oil and TRP Synthetic Gear Oil are the newest additions to the TRP global catalog of more than 110,000 parts. Each is formulated to guard against wear and corrosion in demanding applications, the company says.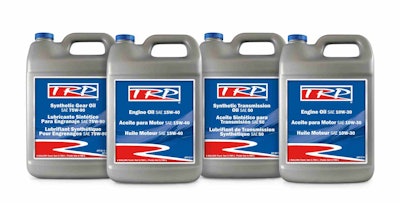 TRP Engine Oil (SAE 15W-40 and SAE 10W-30) is perfect for a mixed fleet, according to TRP, not only protecting today's four-stroke diesel and gasoline engines but also keeping older engine models running smoothly as well. The oil is made to combat the sludge, varnish and ash deposits that can occur at high operating temperatures, while also protecting against oxidation, corrosion and rust.
TRP Engine Oil also provides Diesel Particulate Filter protection, resulting in longer DPF life, the company says.
TRP Synthetic Transmission Oil (SAE 50 Synthetic) is for all-climate, year-round protection of heavy-duty manual transmissions.
TRP Synthetic Gear Oil (SAE 75W-90 Synthetic) is recommended as a rear axle and differential oil in over-the-road and off-road vehicles. TRP says it's as crucial to the reliability of a heavy-duty vehicle as its engine or transmission lubricant.
EDITOR'S NOTE: The staff of Hard Working Trucks, a sister publication, contributed to this report.