Veterans Day seems like an appropriate time to remind landscapers that Project EverGreen will mark National SnowCare for Troops Awareness Week Nov. 13-20.
When the temperatures start to plummet and the winds begin to blow, homeowners know it's time to make sure the snow blower starts and that they have a shovel or two handy for the first winter blast.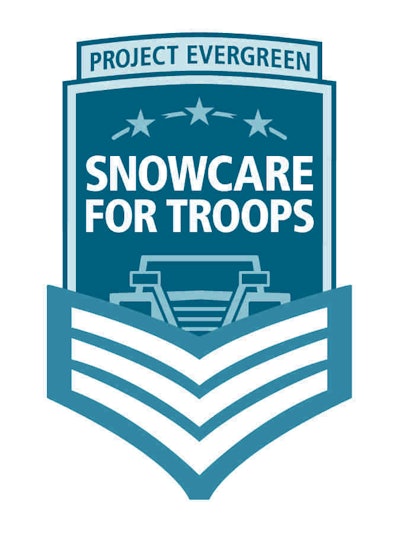 For families of deployed military personnel and post 9/11 veterans with a service-connected disability, clearing driveways and sidewalks of snow and ice can be a real challenge. That's why Project EverGreen, in partnership with BOSS Snowplow, established the SnowCare for Troops initiative in 2010, providing free snow and ice removal services to these deserving individuals.
Throughout next week, Project EverGreen will be spotlighting efforts of the initiative's volunteers, as well as the military families and wounded and disabled veterans the program serves.
Now in its seventh year, SnowCare for Troops has seen more than 5,000 military families and 1,500 snow removal contractor volunteers across the country registered to either receive or provide services.
"SnowCare for Troops provides military families with peace of mind and lifts a significant burden from their plate," says Cindy Code, executive director of Project EverGreen. "We're very grateful for the commitment of our dedicated volunteers and the continued support from BOSS Snowplow. The leadership they have demonstrated in support of military families goes above and beyond the call of duty."
BOSS Snowplow's director of marketing, Mark Klossner, said the company is "passionate about supporting active and disabled veteran members of the Armed Forces in whatever way we can."
The nonprofit Project EverGreen stresses that more volunteers are always needed for SnowCare for Troops. In particular, Fort Drum, New York, and Groton, Connecticut, are two high-demand service areas. Snow removal contractors, able-bodied veterans or anyone with a shovel is encouraged to volunteer.
For more information on how to volunteer or sign up for Project EverGreen's SnowCare for Troops, visit www.ProjectEverGreen.org.