Electric mower manufacturer Mean Green Products has begun taking orders for its latest patent-pending creation, the Nemesis NXR, which it calls the most powerful electric zero turn on the market. The company says its new mower can handle any commercial or residential job.
Made from both lightweight aluminum and high-strength steel, the Nemesis is fast and agile, Mean Green says. It is designed with a low center of gravity and custom "rite-ride" suspension.
The new mower can operate up to 1.5 hours (about 3 acres of mowing) on its small LEM4880 Green Lithium Battery or up to 2.5 hours (about 5 acres) on its large LEM48140 Green Lithium Battery.
Weighing in at just under 600 pounds, the Nemesis NXR operates at a 76db noise level. Mean Green Products has pointed to quieter operation as well as its mowers' environmental benefits in marketing the machines to groundskeepers for hospitals, schools and the like.
Pricing for the Nemesis starts at $8,999, which includes the 3-acre Green Lithium Battery and 10A charger. For another $1,500, the company says, you get the 5-acre Green Lithium Battery pack. The company is now taking $500 deposits for production of Nemesis NXRs for delivery in the spring.
Kawasaki broadens new EFI system availability
Kawasaki's new FX850V-EFI engine is the latest member of its growing family of engines that use the manufacturer's electronic fuel injection system.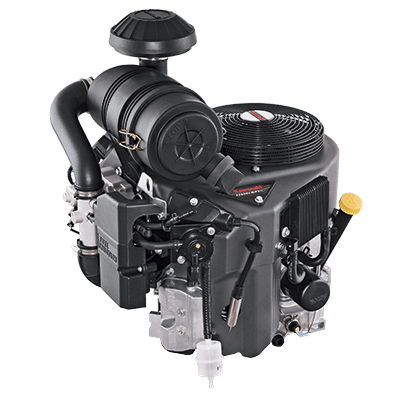 The FX850V-EFI incorporates a fully integrated electronic governor and an advanced ECU that instantly matches power to cutting load and ground speed – features that Kawasaki says will enable landscapers to mow lawns more efficiently.
In fact, the Kawasaki EFI system was developed specifically with professional landscapers in mind, the company says. It's available on select models of FX Series and FS Series engines, with plans to incorporate it in additional models.
The FX850V-EFI joins two other units that currently employ the system: Kawasaki's FX730V-EFI and FS730V-EFI.
The system helps prevent "typical hillside mowing slowdowns," Kawasaki says in a news release on its intention to use the EFI system in more of its engines.
The load-matching e-Gov system keeps drive wheels and cutting blades working at peak productivity, the company says.
And furthering Kawasaki's approach to simplifying the job for commercial applications, the new EFI is matched by a PC or tablet plug-in diagnostic system for quick troubleshooting and accurate service, and helps minimize downtime.
Kawasaki says it maintained the same footprint as its carbureted engine models to make upgrading to EFI easy.
Worksaver offers weld-on mini skid steer plate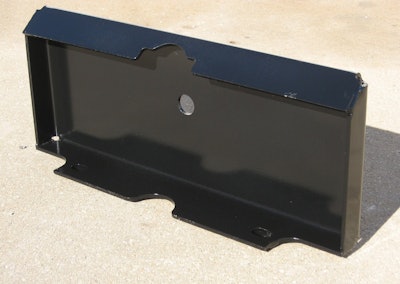 Worksaver Inc. recently introduced the Weld-on Mini Skid Steer Plate to allow the conversion of buckets or other attachments to fit a mini skid steer mount using the "universal" mini skid steer attaching standard.
This weld-on plate is formed from ¼-inch steel and will fit Toro Dingo, Boxer, Ditch Witch, RAMROD, Finn and others.
The plate is 24.13 inches wide and 9/88-inch high.
Worksaver, which manufactures agricultural, industrial, commercial and construction equipment for a variety of applications, boasts that its production is powered in part by a 250-kilowatt solar field.
Toro offers maintenance kits for its engines
To encourage owners of Toro zero-turn mowers to maintain their Toro engines properly, the company now offers Toro Engine Maintenance Kits that include synthetic oil, fuel treatment pouches and replacement components.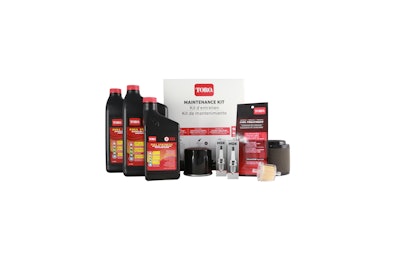 Designed and approved by Toro engineers, the all-inclusive Toro Engine Maintenance Kits are available for both single-cylinder and twin-cylinder Toro engines.
The single-cylinder Toro engine is featured on select TimeCutter zero turn mowers, and the twin-cylinder Toro engine is featured on select TimeCutter models as well as the new TimeCutter HD and TITAN HD 1500 Series zero turn mowers.
The single-cylinder kit includes one Toro fuel treatment pouch, which keeps fuel fresh and prevents corrosion caused by ethanol, as well as an air filter with pre-filter, an oil filter, a fuel filter, a spark plug and Toro synthetic engine oil.
The twin-cylinder kit includes everything offered in the single-cylinder kit, plus an additional spark plug and an additional quart of Toro synthetic engine oil.