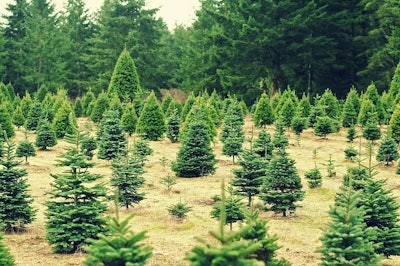 The ongoing drought in both the Southeast and Northeast raised concerns about the 2016 Christmas tree supply, but growers are reporting there hasn't been a major effect this year.
Part of the reason why Christmas trees haven't taken a serious hit is because for most of the year the evergreens were able to flourish as the dry spell started a few months ago.
At Christmas Hill Tree Farm in Chesnee, South Carolina, a variety of trees including Leyland cypress, Virginia pine, white pine, Carolina sapphire cypress and blue ice cypress have been able to thrive.
"It wasn't bad because we irrigate," John Wagner, owner of the Christmas tree farm and nursery, told GoUpstate.com.
Wildfires, a side effect of the recent drought, have been a concern for some, but so far there hasn't been any issues.
Although Alabama isn't known for its Christmas tree production, its crops of Virginia pine and Leyland cypress have also endured the drought so far. Since it takes around three years to grow a 5-foot tree, the mature trees' root systems are more established and less susceptible to drought.
To protect the more tender seedlings, Jo and Kip George, owners of Trim-a-Tree farm in Athens, Alabama, soaked the seedlings' roots and then fertilized them.
"They did very well and we lost just a few of them," Jo George told The News-Courier.
Meanwhile, North Carolina, which is one of the top producers of Christmas trees nationally, hasn't encountered any drought related problems, in part because the well-known Fraser firs peak growing season is in late spring.
"About two-thirds of our Christmas trees in North Carolina come from the extreme northwestern part of the state, Ashe and Alleghany Counties," Bill Glenn of the North Carolina Department of Agriculture told Western North Carolina Public Radio. "Those counties were not even in a drought status until last week."
A majority of the varieties of evergreens used for Christmas trees are also particularly drought hardy.
In the Northeast, the influence of the drought has varied more depending on the farm's soil and topography. This has boosted sales for some Christmas tree growers, as other businesses have elected to stay closed this year because of the drought.
"We're actually a little busier for the first day of the season than we usually are. Part of the reason is I've heard other farms have been really affected by the drought," Dave Morin, owner of Arrowhead Acres Christmas Tree Farm in Uxbridge, Massachusetts, told Wicked Local. "Let's put it this way, we're selling more than I would have expected on a good day."
Abbott Tree Farm in Charlton, Massachusetts, is one of the Christmas tree farms that decided to stay closed this year.
"The major impact was that the established trees didn't grow as much as they normally do, and the seedlings we planted in the spring probably had a 30-percent failure rate because of the drought," said Curtis Abbott, owner of Abbott Tree Farm.