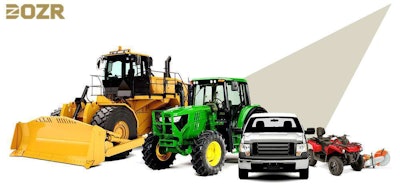 Just a few months after saying that it was eyeing an expansion into the U.S. market, Canadian contractor-to-contractor equipment rental service Dozr is now operational in both New Jersey and Florida.
In October the company garnered a nearly $2 million round of financing from Toronto's FairVentures Inc. and used the funding to begin its expansion south. The service allows heavy equipment owners to list and rent out equipment that would otherwise be sitting idle between jobs and calls itself "the Airbnb of construction equipment."
Dozr began U.S. operations in New Jersey in December and expands to Florida this month. The initial focus of the service in Florida will be in Miami, Tampa and Orlando. Construction, forestry, aggregate and agriculture equipment along with trailers, tools and storage options are offered.
"With so much economic growth, construction and agriculture happening in Florida, there is a big demand for equipment," says Dozr CEO Kevin Forestell.
Forestell, the owner of a landscaping company, founded Dozr with his wife Erin Stephenson and his brother Tim in June 2015. Forestell has said that he was inspired to start the company because he always saw equipment sitting idle between jobs as a waste of money and wanted to make it easy for heavy equipment owners to generate extra revenue with their existing fleet.
The platform allows contractors to list their idle equipment and when an interested customer books that machine on Dozr, the company takes care of the rest, including shipping the machine and providing insurance with each rental. Dozr says it is the first company in the heavy equipment market to provide insurance as part of the platform.
Dozr says that beyond offering a larger variety of both agricultural and construction equipment, its rates tend to be about 40 percent cheaper than retail rental rates.
The company even allows U.S. users to rent equipment from Canada and says that one early trend it saw in New Jersey was contractors renting farm equipment from Canada to use for snow removal. "Florida contractors will be able to find great deals on construction equipment from Canada and northern states where work is minimal until spring," the company says.