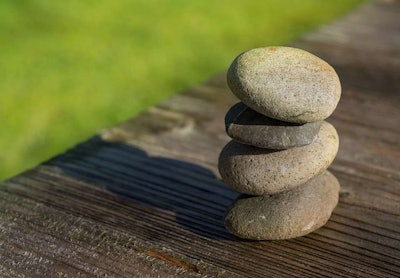 By Jonathan Orcutt
Maintaining a healthy life balance is not only essential for happiness, but can be a tremendous boost to productivity. A well-balanced person has a far greater ability to focus their attention and energy on attaining goals, taking productive actions and moving forward in a meaningful way.
In much the same way, when it comes to landscape business ownership and operations, the essential element of finding the balance that contributes to its overall health and long-term well being cannot be overstated. While there are a number of factors that contribute to that balance, two of the major ones are service and equipment mix.
Servicing a particular clientele
We've previously spoken about the importance of revenue distribution, and ensuring that your average client does not represent any more than one percent of overall revenue. The lower that number, the better. While there's an argument to be made for prioritizing residential business to scale that revenue, perhaps more important is the prioritization and allocation of services offered.
Many landscape companies prioritize mowing, which on the surface makes sense. Everyone's got a lawn, so it would appear that lawn maintenance via mowing would come as a constant source of incoming revenue. Mowing heavy companies, in fact, have nearly 50 percent of their annual sales tied up in mowing. The problem is that mowing can be easily affected negatively in circumstances such as drought, where companies must introduce alternative schedules to mowing to prevent lawns from being destroyed in dry conditions.
While securing mowing jobs is often necessary to garner more stable and profitable jobs, latching onto mowing accounts and ignoring the auxiliary services can play a huge role in reducing available long-term revenues of the business. Every business owner should focus on the margins of all services so they can strategize how to increase the volume on the most profitable. They can then make intelligent pricing adjustments on the lower margin services.
Additionally, every landscape company must have a firm grasp on a strict estimating process by truly understanding overall overhead. As a landscape company grows, the overhead follows, and the estimation process must be able to, in part, recoup these costs. Failure to implement an overhead recovery system can have a dramatically negative impact on a business as a whole, and determining wages and pricing without having a firm understanding of this process could spell trouble.
Develop a plan for equipment investment
As a company grows, many owners fall into the equipment trap. In the simplest terms, they simply buy what they don't need. Whether it's as many trucks as employees resulting in three trucks and only one crew, purchasing a mini excavator or skid steer with one crew and the bulk of the work they do is maintenance or three trailers and only one truck, the waste created when operating out of business means can be irreparable.
Equipment purchases need to be well thought-out and should be part of a strict budgeting process. The most profitable landscape businesses all have one thing in common – they run lean. By identifying value and eliminating waste in business components like equipment, they're able to properly weather unexpected expenses. Consider an initial equipment purchase is only part of the expense; insurance, taxes, repairs and any other associated costs must be factored in when evaluating a major purchase.
Ensure your equipment and overhead is in line with your sales. If you're in the residential landscape maintenance space, a good rule of thumb is one crew set up should produce anywhere from $160,000 to $220,000 annually. Running a lean business that only purchases what it needs will help allow for this.
Of course, equipment will at some point fail, but practicing preventative maintenance and watching for early warning signs – such as burning excessive amounts of oil – is essential. Savvy operators will flip their equipment for quality replacements before it truly breaks down, reducing potential downtime and decreased performance that can cut into revenue.
In total, being balanced means having a deep understanding of your business, from clientele and service needs down to the required equipment to properly and efficiently perform those services. This spring, consider a thorough evaluation that focuses on the key components of balance, and make the necessary adjustments. Happy mowing … or mulching, trimming and fertilizing.
EDITOR'S NOTE: Jonathan Orcutt is the founder and president of Driven Landscapes, a leading franchise landscaping company in Massachusetts. Jonathan founded Driven Landscapes in 2012 with the mission to build a landscaping company that prioritizes customer service and professionalism, without having to endure the physical labor most landscape owners contend with for years – or even decades. For more information about the Driven Landscapes franchise opportunity, visit www.drivenlandscapesfranchises.com.