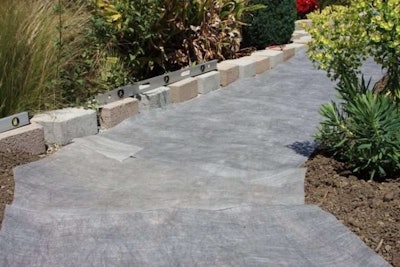 Landscape fabrics have become something of a debate topic amongst the landscaping community over the past few years.
Some professionals swear by these fabrics, saying that they not only cut down on the amount of weeds present in a customer's garden but they also continue to provide water, air and sunlight to the plants. Others in the field will swear up and down that these fabrics suffocate plants, cause disruption of plant roots and are not as lasting as other techniques.
Landscape fabrics can be made from an assortment of materials and do act as weed barriers, but ultimately it comes down to what your client wants to do. Having this information in your back pocket can help them make a more educated decision.
"Not very flexible"
Once the fabrics are installed in your client's yard, it can be very cumbersome to remove them or even to add new plants to the bed. If your clients are prone to changing their minds every season, or even just once or twice a year, then using these fabrics will more than likely prove a hindrance. If the fabrics are punctured or torn in the process of adding/removing plants to/from the bed, the fabric will then need to be patched or replaced depending on the extent of the damage.
"Not beneficial for perennials"
Because perennial plants enjoy and need soil rich in nutrients and compost, having these landscape fabrics in place can potentially put a damper on their growth. With the fabrics down, plant roots may not have the best access to compost or mulch placed on top, and this can in turn cause the root systems to suffer. The lack of root systems that are deep and penetrating can make trees and shrubs more susceptible to drought and being toppled by high winds.
"Hurts the spread and re-seeding of plants"
Since the fabrics act as a barrier for weeds, it seems that it would also act as a barrier to spreading and re-seeding plants. When seeds are scattered, they will not be able to penetrate the protective layer of the fabrics and will therefore not produce.
Overall it seems that landscape fabric has a negative stigma attached to it, based on numerous articles and testimonies offered from those in the landscape business, but there are a couple of positive notes to mention when talking about these fabrics.
"Can last for about 10 years"
For those who have customers that like minimal change in their landscapes, these fabrics could come in handy. Since they make adding and taking away plants more work and are more difficult to remove once placed, recommend these to customers who want something that requires little to no change.
It is rumored that these fabrics can last up to 10 years before it's necessary to change them out. While this will in turn be an expensive process, your clients may be more willing to have it installed if they know they won't have to spend extra money on weed removal and other maintenance in the meantime.
"Deters dogs from digging"
The landscape fabric may also come in handy for those clients who have dogs roaming free around the lawn. Naturally, dogs have the tendency to dig when they find fresh dirt, plants they find pleasing or when they just want to bury a leftover treat. Having these fabrics in place can deter your client's playful pup from ruining your hard work, and can keep Fido from getting into trouble with his owners.
"Can help with soil erosion on hillsides"
Before groundcovers or shrubs can grow into a hillside, landscape fabrics can be used to prevent soil erosion. By placing the fabric with the fuzzier side up (usually fuzzy side faces the ground) and adding a bit of shredded bark mulch on top, the fuzzy side can help adhere the mulch and keep it from sliding down the hill.
While many may lean to one side more than the other, it's fair to say that based on your client's taste, budget and preferences, landscape fabrics are pretty hit or miss. Your clients will either love them or hate them, so take the time to assess the needs and wants of your client before saying "yea or nay" to installing these fabrics.