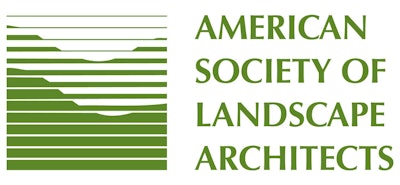 Landscape architecture firms are reporting a dip in billable hours, but an increase in new work inquiries indicating stable business conditions, according to latest American Society of Landscape Architects' Business Quarterly survey.
For the first quarter of 2017, 75.84 percent reported stable to significantly higher billable hours, which is lower than the previous quarter of 77.12 percent as well as previous years' first quarters including 2016 (80.76 percent), 2015 (82.02 percent) and 2013 (76.1 percent).
Yet year to year 76.27 percent of landscape architecture firms said their billable hours were stable or significantly higher, which is slightly better than 2016's first quarter of 75.66 percent and on par with 2014 and 2013's first quarters.
According to 85.39 percent of respondents, inquiries for new work were stable or significantly higher, a significant jump from the previous quarter's 77.77 percent.
This percentage is also better than the first quarters of 2016's 80.43 percent and 2014's 80.2 percent. It's about the same as 2015 and 2013's first quarters. Year to year, 84.09 percent of firms indicated stable or higher requests for new work for the first quarter, which is higher than first quarters of 2016 (81.05), 2015 (83.24 percent) and 2013 (59.5 percent).
A little more than half (52.55 percent) of firms with two or more employees indicated they plan to hire someone during the second quarter of 2017, which is a drop from the fourth quarter of 2017 at 57.33 percent. It is also lower than 2016 (59.44 percent), 2015 (61.54) and 2013 (54.5 percent.)
Larger firms with 10 to 49 employees had more interest in hiring, with 77.77 percent planning to expand their staff.
Due to April being World Landscape Architecture Month, the survey also asked firms to share their career discovery efforts.
Most (52.81 percent) have not engaged in K-12 student outreach specific toward landscape architecture. The 44.94 percent of landscape firms who did outreach, visited elementary, middle or high schools and discussed careers in the field. High school students were the focus of 55.84 percent of the firms followed by elementary schools at 46.75 percent. A majority of the firms visited schools between two and four times.
The first quarter survey was conducted between April 3 and April 17, 2017 and 178 firms responded.