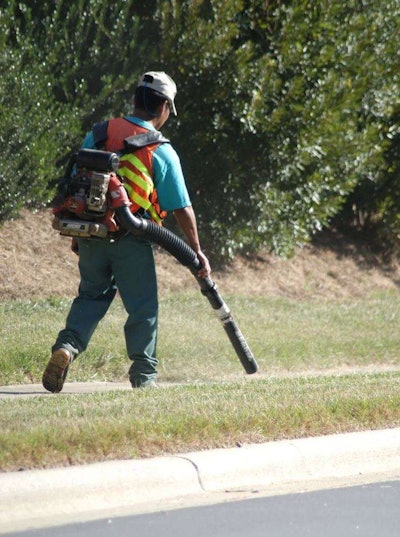 Palm Springs, California, was just like a lot of other towns across the country that have been considering banning gas-powered blowers until Wednesday.
After discussing an ordinance that would ban gas-powered leaf blowers and cause residents and landscapers alike to switch to electric and battery-powered blowers, the city council began considering banning all blowers, regardless of the power source.
Noise was an obvious complaint for the gas-powered blowers and when a council member requested to hear a battery-powered blower in use for a comparison they found it was not noticeably quieter.
They also pointed out that the battery lasts about 45 minutes, and needed to be stored in an air-conditioned area as they did not do well in heat.
"We're not solving the problem by just doing electric because that gives a whole bunch of other problems," Ginny Foat, mayor pro tem, told KESQ.com. "It would cost an average landscaper about $2,000 to $3,000 if they weren't subsidized by the AQMD (Air Quality Management District) to purchase what was needed."
While environmentally motivated to reduce pollution by forbidding gas blowers, the council is also concerned about dust and feel that an all-out ban will help solve this problem. According to the State Air Resources Board, five percent of all the dust blown into California's air comes from leaf blowers.
"People with asthma or young children getting exposed to the dust," Geoff Kors, a councilmember, told KMIR.com. "That's a real concern."
While landscape owners have already been vocal about how the removal of the tool will double the cost of work and that will be passed on to the consumer, the city council voted to prepare a new ordinance banning all blowers, citing Santa Monica as successful for doing so.
Evans Landscaping company owners federally indicted
It was close to two years ago that the FBI raided Evans Landscaping as part of a probe to determine if it had created a company to win government demolition contracts both locally and statewide.
Now the Newtown, Ohio-based company, along with its owner and vice president of operations are facing federal fraud charges. According to U.S. Attorney for the Southern District in Ohio Benjamin Glassman, Doug Evans and Jim Bailey created a demolition company that would qualify for certain minority and small business contracts that Evans Landscaping did not qualify for.
While Evans started his landscaping company out of the back of his pickup when he was 16, he has branched into a number of other businesses and owns 17 firms outright.
The FBI filing indicates that Evans loaned money to the minority company Ergon Site Construction of East End and its top officer Korey Jordan to start the company. Ergon was given more than $2 million in contracts from the city of Cincinnati but questions soon arose whether Ergon was actually doing the work or if Evans Landscaping was supplying personnel and resources, making Ergon a front.
Four other employees of Evans Landscaping and Ergon charged with conspiracy to commit wire fraud and misprision of a felony have pleaded guilty as part of plea agreements.
Yet, Evans Landscaping's general counsel Zach Peterson states the company isn't going anywhere and has been wrongly accused.
"The allegations in the indictment are simply not true, and we trust that the legal process will see this matter through to its just and appropriate conclusion," Peterson said in a statement, according to the Cincinnati Enquirer. "It has been business as usual, and it will continue to be business as usual."
Doug Evans' counsel Ben Dusing told the Cincinnati Enquirer that the relationship between Ergon and Evans Landscaping had been a mentoring one and that Jordan had needed guidance in the field.
"This was an attempt to do a good thing and it really went sideways," he told the Cincinnati Enquirer. "It is tragic, in some sense that we're here today and the company stands accused of exploiting that kind of relationship."
If convicted, Evans could face at least five year in prison for charges of wire fraud.