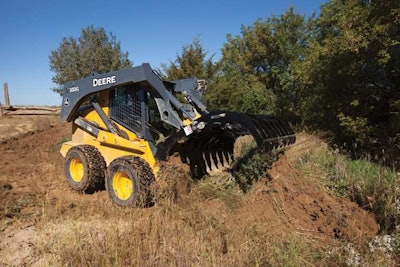 Gather rocks and debris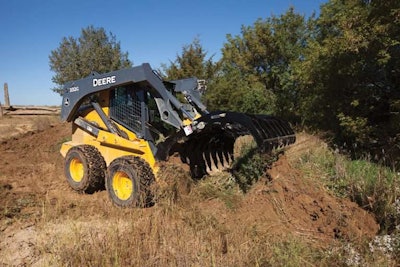 John Deere's Root Rakes attach to skid steers, compact track loaders and compact wheel loaders and are designed for land clearing, ground leveling and moving materials from one area to another. The rakes gather rocks and debris while allowing soil to sift through. A weld-on D ring adds extra capabilities to these rakes, including puling brush in forestry applications, or scrap from a jobsite. The rakes are available in 72-inch (RR72), 78-inch (RR78) and 84-inch-width (RR84) models.
Grade and level jobsites
The Cat AccuGrade Box Blade integrates laser and GPS grading technologies to grade and level jobsites. Attaching to skid steers, compact track loaders and multi-terrain loaders, the box blade comes in two models: a 7-foot blade and an 8-foot blade. The attachment can be operated manually or by using the Cat AccuGrade system.
Level and plane large areas
Avant's Leveler, attached to the company's multi-functional articulating loader, can be used to level and plane large areas, quickly leveling sand, mulch and other materials. Common uses include lawn bed, yard/sand and driveway leveling. In addition, the attachment has an option that enables lifting jobsite materials such sods, rolls, tools, etc. Avant's quick-attach system uses a hydraulic attachment clip, which slides and lets the operator pull a handle instead of fighting hydraulic pressures, says the company.
Cut material alongside roads
Eterra's SR-100 mini skid steer sickle bar mower cuts up to 2 inches of material and comes with an articulating coupler system. The 5-foot Pitman-style cutter works both above ground and under water. A 3-foot arm gives users a total 6.5 feet of side cut.
Spread fill and de-thatch
The Manitou America's Edge Power Rake pulverizes soil, removes rock and debris, finishes grades, spreads fill or topsoil and de-thatches. The attachment uses dual hydraulic motors that are directly coupled to the drum, a design the company says offers 40 percent more power than chain-driven units. The drum can turn either forward or reverse, and features carbide teeth. A standard angle cylinder allows the drum to angle 20 degrees right or left; standard end plates coverts the unit to a powered box rake.
Land clearing mulcher
The Seppi M MiniForst cl mulcher fits on compact track loaders and small dozers and has several hydraulic motor options. The M-Boost motor, for example, offers 40 percent more torque than standard motors, the company says. The unit, used in land clearing, vegetation management and right-of-way clearing can mulch wood and brush up to 7.87 inches in diameter and comes in five widths. The exposed rotor works in concern with five rows of tempered counter cutters.
Prep and level the ground
Kubota's SR27 Powered Rake preps and levels the ground for seeding, removes unwanted material and debris and helps rejuvenate driveways and gravel areas. The attachment has a rigid or float option, and a manual or hydraulic angle. In addition to cast chain housing, the unit features large U-bolts on the gauge wheel. The unit attaches to Kubota's SSV65 and SSV75 skid steers and SVL75-2, SVL90-2 and SVL95-2S compact track loaders.
Prepare seedbeds
Worksaver's Power Landscape Rakes remove debris or sod, preparing seedbed surfaces to either create a new lawn or renovate an existing lawn. The attachment can also pulverize and set grade on jobsites. Flip-up side shields are self-storing on the unit, and allow for ease of windrowing rocks or debris. The height-adjustable flip-up gauge wheels keep the machine level for accurate control of working depth and easily flip out of the way for transport. Users have a choice of 1 3/4-inch carbide or 2-inch Sabre teeth.
Reclaim topsoil by clearing out small rocks
The STC/SSL-150 by FAE is designed to tackle areas that need to be cleared of smaller rocks, while reclaiming topsoil. Coming in widths of 65 or 74 inches, the attachment can crush up to 6-inch diameter rocks. The high-flow unit fits 80- to 120-horsepower skid steers and compact track loader, and can create and maintain paths, trails, driveways, curbs and landscaping.
Attack site cleanup tasks
The Case Construction Equipment Power Rake attacks site cleanup, leveling, grading, trench restoration and seeding preparation tasks. Designed for use with skid steers and compact track loaders, the rakes are available in 72-, 84- and 90-inch configurations with either manual or hydraulic angle adjustment controls. An optional front electric control gives operators additional control, and the rakes operate in both forward and reverse directions. Carbide-tipped teeth help the rakes tackle harsh environments and reversible end plates help control cast-off material.
Level out materials
The Toro Dingo Leveler gives contractors the ability to level out materials being spread, such as earth, sand and mulch. It features the Toro Quick Attach System, which allows users to change out the attachments in a matter of seconds, according to the company.
Level and grade seedbeds
The Dirt Worker from Kasco Manufacturing levels and grades sites for seedbed work. Featuring six rows of high carbon steel teeth, the attachment leaves a seedbed for 2 1/2 inches of loose dirt for seeding. The unit comes in either 6- or 7-foot widths and has a universal quick attach mounting to fit skid steers or three-point hitches.
Grade, rake and remove debris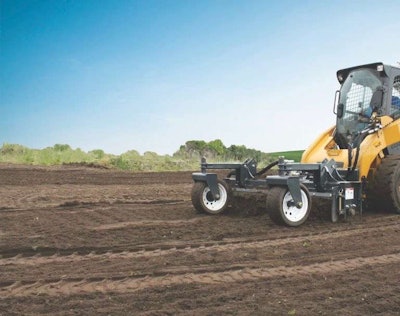 The Power Rake attachment from Virnig Manufacturing grades, rakes and removes debris. A floating design keeps the rake level for a smooth, even finish and the bi-direction drum works the soil in both directions for seedbed preparation. Operators can manually angle the rake 25 degrees in either direction; in addition, an optional hydraulic angle lets operators quickly change angles from inside the cab. Standard removable end plates help contain raked debris. The attachment comes in 6- and 7.5-foot sizes and has a recommended hydraulic flow rate of 15 to 25 gpm.
Easily handle rocks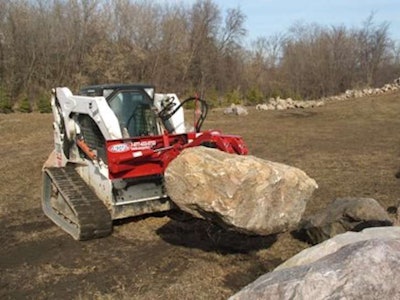 The Rock and Tree Hand from EZ Spot UR handles heavy landscaping rocks, trees and other debris. When coupled with the double cylinder rotating base, the attachment can remove large landscaping rocks from a truck, rotate and place them into position. The attachment eliminates the need for ropes, chains and extra crew to place rocks and trees, says the company.
Retake small overgrown areas
Rut Manufacturing's Mini-Mulcher attaches to excavators ranging from 5,000 to 18,000 pounds. It is designed to retake small overgrown areas, and enable contractors to use a smaller unit for areas that don't allow the use of a larger machine.
Dig, transplant and package trees
With its short tower design, the Bobcat tree spade attachment easily squeezes between closely planted trees to dig, transplant and package trees without leaving the operator's seat. The reinforced attachment frame handles the rigors of tree spade work and turns a skid steer or compact track loader into a transplanting unit.
Level ground before sod is laid
The RockHound 72B Landscape Rake by Valley Tool Manufacturing removes debris, levels ground before sod is laid and prepares seedbeds. The attachment eliminates hand raking, collecting rocks as small as 3/4-inch into a bucket that can be easily dumped. T-1 teeth are mounted into a double channel and the hydraulically operated bucket opens from the top for easy unloading. Side skid shoes, which control the depth of operation, come standard.
CTL, skid steer mulcher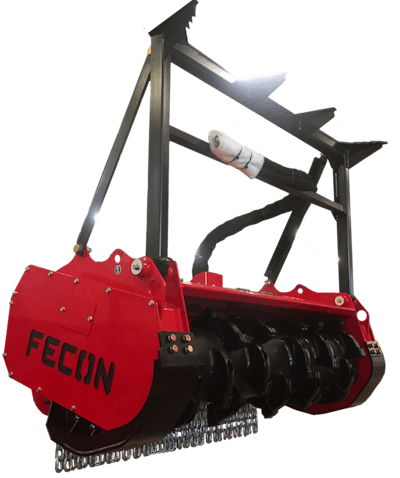 Fecon's Bull Hog mulching attachment for compact track loaders and skid steers has a severe duty body and bolt-on skid shoes. The attachment comes with three rotor options: the smooth-drum FGT rotor, the paddle-style HDT rotor and the DCR depth control rotor. The unit's hose sling is standard, and available options include a trap door and pressure gauge.