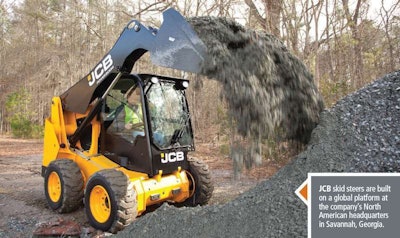 Conventional wisdom has it that skid steers rule on hard surfaces and in tight quarters. Hard surfaces chew up expensive treads on compact track loaders, and confined spaces make other machines look like drunken bulls compared to skid steers' nimble nature.
Is that enough to keep skid steers in your fleet? Maybe, maybe not. But skid steers are versatile and offer a host of appealing features.
"Skid steers are good at lift-and-carry," says Eric Dahl, Bobcat loader product specialist. "They're good for applications that tend to be less demanding. And they have a great balance of traction and travel speed that make them effective at snow removal."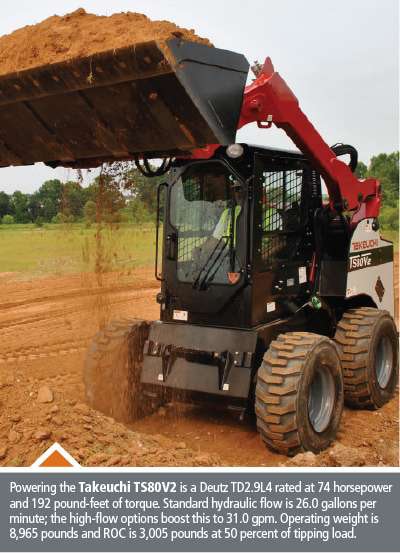 That travel speed makes them adept at scooting around large worksites and even allows them to be driven short distances on roads, depending on local laws. And for greater distances, skid steers are easy to trailer, says Randy Tinley, JCB product manager for skid steer and compact track loaders. Their low cab height makes them suitable for working in areas with restricted overhead clearance.
"But while landscaping, agriculture and construction all have applications that emphasize skid steers' trait, there is no truly skid-steer specific application," says Tinley. "The main consideration is space constraints, such as loading trucks in a small area."
And, of course, there's their relatively low cost. Initial investment for a skid steer is 20- to 30-percent less than for a comparable CTL. Tires are half or less the cost of tracks, and skid steers have no undercarriage components to maintain or replace. CTLs are amazing machines, but amazement is expensive.
"If owning and operating costs were the same, everyone would own a track loader," says Jim DiBiagio, ASV general manager.
But those costs aren't equal, and the advantage goes to the skid steer. ASV understands this. The company has been closely associated with compact track loaders since launching its first model, the MD-70, in 1990. But it also offers three radial-lift and two vertical-lift skid steer loaders.
More "new" than meets the eye
Look at a skid steer from 2017 and one from 30 years ago, and there isn't a lot that jumps out as new and improved. Other than the addition in the 1980s of vertical lift to the machine's original radial-lift architecture, it might seem the design has stagnated.
Not so, says Gregg Zupancic, product marketing manager at John Deere. "We will soon offer self-leveling of the bucket in both the up and down mode." He says that while self-leveling in the up mode has been around for a while, self-leveling down is new. "Our machines have a creep mode, which delivers full power to the attachment while maintaining a low ground speed."
Deere skid steers have three work modes, which vary the rate of machine response to operator input, as well as three drive modes. Return to dig, return to carry, and attachment positioning will also be available soon. Another focus has been the operator station with comfort and convenience as main considerations. Examples include courtesy lighting that stays on for a few minutes after shutdown and an available rear-view camera.
Jorge De Hoyos, senior product manager for skid steers and CTLs at Kubota, says changes to the operator's compartment and to operator comfort are more common than exterior changes. He says the slide-up door on Kubota skid steers is a good example: "The door can be locked in the open position so the operator can continue to work without removing and storing the door. And the door can be opened with the loader arm at any point in its range of movement."
Heated, air-suspension seats and sealed, pressurized cabs are obviously built for comfort. Ride control gets credit for reducing spillage on rough terrain, but it's also a comfort feature. By damping loader-arm and bucket oscillations, ride quality is improved by the same mechanism that keeps material in the bucket.
"With the electrohydraulic system monitoring the machine's travel speed, the Speed Sensitive Ride Control system on Cat skid steers can automatically engage when the machine reaches its activation speed," says Kevin Coleman, skid steer loader product expert at Caterpillar. "The system automatically disengages at travel speeds below the activation speed to provide maximum digging and load placement performance."
There is some concern that adding features to skid steers drives up their cost and narrows the spread between SSLs and CTLs. Unwarranted, says Ryne Kauffeld, marketing and sales at IHI Compact Excavator Sales. "We added a number of features cost-effectively, and besides, adding those same features to CTLs increases their cost by the same amount, preserving the price advantage enjoyed by skid steers."
De Hoyos says that radial-lift machines with their single-pivot design haven't changed much in their kinematics. "But vertical-lift machines continue to evolve. The configuration of the multiple linkages needed to deliver vertical lift makes a big difference." De Hoyos says the assertion that vertical-lift machines are not as good at digging as radial-lift models is no longer true. "Our vertical-geometry skid steers have radial attributes when the loader arms are retracted due to changes in the linkages. Specifically, we made them shorter."
Kevin Scotese, Volvo skid steer product manager, says one of the most significant changes in the skid steer market is the ongoing move to larger machines. "These larger machines have more engine power and more hydraulic power, giving them greater lift capacity and lift height. In many cases, this allows a customer to consider replacing a compact wheel loader or backhoe loader with a skid steer. And that increased power means the larger skid steers can run bigger attachments and a wider range of attachments."
Scotese acknowledges that a skid steer gives up some performance to application-specific machines. "You wouldn't have the dig depth of a compact excavator, for example. But if a skid steer meets most of the needs of a contractor, having that single, versatile machine would be more cost-effective than owning two machines." This may hold true even if the customer has to rent a mini-excavator occasionally.
Has horsepower become meaningless?
Tier 4 Final has different emissions standards for machines of less than 75 horsepower than for those of 75 horsepower and above. One result is that the cost of emissions compliance rises with the higher-power engines. This is true not only with the upfront cost of more extensive aftertreatment systems, but also with the ongoing cost of diesel exhaust fluid (DEF). This has caused a split in the market, and customers accustomed to choosing skid steers based on rated horsepower may have to develop a new strategy.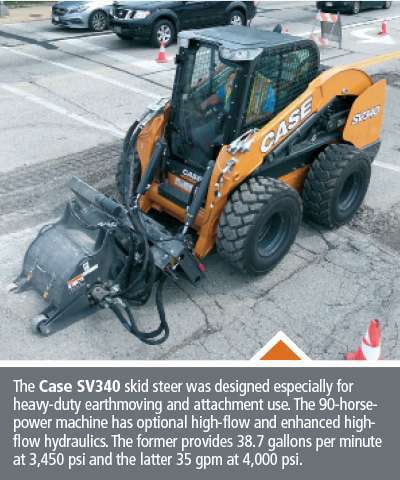 JCB is one of the manufacturers choosing to run lower-horsepower engines to stay under that 75-horsepower break. "Before Tier 4 Final, our most powerful skid steer was rated at 92 horsepower," says Tinley. "Now our biggest model, the 330, is rated at 74.3 horsepower. But by reconfiguring the torque characteristics of the engine, the 330 delivers more performance than its predecessor did."
Changes to hydraulics are often made. "We right-size the plumbing," says Bill Wake, ASV director of product development, "which usually means going bigger. We can customize valves for a specific model. In general, we increase the performance of the hydraulic system to get increased performance." He cites the company's VS-75, which is rated at 74.2 horsepower and 192 pound-feet of torque. "It has higher available flow, 30.9 gallons per minute compared to 26 gallons per minute for its predecessor. And its rated operating capacity (ROC) is 3,500 pounds at 50 percent of tip, whereas its predecessor had a 3,000-pound ROC."
Scotese says Volvo chose to keep its three largest skid steer models – the MC110C, MC115C and the MC135C – at 74 horsepower. "We increased hydraulic efficiency so there is no loss of performance," he says. One key change is the switch to a load-sensing piston pump that is 15 percent more efficient than other styles of pumps and requires less horsepower to do the same amount of work."
Dahl says, "It's really never been about horsepower. It's always been about torque. And at least with Bobcat products, torque has been maintained or even increased as horsepower has slipped under the 75-horsepower mark." He says a better benchmark is ROC, which tends to matter more to skid steer operators. "The opposite is true with CTLs, which do more pushing and emphasize horsepower. But with skids steers, ROC rules."
Why is ROC the key spec? "Most skid steers will be doing lifting and material handling," says Brent Coffey, loader product manager at Wacker Neuson. "Once a customer has decided on an ROC class, the next step is to understand what features are required. Skid steers have evolved as universal tool carriers as much as they are loaders. For example, if a customer needs high-flow hydraulics, the skid steer has to have the horsepower to run those hydraulics." He says manufacturers strive to ensure the engine, hydraulics and electronics complement each other to provide the intended performance level. "Customers no longer have to worry about horsepower. That work has already been done for them."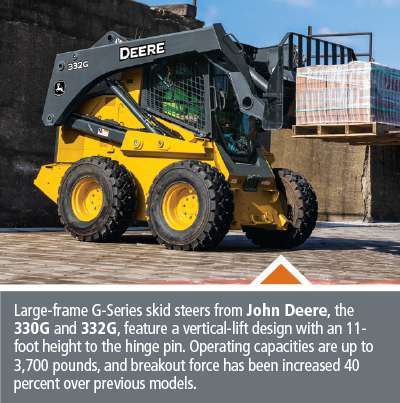 Deere is also holding the line on horsepower and has even increased it on G Series machines. The 330 G has 91.2 gross horsepower and a 3,000-pound ROC, and the 328 has 82 gross horsepower and a 2,750-pound ROC. The weight of the machines is partly why Deere chose not to drop power, Zupancic says. He also notes it's had requests for a model with big-machine performance, such as an 11-foot lift height, with less than 75 horsepower and therefore a simpler emissions control system. "We're working on that, starting with adjusting the torque curve of an existing engine that would power the machine."
Manitou Group debuted what it claims are the world's largest skid steer loaders at ConExpo in March. The Gehl V420 and Mustang 4200V are rated at 120 horsepower with an ROC of 4,200 pounds. A high-flow option delivers 40 gpm. The company describes these machines as "massive tool carriers for heavy construction, landscaping and land clearing applications."
Brad Wenger of New Holland Construction Equipment says some customers simply need more than 74 horsepower. "If you're satisfied finessing your way through the day, then stay with the lower power ratings. But if you want to power through a hard dig, and you have a lot of digging to do, you really want the 90-horsepower machine." As for the DEF needed for selective catalytic reduction aftertreatment on higher horsepower machines, "it's nothing new and customers shouldn't be afraid of it."
Versatility equals appeal
Skid steers aren't going away. They're just being more clearly defined, and part of their definition is as prime movers for a host of attachments, which makes them even more versatile and therefore more appealing.
"Skid steers make great attachment platforms," says Michael Shebetka, product manager at Takeuchi. "Advances in electronics and hydraulics make them even better at this. One skid steer can run a cold planer, switch to a bucket to remove material and switch to a broom for final cleanup. A multi-function display allows the operator to tailor performance for each task. It's all done easily, efficiently and with one machine."
Similarly, customers are more clearly defining the nature of their work. If they do a lot of one thing, they pick a machine that excels at that application. Coffey offers an example. If contractors are primarily using the excavator end of their backhoe, when the time comes to replace that backhoe they can save money and possibly improve production by choosing a compact excavator instead.
But having done the analysis, many customers find they do some of everything, often in confined spaces, and the skid steer becomes the logical choice. "With a compact footprint and nearly infinite attachment options, the skid steer has established itself as an all-around work machine," says Coffey. "Getting the right machine means understanding the size of the operating space, type of work being done and the attachments needed for that work and total cost of ownership." While that may lead to an application-specific machine, it also may lead to the ever-ready multi-tasking ability of a skid steer.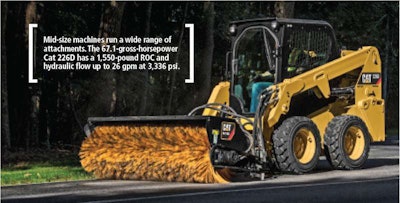 EDITOR'S NOTE: This article was written by Equipment World's staff, a sister publication.