Gardenista, a landscaping website for landscape design enthusiasts and professionals, has named the winners of its fourth annual Considered Design Awards.
"This year's entries in our Gardenista Considered Design Awards contest showed an amazing range of garden styles and sizes, each so full of its own personality and unmistakable passion," said Michelle Slatalla, Gardenista editor-in-chief. "Our readers clearly believe outdoor space is living space and nothing could be more exciting to us."
The awards are broken down into several categories with best amateur garden and best U.K. amateur garden, and best professional landscape and best U.K. professional landscape. The categories best outdoor living space, best hardscape, best curb appeal and best edible garden were each open to all, both amateur and professionals.
Once the judges had selected the finalists, visitors to the site were free to vote for their favorite projects on a daily basis until the deadline on Aug. 4.
The winners will receive a full write-up on Gardenista's site as well a collection of books from the judges and Gardenista. The professional winners are also automatically added to the website's designer directory of recommended professionals.
Below are the winners and a brief description of the individual projects.
Best amateur garden
Submitted by Andrew Tatreau, this cabana was built in Omaha, Nebraska, when Tatreau realized that he never spent time in his shadeless lawn. He wanted to create an intimate space for social gatherings. Because he rented the property, Tatreau had to work within the constraints of existing structural components. The wood slats were used to create a private feeling, but still keep the space breathable and connected to the outside. He grew a mixture of herbs, edibles and native prairie wildflowers.
Best U.K. amateur garden
This garden in Shrewsbury, England, was submitted by Beverly Anne Horsley and has been a labor of love for 20 years. It now contains a potager, studio garden, wildlife garden, bog garden, lawn and patio garden. Horsley channels her artist's instincts and strives to create views, textures and colors with the vegetation.
Best professional landscape
Created by Campion Walker Landscapes and JacobsChang Architecture, the dubbed Hedge House in Los Angeles, California, features a 30-year old ficus hedge that surrounds the property edges offering abundant privacy. Campion Walker didn't find the drought-tolerant design a restriction but an inspiration. They installed succulents, palms and olive trees in a bed of San Quintin river rock.
Best U.K. professional landscape
In London, England, Studio 29 Architects were able to create an African-inspired landscape for their clients after having them demolish an 80s-style conservatory at the back of their townhouse. The space was converted into a sheltered garden with a planting theme based around the customers' childhood spent in Kenya and South Africa.
Best outdoor living space
The best outdoor living space went to the landscape design company Edible Petals for its work on transforming a dark backyard in Brooklyn, New York, into a light space meant for play. Soft white and pink plants were selected to contrast the dark fence and a custom play structure was built. The 900 square feet area includes a play house, trampoline, fire pit, two swings and an intimate seating area.
Best hardscape
Boxhill Design's project in Tucson, Arizona, took home the best hardscape award for its combination of contemporary materials and clean lines. The project included a pool, patio, fire pit and tiered walls. The landscape design firm used the exterior walls of the garden to mimic the natural grade of the hillside.
Best curb appeal
San Francisco resident Katharine Webster was voted the winner of the best curb appeal for a mixed border of drought-tolerant plants along with shade-loving species. Webster contrasted the straight walls with the curving arrangement of plants. She also mixed colors and textures for visual interest.
Best edible garden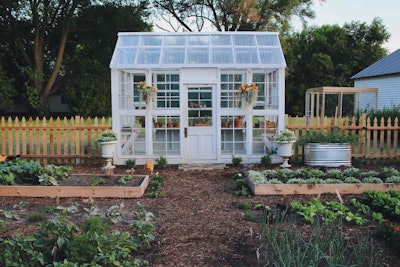 Located in Kalona, Iowa, this homestead was created by the small business Under a Tin Roof after the residents became interested in growing their own food. The kitchen garden includes heirloom tomatoes, peppers, brassicas, potatoes, herbs and more. It also has a greenhouse where the family grows the plants from seed.