SnowEx has introduced a new straight blade plow for UTVs, which measures 6-feet wide and can angle to 5-feet, 4-inches wide.
The company says the plow is compact but strong, and it contains four vertical ribs that provide additional reinforcement and stabilizing support. SnowEx says the blade is constructed of high-strength, low alloy steel components that are stronger and lighter than traditional steel. The plow also features a full-trip moldboard to protect the equipment when encountering obstacles, and the UTV straight blade has a 5-inch hardened steel cutting edge.
The company says that the Powercoat finish offers maintenance-free protection, and the hydraulic components are protected with a durable poly cover that SnowEx says is easy to remove for quick service access.
SnowEx says operators can choose between Power Grip hand-held control with backlit buttons or a compact joystick control that's easily manipulated when wearing gloves. The plow can also be angled with just one touch of a button.
Both controls, the company says, feature power "on" and float LED lights, and they utilize SnowEx Fleet Flex technology.
SnowEx says that the responsive direct lift system delivers incredibly fast reaction times to quickly reposition the plow, and it can also automatically lock the blade in position to promote clean scraping.
SIMA launches best practices guide for snow and ice management
Based on discussion with and feedback from industry stakeholders from facility and property managers, snow contractors, insurance, industry consultants and equipment manufacturers, the Snow & Ice Management Association (SIMA) designed best practices that they say will better align all stakeholders for success when purchasing snow services.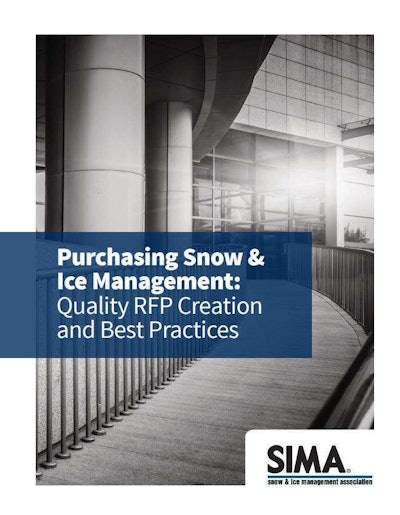 SIMA says that ice and snow management is critical for business continuity and to ensure the safety for patrons, employees and tenants. The group believes that being able to describe your service requirements in a snow and ice management request for proposal (RFP) is difficult, especially with the variability of winter weather and the wide variety of property types.
The group says that the Purchasing Snow & Ice Management: Quality RFP Creation and Best Practices will organize the snow and ice management service procurement process, and it will help aid in the creation of RFPs, monitoring procedures and contracts.
"This guide is the culmination of years of collaboration between snow contractors and facilities and property managers," Brian Birch, SIMA chief operating officer explains. "It is the definitive guide to buying snow effectively – the goal to help ensure clarity, transparency and fairness within the snow RFP process."
The guide is divided into chapters that will focus on the following:
A 52-week procurement timeline that outlines dates to follow to ensure snow service contracts are issued far enough in advance to allow the snow contractor ample time to procure and allocate resources for the service site(s).
Defining a clear level of service to ensure that those bidding for your services are pricing.
Understanding what goes into creating a scope of work to meet the level of service.
Defining terms and conditions and the role they play in the RFP process, including contract fee types, payment and billing best practices, insurance requirements, documentation and service validation and cessation of.
SIMA says that the document also utilizes additional group resources that have been created to bring all industry stakeholders to the same page when negotiating snow and ice management contracts: The Glossary of Terms, complementary best practices checklists and a site engineering sell sheet.
Regardless of whether they are a member of SIMA, these resources are free and available to all industry participants. Click here to download.
Hiniker's new tilt-lift plow utilizes OEM truck lights
The Hiniker Company recently introduced its new 1700 Series tilt-lift plow. The company says its unique lifting action keeps the moldboard positioned below the level of the truck lights, which eliminates the need for auxiliary low-mounted headlights.
This reduces overall cost and installation time, as well as maintenance requirements. The 1700 Series plows are available in 7 and 7 ½ ft. widths and also feature a 26-inch tall torsion trip-edge moldboard with a stainless steel surface.
Allowing users to connect the plow within seconds, Hiniker says 1700 Series features the self-aligning, drive-in Hiniker Quick-Hitch 2 mounting system. The company says the new plow also gives property owners who desire to perform their own winter maintenance a high quality, full-function plow at an economical price.
Hinkier also adds that the plow features hydraulic power angling, stacking and lifting capabilities and utilizes commercial quality hydraulic and electrical components throughout.