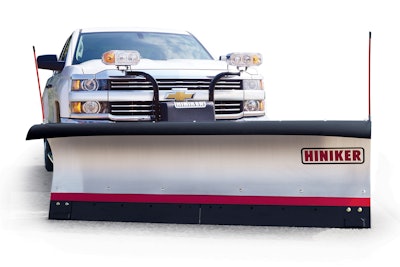 Hiniker says its 7000 Series plows are now available with corrosion-resistant stainless steel moldboards.
The 30-inch tall, high-strength torsion-tube moldboard design provides greater durability and surface hugging capability in tough winter conditions, the company says.
Hiniker 7000 Series stainless steel plows come with chrome alloy wear bars for enhanced cutting edge life and feature the protection of a two-section, torsion-spring controlled trip-edge, according to the manufacturer. The compact joystick controller can be mounted anywhere in the cab.
All Hiniker 7000 Series plows feature the company's Quick-Hitch2 system. The operator drives into the plow, pulls and latches the locking lever, plugs in the electrical connectors, then raises the parking stand.
Detaching the plow, Hiniker says, is just as easy.
Sarlo introduces 'BigMo' 34 walk-behind
Sarlo Power Mowers Inc. recently launched its latest machine, the BigMo 34-inch walk-behind mower featuring the company's patented Twin Track Deck and hydro transmission.
The Twin Track cutting system includes an in-line spindle design built into an extremely compact platform. Sarlo says the unique blade system offers an extraordinary quality cut.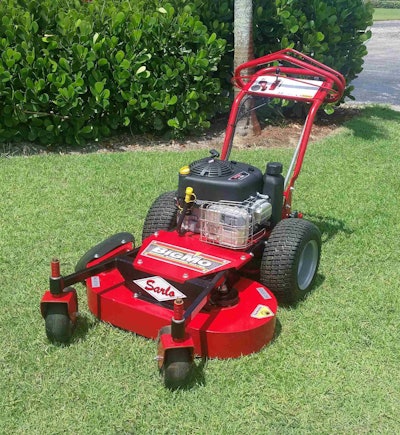 The BigMo 34 Hydro is built to commercial-duty specifications, the manufacturer says, with a 10.5-horsepower engine and hydrostatic drive system.
"As we continue to expand the BigMo line of equipment, the new Twin Track 34 answers the call for a wide-area mower that is also compact," said Sarlo Power Mowers' president, Tony Sarlo. "The patented deck system provides a spectacular finished cut that will be appreciated by the commercial landscaper as well as homeowners."
The BigMo 34 Hydro offers seven cutting positions with no-tools height adjustment, bearing-mounted, no-flat front swivel caster wheels, large turf tires in the rear, positive reverse and differential axle, electric clutch, commercial, greaseable blade spindles and a fabricated deck.
Based in Fort Myers, Florida, family-owned Sarlo Power Mowers was founded in 1935 and pioneered the first high-wheel walk-behind mower.
Check out Digga's new MM-10K Anchor Drive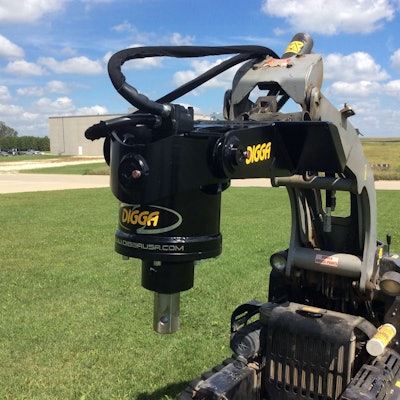 With a maximum theoretical output torque of 10,378 ft-lbs, the new Digga MM-10K Anchor Drive, manufactured by Iowa-based Digga North America, delivers more powerful performance than comparable units, the company says.
Saying the product stems from more than 30 years of experience in the design and manufacture of planetary gearboxes and drives, Digga says its new MM-10K Anchor Drive is engineered for use on mini loaders, skid steers and excavators. It operates effectively on auxiliary flows of up to 18.5 gallons per minute to accommodate a wide range of machines and comes with a unit-specific mounting plate for easy installation and setup.
The new MM-10K drive is ideal for tight overhead conditions, Digga says, noting it was specifically designed for applications in which dual axis four-way swing capabilities are required.