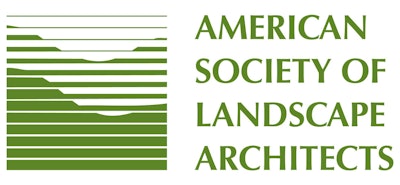 The American Society of Landscape Architects (ASLA) is gathering a blue ribbon panel of 11 experts for a two-day meeting on Sept. 21 and 22 to discuss ways to adapt to climate change through resilient design.
"ASLA has identified climate change as a key issue for its members, and for society at large," said Nancy Somerville, executive vice president and CEO of ASLA. "The recent devastating and real impacts of natural disasters such as hurricanes Harvey and Irma highlight the need for policy makers, both state and local, to invest in thoughtful and climate-resilient solutions to systemic infrastructure issues."
The panel will work together to create comprehensive public-policy recommendations that will help save lives and protect cities from future natural disasters. ASLA believes that innovative urban design can help make communities more resilient and better equipped to recover from climate events.
Sustainable landscape architecture can help minimize the effects of climate change and ASLA is working with legislators and stakeholders so that transportation and land planning includes green infrastructure that protects communities against flooding and excessive heat while improving air and water quality.
"We've reached a turning point in our history with regards to climate change, and the effects are undeniable at this stage," said Dr. Jalonne White-Newsome, senior program officer with The Kresge Foundation's environment program and a member of the panel. "We must take the appropriate measures and create low-carbon, sustainable and resilient communities. This includes adapting our landscapers to changing climate conditions so we are best positioned to handle the anticipated consequences while ensuring that equity and the concerns of our most vulnerable communities are at the forefront of our planning."
The panel will present its finding and policy recommendations in January 2018.
The members of the panel include:
Vaughn Rinner, FASLA, ASLA President, Chair
Armando Carbonell, FAICP, FAcSS, Hon MRTPI, Senior Fellow and Chair, Department of Planning and Urban Form, Lincoln Institute of Land Policy
Mark Dawson, FASLA, Managing Principal, Sasaki Associates Inc.
Tim Duggan, ASLA, RLA, Founder, Phronesis
Ying-yu Hung, ASLA, Managing Principal, Principal, SWA, Los Angeles Studio
Dwane Jones, Ph.D., Director of the Center for Sustainable Development + Resilience at the University of the District of Columbia
Diane Jones Allen, ASLA, Program Director for Landscape Architecture, the College of Architecture Planning and Public Affairs at the University of Texas at Arlington
Adam Ortiz, Director for the Department of the Environment for Prince George's County, Maryland
Nancy Somerville, Hon. ASLA, Hon. AIA, SITES AP, Executive Vice President and CEO, ASLA
Laurinda Spear, FAIA, RLA, ASLA, LEED AP, IIDA, Principal-in-Charge, ArquitectonicaGeo
Jalonne L. White-Newsome, Senior Program Officer, Environment, The Kresge Foundation