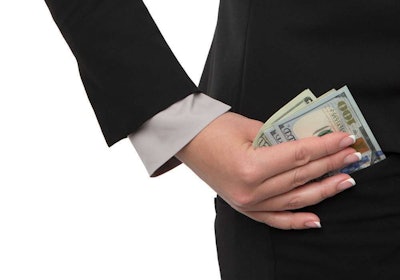 The former office manager of a Palo Alto landscaping company has been sentenced to five years in prison after embezzling over $700,000 from the business.
Guadalupe Ruzic, 51 years old, pleaded no contest to the charges of felony embezzlement and forgery last month.
Ruzic had worked for Pazmany Bros. Landscaping since 2014. She used QuickBooks software and a check stamp to write checks for herself that appeared to be made out to contractors, who remained unpaid.
During her time with the company, Ruzic embezzled $736,000 and used the stolen money to buy Gucci handbags, jewelry, a vacation timeshare and San Francisco 49ers season tickets.
"The defendant's greed and criminality brought the family-owned business that had employed her to the edge of insolvency," Deputy District Attorney Peter Waite said in a news release.
The trickery was discovered in February.
According to Arnold S. Grundvig, Jr., author of "The 90-Minute MBA," on any given day one in four businesses are being embezzled.
Those who embezzle can be almost anybody, because they do not look or act like criminals. Only 7 percent have a prior criminal or fraud history.
Because there isn't a specific profile for who would steal from your company, it is simply best to place checks and balances in place so that the opportunity isn't there in the first place. Many times when companies find themselves becoming victims, it's because they placed too much trust in one employee.
Here are some steps you can take to discourage employees from being tempted to embezzle.
Run background checks.
Separate financial responsibilities.
Monitor accounts receivable, accounts payable and payroll.
Have bank statements mailed to your house and reconcile them regularly.
Don't sign blank checks.
Limit user access to QuickBooks so they cannot delete or change information.
Click here to view some of the common methods of embezzlement and 10 signs that you are being embezzled.