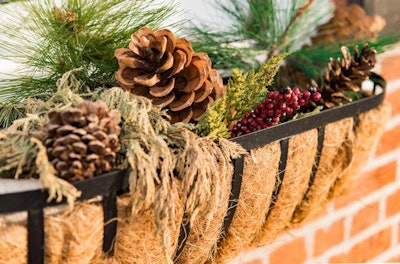 Customers will typically bring in many of their plants during the winter, but for those that can survive the outdoor temperatures, what is to be done with them?
Winter container gardens are not only a practical idea for customers who want to avoid the hassle of bringing plants indoors for the season, they also serve as beautiful focal points in a landscape.
To help your customers get the most out of their outdoor container plants, check out a few design options you can talk over with them.
Varying containers
Whether it's the traditional pots seen every day or something a bit more out of the ordinary, the amount of container options is limitless.
For customers who have vintage wheelbarrows as decorations in the spring, take advantage of these now that there's a possibility of frost and snow. By adding in a few winter plants and branches, your client's landscape will look more like a winter wonderland with a few unique touches thrown in.
Along with wheelbarrows and other lawn decorations such as that are the tried and true container options: pots, bowls and urns.
Urns help give a little flair to an otherwise ordinary container. When using urns to decorate, be sure they are packed tightly so that branches that have reached their end can be easily removed without compromising the integrity of the arrangement.
When decorating with a bowl, keep in mind that a layered look will fill that space and create needed depth. A few suggested items for this look are pinecones, dried pomegranates, rose hips, moss and more. One of the best ways to go about gathering materials for bowl decorations is to check out what's in the garden first. After this, choose accents that will compliment what's been found. For a more modern look, consider using geometric bowls.
Many winter arrangements will be able to withstand the ice, snow and wind accompanying winter, but just to stay on the safe side, insert plastic liner pots that are about one inch smaller than the container. This will help prevent the possibility of the pot cracking as the temperatures change.
Color pops and wall space
Naturally, these containers will need to stand out from the sometimes bleak surroundings of a winter landscape. When choosing what needs to go into an arrangement, holiday containers don't have to stick to the traditional Christmas colors of red and green. With this in mind, find different plants and additives that will add a bright pop of color to the container, such as vibrant shades of orange and gold.
If berries are an option for the container, mist them beforehand with a wax spray that will help lock in the moisture and keep them on the branches throughout the season.
Not all container gardens have to be horizontal, so take advantage of the vertical space your customers have by using wall containers. When filling these containers, try mixing live and dried materials to create an arrangement that's fragrant and tactile.
For customers with holiday guests on the way, suggest a front porch container packed with evergreens and other plant materials from all around the garden. This will add a welcoming sight to your customer's home and give their guests a little something extra to talk about.