Burroughs & Chapin, a South Carolina-based real estate investment trust, has selected Lifescapes International to design the redevelopment of Barefoot Landing and Broadway at the Beach, two entertainment destinations in Myrtle Beach, South Carolina.
"As our multi-year redevelopment plans began to take shape at both Broadway at the Beach and Barefoot Landing, it was important that our vision incorporate an innovative, creative and attractive landscape design that will not only complement the hardscape but also serve as an integral part of the overall guest experience," said Chad E. Carlson, executive vice president for Burroughs & Chapin.
"Through our travels to other destinations, along with extensive research on landscape architect firms, Lifescapes International continued to stand out above the rest," Carlson said. The firm's expansive portfolio, which features many experiential centers similar to ours across the country, coupled with their knowledge, expertise, and understanding of our plans for the future made Lifescapes the ideal firm to partner with as we continue our redevelopment."
Lifescapes has worked on entertainment-driven locations including The Grove in Los Angeles, California; Pacific City in Huntington Beach, California; Station Park in Farmington, Utah; and Robinsons Galleria in the Philippines.
At Barefoot Landing, a popular retail and entertainment complex located along the Intracoastal Waterway, Lifescapes is responsible for the entire landscape environment of the redevelopment which includes 45,000 square feet of retail space, an amphitheater and a new boardwalk.
"Our design concept combines a family-friendly atmosphere with entertainment-driven features that preserve the historic charm of coastal Carolina," said Al Amador, landscape architect for the project. "Our strategy is to incorporate a variety of mini destinations throughout the property, enriching the customer experience, as well as providing endless opportunities for guests to gather, socialize and play."
The firm plans to increase patio space near shops and restaurants while introducing a substantial water entertainment feature and show for guests to enjoy.
For Broadway at the Beach, South Carolina's number one tourist destination, Lifescapes plans to incorporate recycled brick from New Orleans for a nostalgic feel and to upgrade the water entertainment for varied performances.
"Similar to Barefoot Landing, our vision for Broadway at the Beach is to enhance the customer experience by creating a comfortable and friendly environment where guests can enjoy time with friends and family," Amador said.
Ruppert Landscape adds new branch in Virginia
Ruppert Landscape has increased its Virginia landscape management operations.
The new branch in southern Richmond joins the four existing landscape management office in Virginia located in northern Richmond, Gainesville, Alexandria, and Fredericksburg. Dave Sharry has been promoted to branch manager for this new expansion.
He will be responsible for the overall welfare of the branch, including strategic planning, training, safety and day-to-day operations.
"Dave's work and performance was a major factor in Richmond's growth and our ability to create an opportunity to split the existing Richmond branch into two," said Fred Key, region vice president. "This branch split, which geographically will occur north and south of the James River, will help accommodate the regional growth occurring in Richmond and enable us to better serve our customers."
Sharry joined the company in 2011 as an area manager and has over 26 years of green industry experience.
"Dave's promotion comes on the heels of his successful completion of our Associate Branch Manager Program, a leadership development program which provides the opportunity for mid-level managers to learn, gain experience and grow as leaders," said Kevin Hazelgrove, region manager. "He excelled in his training, which – along with his strong operational and leadership abilities – makes him the ideal candidate to fill the branch manager position in this newly-created branch."
Groves also recently attended the Associate Branch Manager Program.
RVi Planning + Landscape Architecture acquires LVA Urban Design Studio
RVi Planning + Landscape Architecture is growing in the southwestern United States as it announced it has acquired Tempe, Arizona-based LVA Urban Design Studio.
"RVi has a strong national reputation for high quality planning and landscape architectural design," said Chris Crawford, RVi president. "LVA has been the leader in planning and entitlements in the Valley for decades. We are extremely excited to combine our design and planning expertise as we continue to grow our footprint in the Southwest."
LVA was founded in 1981 and is led by Steven Voss, who will remain with the company as senior vice president and managing principal of the Arizona region.
"I am thrilled that we found such a great fit with RVi," Voss said. "Both firms have remarkable longevity in the market place and a healthy mix of experienced senior leadership, strong project managers, and promising young talent. We also have a very like-minded approach to relationship building and client service."
Starting in February, RVi will combine offices with LVA in Tempe. LVA will operate as LVA, an RVi Company during the transition and then become fully combined under RVi in the fall.
"I am looking forward to working with Steven and the talented LVA team as we integrate our two offices to create a stronger combined practice," said Doug Craig, RVi vice president. "There are many opportunities to leverage our individual strengths and mutual relationships."
NALP recognizes most recent companies to pledge support to growth initiative
The National Association of Landscape Professionals' (NALP) Industry Growth Initiative (IGI) has gained more financial support, allowing it to focus on growing the industry and its workforce.
Below are the latest batch of companies to pledge financial support for the initiative:
Ceibass Venture Partners
CoCal
Designs by Sundown
Environmental Enhancements
Klausing Group
Kujawa Enterprises
Lifescapes
Metco Landscape
New Desert Gallery, Inc.
Pacific Landscape Management
Productive Leaders
Prolas, Inc.
Scapes
Southern Botanical
Southern Landscape
TruGreen
Wilson-Oyler Group
About 90 other companies also give to support NALP's initiative. The IGI will be focusing on learning more about industry messaging to younger audiences, as well as their parents and advisors in 2018.
NALP is also extending the free employment ads on LandscapeIndustryCareers.org through March of this year. Afterwards, companies who are not NALP members and do not invest in the IGI will have to pay a fee to use the job board.
Greenworks Commercial partners with Carswell Distributing Company
Greenworks Commercial has entered into an exclusive partnership with Carswell Distributing Company to benefit lawn and landscape equipment dealers in 13 Southern states.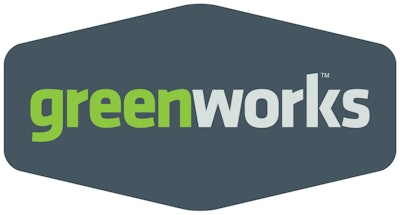 Carswell and Carswell OEI will provide distribution, logistics, service and sales support for Greenworks' commercial 82-volt line and the Elite 40-volt line of tools among dealers in Virginia, North Carolina, South Carolina, Georgia, Florida, Alabama, Louisiana, Mississippi, Arkansas, Oklahoma, Tennessee, Texas and Missouri.
Carswell Distributing Company has been supplying a wide variety of lawn and garden equipment for 70 years, and now with Greenworks it will offer dealers the industry's broadest line of lithium-ion battery-powered outdoor equipment.
"Unlike some of its battery-powered competitors, Greenworks Commercial is not a niche company in the sense that it truly has an outdoor power equipment solution for everyone that shops in the independent dealer channel," said Will Parsley, president of Carswell Distributing Company. "The 82-volt product is second-to-none in terms of power, run time and durability, allowing landscape and turf management professionals to get the job done in a greener way, while the new 40-volt Elite line is the perfect solution for homeowners who prefer to shop in the dealer channel because of the expertise and service that is inherent in doing so. Stocking both of these lines will allow our dealers to better compete in all market segments."