Outside the Lines (OTL), a design-build construction company that specializes in creating water features, rockwork and themed environments, announced the design and construction of a show fountain. According to J. Wickham Zimmerman, CEO of OTL, the fountain will serve as a public art piece for the renovation of Bohannon Development Company's Hillsdale Shopping Center.
Bohannon and C.W. Driver, general contractor, have partnered with OTL and landscape architect Lifescapes International to create a fountain that they say satisfies San Mateo's Art in Public Places city ordinance.
"The City of San Mateo requires any project valued at $3 million or more to install art in publicly accessible places," Zimmerman explains. "In order to accommodate the city's requirement, we are designing something unique that can be enjoyed as both an entertainment feature and as an art piece."
"OTL has been essential in fulfilling the project's public art requirement," said Scott E. Bohannon, senior vice president of Bohannon Development Company. "In addition to designing a fountain that pushes the artistic envelope, the firm was part of the team that presented the art proposal to San Mateo's Civic Arts Committee. We are confident that OTL's work will attract art lovers and shoppers who will become art lovers at our newly renovated Hillsdale Shopping Center."
OTL says it has designed and will construct the 1,871 square-foot show fountain in Hilldale's main public plaza, and the firm says it is partnering closely with Lifescapes International to interweave living planter pockets into the interior of the fountain.
Zimmerman says these unique features are key in ensuring that the center's water feature also functions as a work of art.
"In order to create a fountain that is truly artwork, the design has to make an artistic statement on its own," Zimmerman says. "By visualizing a custom shape and form, and integrating live planters and complex lighting, we are creating something truly exceptional for the San Mateo community."
OTL says the fountain will be surrounded by gathering and seating areas, highlighting the new public art piece and transforming the space into a gallery where visitors can sit and see the piece.
"While viewers may sit for a time, the fountain's interest and complexity will invite people to walk around it and experience it from different viewpoints in the same way that traditional art is often viewed," Zimmerman adds.
OTL says the fountain will consist of 71 individually controlled aerated nozzles choreographed at low display heights to create effects, which the company says will not disturb the living planter pockets in the fountain basin. Additionally, OTL says the fountain will boast 142 color changing LED lights that will be choreographed individually.
"Each of our show fountains becomes its own attraction for the local communities in which they are built," Zimmerman says. "In this case, we're excited to break ground on a vibrant piece that will become part of the community's art and culture in a way that goes well beyond a more traditional, stationary sculpture."
The company says the fountain is expected to be completed in Q4 2018, and it will be located at Sixty 31st Avenue in San Mateo, California.
LiveWall installs living wall at Applied Imaging office
Applied Imaging recently installed a 198-square-foot LiveWall living wall as the main design element in the lobby of its new corporate headquarters at 5555 Glenwood Hills Parkway Southeast in Grand Rapids, Michigan.
"The green wall makes our lobby more welcoming and more interesting," said Laura Katsul, office manager, Applied Imaging. "It brings our values to life and invites conversation about who we are as a company, how we work with each other and how we do business with our customers."
According to the company, when customers enter the office of Applied Imaging now, they are greeted by the living wall, which features plants that are interspersed with colorful signs displaying the elements for success, such as "Kn" for knowledge and more.
The 198-square-foot living wall is 9 feet tall and 22 feet long, and in total it includes 98 LiveWall modular planters, which contain inserts that hold the growing medium and a mix of six different tropical plants chosen for their ability to thrive indoors.
The company adds that the integrated irrigation components use drip stake assemblies, which inject water into the growing medium, and the light fixtures above the green wall use LiveWall Norb (Nutri-Orb) bulbs. These, according to LiveWall, are specialized white-light LED grow bulbs that provide the light spectrum and light nutrition plants need while giving off a white light like regular indoor lighting.
"Views of light and living plants meet our innate need to connect with nature," said Dave MacKenzie, president of LiveWall. "They contribute to reduced stress and increased productivity. In addition, living walls, also known as green walls, make interior spaces more appealing and relaxing and improve indoor air quality."
"Originally, the wall behind the reception desk at Applied Imaging was going to be a display of monitors, a typical technology display for a tech company," said Jan Beerthuis, site superintendent, Rockford Construction, the construction and real estate development company that renovated the building on Glenwood Hills Parkway for Applied Imaging. "John Lowery, Applied Imaging's president, is an innovative business leader. He wanted to go with a green feature, and the living wall turned out to be very distinctive."
Excel Industries announces retirement of president and CEO
Excel Industries announced the retiring of Paul Mullet, president and CEO. Joining Excel Industries as CEO on Feb. 12 will be Joseph C. Wright.
The company says that Mullet's decision to retire comes after 45 years with Excel Industries, where he has served as president and CEO since 1991. The company adds that Mullet will stay actively engaged through March to assist with Wright's transition, and he will continue to serve on the company's board of directors, a role he has held since 1983.
The company says that Mullet's father, Roy Mullet, was a founding member of Excel Industries. Paul Mullet started with the company as a welder in 1972. After this, Excel says he progressed through a diverse range of roles with a variety of responsibilities within the company, including production supervisor, service manager and VP of sales and marketing until his promotion to president.
"Professionally and personally, now is the time for me to transition the leadership of Excel Industries," said Mullet. "We've grown significantly over the last decade and we're starting 2018 in a strong position. The entire leadership team is excited to welcome Joe as our new CEO and continue our growth trajectory."
Wright was selected by the board of directors to be CEO after an exhaustive search, according to the company. He comes to the company from Concept Metal Group, a provider of metal processing, metal finishing, powder coating, assemblies and supply chain management, where he served as president. Before this, the company says Wright spent 21 years with Briggs & Stratton Corporation.
"We're confident about this new chapter for our company with Joe at the helm," said Bob Mullet, chairman of the board. "Joe brings highly relevant experience in manufacturing and new product development to Excel Industries, as well as a track record of developing strong management teams and executing profitable growth strategies."
Wright served as the president of Briggs & Stratton's engines group for nearly a decade of his tenure with the company. In that role, Excel says Wright had profit and loss responsibility for a $1.2 billion global engine business, including sales for India, North America and China.
Excel adds that Wright also acquired over 10 years of experience in manufacturing before joining Briggs & Stratton, including positions such as president and vice president with companies both in the lawn and garden and small engine spaces.
"I wish Paul the best in his retirement and would like to express my gratitude to the board of directors for this opportunity," said Wright. "For years, I've followed the progress of Excel Industries. Under my leadership, the company will continue its legacy of innovation and quality craftsmanship. I look forward to returning to my lawn and garden industry roots and becoming part of the local community."
ASV adds New York dealer to network
ASV Holdings Inc. has added Jim Reed's Truck Sales to its dealer network.

ASV says the Cortlandt Manor, New York-based dealer will offer all ASV Posi-Track compact track loaders, featuring best-in-class rated operating capacity, hydraulic efficiency and cooling systems, from the RT-30, to the VT-70 to the RT-120 Forestry unit.
"Over 60 years, we've become a pretty large, family-owned dealership, so we have our boots on the ground and we know our business," said Bill Reed, vice president of Jim Reed's Truck Sales. "The quality of ASV products impressed us. They are American made with readily available parts. The company is also very organized, proficient and professional."
Jim Reed's Truck Sales says that it has been proudly serving customers since Jim Reed, Bill Reed's father, started the business in the 1950s as a NASCAR race driver. The company says he then built the company into a community truck dealership in the 1960s, and today the company continues to expand but seeks to continue a long-standing tradition of the "family store" model first begun by Jim Reed.
"Jim Reed's Truck Sales is a business that is very strong on customer service in every aspect," said Bill Klein, ASV district sales manager. "Jim Reed was driven in that area, and it has allowed them to gather a huge following."
Bayer names Jose Milan as Turf and Ornamentals global market manager
Environmental Science, a business unit of Crop Science, a division of Bayer, recently announced that Jose Milan was appointed Turf & Ornamentals global market manager. In this role, the company says Milan will have a global focus on delivering Bayer brand experience for customers in the golf course management, production ornamentals and lawn and landscape markets around the world.
"With his deep market knowledge and proven passion for the green industry, Jose is uniquely positioned to bring surgical focus to our global marketing strategy and enhance customer experience globally, so that regardless of geography, our customers have the same world-class experience with Bayer," said Thierry Chenet, head of global marketing for Bayer Environmental Science. "Jose will play a critical role in aligning our sales and marketing teams to deliver the best results for our customers while helping to create a better life in the communities we serve."
Most recently, Milan served as the head of business operations for the U.S. Turf & Ornamentals business. He is a founding member of the Turf and Ornamental Communicators Association (TOCA), and he is also involved with associations such as Responsible Industry for a Sound Environment (RISE).
Before working with Bayer, the company says Milan held key leadership roles with Syngenta and Novartis, and he holds a bachelor's in dairy science and a master's in agricultural economics from Louisiana State University.
"As Bayer continues to expand its role as a global market leader in turf and ornamentals, it's critical that we sharpen our focus on better understanding and meeting the evolving needs of our customers," Milan said. "I'm looking forward to leading the effort to grow mutually beneficial relationships that help ensure the success of our customers and the advancement of the turf and ornamentals industry as a whole."
EquipmentWatch announces finalist for 2018 Highest Retained Value Awards
EquipmentWatch has announced the finalists for the third-annual Highest Retained Value Awards.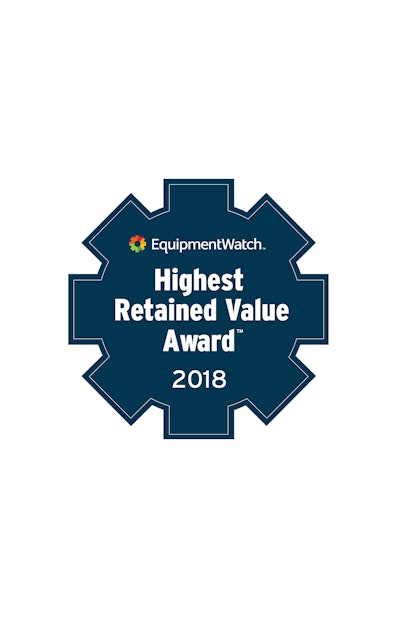 These awards recognize manufacturers in 30 equipment categories for products that show the highest retained value over the last five years. The winners will be announced in conjunction with World of Concrete 2018, held in Las Vegas, Nevada, Jan. 23-26. Leading nominees include John Deere with 26, Caterpillar with 22 and Case with 20.
"Retained value is a critical measuring stick for equipment buyers, dealers and fleet managers throughout North America that speaks to each machine's historic performance and value," says Garrett Schemmel, vice president, EquipmentWatch. "The Highest Retained Value Award program has more weight now than ever after three years, as EquipmentWatch continues to grow and evolve so does the data set that drives these nominations."
2018 finalists:
Agriculture Equipment
| | | | | | |
| --- | --- | --- | --- | --- | --- |
| Balers | Deere 8 Series | CASE IG RB4 | Massey Ferguson 2000 | Vermeer 605 | New Holland BC 5000 |
| Combines | Massey Ferguson 9500 | CASE IH Airflow 140 | Deere 600 | New Holland CR | Gleaner Series S8 |
| Corn Headers | CASE IH 4400 | Deere 700C | Drago Series II | Deere 600C | Gleaner 3000 |
| Tractors – Track | CASE IH Steiger | Deere 9RT | Challenger MT800 | Deere 8RT | Challenger MT700 |
| Tractors – Wheel Large | Deere 8R | Challenger MT600 | CASE IH Magnum | Deere 9R | New Holland T8 |
| Tractors – Wheel Small | Deere 5E | Challenger MT500 | Kubota BX | Deere 6R | CASE IH Maxxum |
| Sprayers | New Holland Guardian | Apache AS | Deere 4000 | CASE IH Patriot | Hagie STS10 & 12 |
Construction Equipment
| | | | | | | |
| --- | --- | --- | --- | --- | --- | --- |
| Backhoes | New Holland B95 | CASE 590 | Deere 410 | TEREX TLB840 | Caterpillar 430 | JCB 3C |
| Dozers – Track Large | Deere 850 | Komatsu D65 | CASE 1650 | Caterpillar D8 | Dressta TD25 | Dressta TD20 |
| Dozers – Track Small | Caterpillar D5 | CASE 650 | Deere 650 | Komatsu D61 | Caterpillar D6 | |
| Drum Compactors | Bomag BW211 | Dynapac CA2500 | Caterpillar CS-56 | Volvo SD115 | Hamm Series H | |
| Excavators – Compact | CASE CX50 | Bobcat E50 | Caterpillar 303 | Deere 35 | Volvo EC35 | Takeuchi TB200 |
| Excavators – Crawler Large | Deere 870 | Caterpillar 390 | Volvo EC700 | CASE CX800 | Komatsu PC800 | |
| Excavators – Crawler Medium | Volvo EC380 | Komatsu PC360 | Kobelco SK350 | Caterpillar 336 | CASE CX350 | Deere 350 |
| Excavators – Crawler Small | CASE CX70 | Caterpillar 320 | Komatsu PC35 | Deere 160 | Kobelco SK140 | Bobcat E80 |
| Loaders – Compact Track | Kubota SVL | Deere 323 | CASE TV380 | Caterpillar 289 | Bobcat T600 | New Holland C230 |
| Loaders – Skid Steer Large | CASE SV200 | Deere 320 | Caterpillar 262 | Bobcat S650 | New Holland L220 | |
| Loaders – Skid Steer Small | Bobcat 5100 | Caterpillar 232 | Gehl R1000 | Bobcat S450 | Volvo MC90 | CASE SR100 |
| Loaders – Wheel Large | Kawasaki 90 | Volvo L120 | Caterpillar 980 | Caterpillar 966 | Deere 844 | |
| Loaders – Wheel Medium | Volvo L90 | Deere 544 | Hyundai HL900 | Caterpillar 930 | Komatsu WA320 | CASE 621 |
| Loaders – Wheel Small | Volvo L45 | Deere 244 | CASE 521 | Komatsu WA200 | Caterpillar 908 | |
| Motor Graders | Deere 770 | Caterpillar 140 | Caterpillar 12 | Deere 670 | CASE 865 | |
| Rear Dumps | Bell B30 | Deere 250 | Volvo A40 | Caterpillar 740 | Komatsu HM400 | Terex TA300 |
| Tandem Compactors | Bomag BW120 | Wacker Neuson RD12 | Volvo DD140 | Caterpillar CB-60 | Dynapac CC900 | |
Lift/Access Equipment
| | | | | | | | |
| --- | --- | --- | --- | --- | --- | --- | --- |
| Boom Lift – Articulating | Bil-Jax XA | Bil-Jax A | JLG A | JLG A Electric | Genie Z Electric | Genie Z RT | Haulotte HA RT |
| Boom Lift – Telescopic | Snorkel TB | Haulotte HB | JLG S | Genie S | Skyjack SJ T | | |
| Electric Scissor Lifts | Genie GS Electric | Skyjack SJIII | JLG ES | Mayville Engineering Co. ES | Haulotte Compact E | Custom Equipment HB | Snorkel S |
| I.C. Scissor Lifts | Mayville Engineering Co. RT | JLG RT | Genie GS RT | Skyjack SJ RT | Haulotte Compact RT | | |
| Lift Trucks – Telehandlers | JCB 500 | JLG Telehandler | Sky Trak Telehandler | Caterpillar TL | Genie GTH | Gehl RS | |
| Lift Trucks – Warehouse Narrow Aisle | Caterpillar GP | Hyster H Series | Komatsu BX | Yale GC | Toyota 8F | Doosan Pro 5 | |