A delegation from the Portland Japanese Garden will travel to Japan for a first-of-its-kind trip as part of the "KAKEHASHI Project," which is a U.S.-Japan exchange program.
The delegation will be made up of 10 people who will be immersed in Japanese landscapes and culture during their Jan. 22-Jan. 30 visit.
"The Portland Japanese Garden is an extraordinary display of Japanese heritage and culture here in the United States, and we are pleased to welcome this team to Japan," said Takehiro Shimada, minister for communications and cultural affairs. "This is the first time Japan will host a Japanese garden delegation as part of the KAKEHASHI Project, which serves as an important bridge between Americans and Japanese. Through this unique bond, we look forward to further cultivating our friendship with the Portland Japanese Garden and the American people."
While on this weeklong trip, the delegation will visit the Katsura Imperial Villa outside of Kyoto, which features a premier Japanese garden. They will also have the chance to tour a Shinto shrine in the city of Kamakura, the Nezu Museum in Tokyo and other cultural experiences.
"The Portland Japanese Garden is honored to be selected for this immersive cultural opportunity," said Stephen Bloom, chief executive officer of the Portland Japanese Garden. "We are grateful to the Ministry of Foreign Affairs of Japan for inviting 10 of our garden staff members – a first for this program – to participate in this exchange. As a Global Thought Leader, the Portland Japanese Garden strives to be a place for cultural exchange, and a place for people to be transformed by the culture and philosophies of Japan. This program only furthers the ideals we stand for, one of global understanding."
Weed Man USA seeking employees
Weed Man USA is currently seeking to fill a customer outreach, sales and marketing, managerial and field positions in the next few months.

The company says these positions, which include both full- and part-time opportunities throughout Weed Man USA's over 520 territories and 131 franchise locations nationwide, provide a foot in the door to the $82 billion lawn care industry. Weed Man USA says that each franchise provides employees with proven systems, personal development guidance and superior products.
The company says that often it will hire part-time and seasonal workers at the high school and college levels, as well as full-time experienced lawn care professionals. The company says that each franchise provides open book management that clearly lays out how each employee can move up to help reach business goals.
"It's in our franchise system DNA to provide employees with a clear path, develop a culture of trust and always be in a position where you can help mentor and provide tangible resources for development," said Jennifer Lemcke, COO of Weed Man USA. "Weed Man USA's systems are designed to create multiple advancement opportunities. Our company continues to grow because of the strength of each individual."
Weed Man USA says it provides an apprenticeship program that allows students to learn every aspect of the business, from working on lawns to marketing and administrative functions.
The company says that they are looking for employees from a wide range of work experience and education levels, and as long as candidates show driven attitudes and determination, the company's educational programs, mentorship programs and hands-on training programs can pave the way to success.
STMA announces 2018 board of directors
The Sports Turf Managers Association (STMA) has confirmed its 2018 board of directors.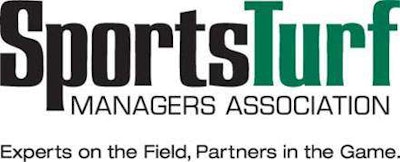 Sarah Martin, certified sports field manager (CSFM), foreman I and turf manager at Reach 11 Sports Complex for the City of Phoenix, was elected president, and she will serve a one-year term.
"Throughout my professional career, STMA has always supported my pursuit of knowledge and growth in the sports turf industry," says Martin. "It is a privilege to contribute to our organization's continual growth and collaborate with colleagues to elevate the importance of maintaining safe playing fields globally."
Other STMA officers elected to the board include:
President-elect– Jody Gill, CSFM, grounds coordinator, Blue Valley School District (Overland Park, Kansas)
Immediate past president– Tim VanLoo, CSFM, manager of athletics turf/grounds, Iowa State University (Ames, Iowa)
Secretary/treasurer– Jimmy Simpson, CSFM, Town of Cary (Cary, North Carolina)
Vice president commercial – Boyd Montgomery, CSFM, certified sales executive, regional business manager, The Toro Company (Minneapolis, Minnesota)
The director fulfilling a second-year term is:
Schools K-12 director–Sun Roesslein, CSFM, Jeffco Schools (Golden, Colorado)
Members elected to director positions include:
Academic director– Jason Kruse, Ph.D., University of Florida, (Gainesville, Florida)
Higher education director– Nick McKenna, CSFM, baseball field manager, Texas A&M (College Station, Texas)
Director parks and recreation– James Bergdoll, CSFM, City of Chattanooga Public Works (Chattanooga, Tennessee)
Elected-at-large director– Matt Anderson, CSFM, grounds superintendent, University of Arizona (Tucson, Arizona)
Members appointed to the board include:
Weston Appelfeller, CSFM, director of grounds, Columbus Crew (Columbus, Ohio)
Tom Nielsen, head groundskeeper, Louisville Bats (Louisville, Kentucky)
Randy Price, Tri-Tex Grass (Granbury, Texas)
STMA conducts its annual elections electronically in late November and the board officially takes office during the conference and exhibition each January.
Next year, the event will be held in Phoenix, Arizona, Jan. 22-25, 2019, and the following year's conference will be held in West Palm Beach, Florida, Jan. 14-17, 2020.
STMA also recently celebrated Steve Wightman as the newest member of the Major League Baseball (MLB) Groundskeepers Hall of Fame.
Before he retired in 2012, Wightman managed sports fields for more than 39 years; 36 of those years were at the professional level. As an active member in the sports turf industry since 1978, he served as STMA president from 1984-1986, and STMA says he held several leadership positions within local chapters and advisory boards. Wightman is only the 10th MLB groundskeeper to be inducted into the Hall of Fame.
"Steve's dedication and outstanding contributions to Major League Baseball and the sports turf industry has been cemented with this special acknowledgment," says Kim Heck, CAE, CEO of STMA. "The importance he placed on elevating the profession and his commitment to maintaining safe and aesthetically pleasing playing surfaces has served as inspiration to countless individuals across the country."
STMA says Wightman's lasting impact continues today. Previously, he held positions as head grounds manager at Denver's Mile High Stadium (Denver Broncos/Bears) from 1976–1988 and as field manager from 1988–2012 at San Diego's Jack Murphy Stadium/Qualcomm Stadium (San Diego Chargers/Padres, San Diego State University Aztecs).
STMA says that from preparing a MLB All-Star game (1992), World Cup (1994), World Series (1998), two Super Bowls (2003, 1998) as well as numerous playoff and championship games, Wightman sits in elite company.
"I am incredibly humbled to win this prestigious award and join the legendary cast of sports turf managers honored before me," says Wightman. "I couldn't have achieved this without the unwavering support of my family, friends and colleagues throughout the years."
STMA says that in order to be considered for induction, a person must have ceased employment in the profession for at least five years and have made a significant contribution to groundskeeping and/or the sports turf industry at the Major League level.
An individual's involvement in the community is also considered, according to STMA, and nominees are submitted to the MLB Groundskeepers Association for a vote. Each team, STMA says, has one vote and a nominee must receive 75 percent of the vote of all active association members to be elected.
Names of the inductees are inscribed on the Gary Vanden Berg trophy, which was named for the late Vanden Berg. The induction ceremony was held during the 20th annual MLB Groundskeepers meeting at Globe Life Park in Arlington, Texas, on Jan. 21.
Ruppert Landscape promotes Paul Pestun
Ruppert Landscape recently announced the promotion of Paul Pestun to the position of director of business development in the company's landscape construction division.
The company says that Pestun holds a degree in landscape management from Montgomery College and is a platinum-level graduate of ABC's Leadership Development Program. In 2012, Pestun joined the company as an assistant field manager and had over 10 years of landscape construction experience.
A few months later, he was promoted to the newly created position of assistant production manager, where the company says he helped pilot that new level of management in the division. The company adds that he was promoted to the position of business developer in the national landscape construction branch in 2014, during which time they say he developed sales opportunities in markets where Ruppert didn't have a permanent physical presence.
Ruppert says that Pestun's efforts helped the national construction branch set a new division record of $34.1 million in sales for 2017.
"This new position will be an expansion of Paul's current responsibilities as national business developer," said Bob Jones, president of the landscape construction division. "We're confident that he will become a valuable resource to our sales teams and look forward to the impact he will have on sales growth across the division for years to come."
In this new role, Ruppert says Pestun will be responsible for working with the sales team at each landscape construction branch to help unify sales efforts across the division.
Additionally, the company says he will also be responsible for tracking market trends and creating new sales opportunities on a national level, targeting markets with high construction volume and generating high-level relationships with owners, general contractors, developers and landscape architects.