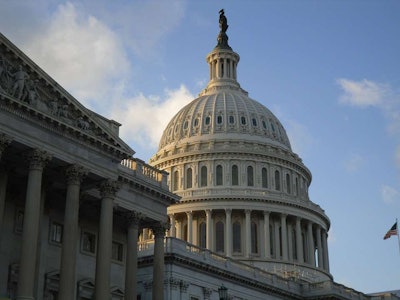 The National Association of Landscape Professionals (NALP) has requested landscapers make their voices heard about the critical need for H-2B cap relief.
Last week, the Department of Labor's Office of Foreign Labor Certification issued final certifications and many NALP members were out of luck.
Unprecedented interest in the temporary non-agricultural worker program has resulted in over 60 percent of businesses who applied for laborer under the second half of the cap not to receive their workers.
Numerous seasonal landscaping companies are now left scrambling to find workers after already proving that hiring locally is not an option.
"Our decision makers in D.C. don't seem to understand the ramifications of their continued inaction," said Paul Mendelsohn, vice president of government affairs for NALP. "Some don't believe that there is truly a labor shortage, despite record unemployment, or that without cap-relief their constituents who depend on a seasonal business face difficult decisions that may include laying off full-time American workers or going out of business."
Due to inactivity in Congress, NALP is encouraging its members to contact their members of Congress and explain just how desperately the cap-relief is needed. The association is asking that landscapers customize the draft message and share in detail how not receiving H-2B visas will affect their businesses – jobs jeopardized, revenue lost, client turnover, inability to purchase equipment, etc.
Due to the fact that a budget has not been set in place for 2018, NALP is working to have cap-relief language included in the spending bill. Congress has until March 23 to pass a budget or once again put off dealing with the issue with another quick fix.
Landscapers can easily locate the contact information for their elected officials at the NALP Member Advocacy Center.
Terra Nova Nurseries announces website redesign
Terra Nova Nurseries, a company that specializes in plant breeding technology, has updated its website design to streamline navigation and create a more engaging user experience.
The redesign has simplified styling and is now optimized for mobile devices, allowing customers to interact with the company online with ease.
Visitors can read product profiles on popular and new plant varieties, view close-up and wide-angle photography, sign up for e-newsletters, review inventory and browse the digital catalog. They can also download growing and propagation insights called Grower Recipes as PDFs.
A new addition is a Frequently Asked Questions page that has a click-to-open feature that answers questions succinctly.
Terra Nova says one of its top features is its products section, which has accelerated search functions that allow users to find and learn about plants based on their hardiness, exposure, flower color, foliage color, bloom time, growth habit and genus. A new search module even enables customers to find plants for special landscapes with traits such as deer-resistance, low-water usage, pollinator and hummingbird attractors, among others.
Plant profiles come with high- and low-resolution pictures along with detailed plant characteristics and potential companion plants.
New plants or genus improvements are presented with rationales as to why it is an improvement over previous cultivars and how new breeds meet the certain needs of customers.
ASV launches compact track loader video series
ASV Holdings, Inc. is showcasing its Posi-Track loaders in a new video series.
The series, ASV Demo Challenge, places ASV machines in head-to-head competitions against other manufacturers' compact track loaders examining features such as speed, stability, traction, ride quality and performance in extreme conditions.
"We always talk about how our Posi-Track loaders feature best-in-class performance that make them more productive and comfortable than any other loader on the market," said Buck Storlie, ASV testing and reliability leader. "These videos prove it, showing ASV outperforming competitor compact track loaders in task after task and giving our customers the information they need to make an informed decision when buying new equipment."
The videos show the ASV machine perform in a number of situations including navigating muddy terrain and handling materials on side slopes.
ASV says its Posi-Track loaders are able to handle the challenges so well because they are designed from the ground up to run on tracks, and all models are independently suspended via two torsion axles per undercarriage.
To see when new videos in the series are released, follow ASV on its YouTube channel.
PERC names Jeremy Wishart director of off-road business development
The Propane Education & Research Council (PERC) promoted Jeremy Wishart to director of off-road business development.
He has been the deputy director of business development for PERC since 2013 and has held various marketing positions within PERC since joining in 2005.
Prior to PERC, Wishart worked in the resort and tourism industry as an events and marketing coordinator for Snowshoe Mountain Resort in Snowshoe, West Virginia. He earned a Bachelor of Science in commercial recreation and tourism in 2002.
Wishart will be responsible for leading propane application research and development and oversee market communication strategy in his new role.