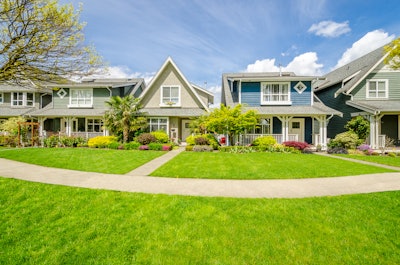 You might think the "keeping up with Joneses" sentiment is a thing of the past, but the competitive spirit is alive and well with 53 percent of Americans admitting to having used an outdoor project to try to one-up their neighbors.
The survey conducted by Home Depot polled 1,000 Americans ages 25 and up about their projects for the season. While the desire to surpass their neighbors is strong, 89 percent said they prefer to outdo others with outdoor projects rather than the 62 percent who wanted to focus on the indoors.
Surprisingly, it is the millennials who feel more driven to compete with others (70 percent) yet only 50 percent of the millennials take action to outshine their nearby residents.
As for families, 66 percent said they felt the need to preen their properties, and 44 percent said they have one-upped a neighbor compared to the 20 percent of non-parents who said they did so.
The top three outdoor tasks people said they planned to do was gardening (69 percent) yard work (67 percent) and painting (47 percent).
This common desire to have the landscape looking its best in the spring is an opportunity for landscaping companies to market their services that are prime for the season.
Some of the possible services you can sell are listed below.
Spring cleanup
Seasonal cleanup services can be a nice way to warm up new clients to your company if it is their first time hiring you. They're not having to commit to any huge project or price tag and they get to see how attentive your crews are to details.
Cleaning up can be as simple as clearing out flower beds of dead leaves, branches, and clutter that have collected over the winter months. Not only will it help the landscape look tidier but you're also helping remove the threat of disease-ridden materials that have lain dormant during the cold.
Dethatching
As we've mentioned before, thatch isn't necessarily a bad thing but it can lead to some major issues if it is allowed to accumulate too much. A thick layer can limit oxygen and water from reaching the soil and it can harbor diseases and pests as well.
If your customer is interested in dethatching services, check to see if it is over one inch first. When it has reached these heights, then you can remove it with a rake, vertical mower, or dethatching mower. Depending on how much thatch there is, the service can remove a fair amount of turf as well in the process.
Dethatching is a stressful process for the turf, so it should be conducted when the grass is actively growing, and the soil is moderately moist. Early spring is the best time for cool-season grasses, while late spring through early summer after a couple of mowings is best for warm-season grasses.
Seeding
If dethatching has left a client's lawn a little worse for wear, you can also offer the service of seeding their lawn. Experts agree that the best time to seed a lawn is in the fall but there are some situations that warrant immediate attention, such as poor turf density from winter damage, drought damage, or pest damage.
To have a successful spring seeding, this should be done as early as possible to maximize the turfgrass's chance of competing against crabgrass. Seed-to-soil contact is important and the seeded areas should be kept moist through its establishment. Mow with a lower setting for the first three to four weeks after seeding to allow sunlight to reach the new seeds.
Avoid applying pre-emergent crabgrass controls, as these will prevent the grass seeds from germinating as well. Siduron is the exception to this rule, according to the Purdue Turfgrass Science Program. It can be used at the time of seeding but will only control crabgrass for three to four weeks.
Aeration
Another service that goes hand-in-hand with seeding is aeration, as aerating before seeding will increase seed-soil contact and improve germination rates. For customers dealing with soil compaction, aeration can help alleviate this issue and improve water and nutrient movement in the soil.
It is best to aerate when the soil is moist, generally one or two days after it has rained. Aeration should be conducted twice a year for lawns that are subject to heavy foot traffic or have clay soils. For those with well-draining soils or yards that experience very little compaction, aeration once a year will suffice.
Aeration should be conducted when the lawn is actively growing so it can recover from any damage experienced during the process. Cool-season grasses such as Kentucky bluegrass and perennial ryegrass can be aerated from late March to the end of May, while warm-season grasses like zoysia should be aerated in late May to late August.
Mulching
Mulching is another simple service you can offer in the spring that can go a long way toward boosting curb appeal by making the property look neat and orderly. Aside from freshening up a landscape, adding mulch has practical benefits such as maintaining soil temperatures and conserving water.
Yet while mulch is beneficial, it's important to avoid the pitfall of creating mulch volcanos this spring. This is when about 1 to 2 feet of mulch is piled up around the base of a tree or a plant. While the amount needed varies based on the plant, 1 to 2 inches of mulch is effective for preventing weeds from growing.
You can view Home Depot's survey results in infographic form below.