BrightView helped install a Remembrance Garden at Southern Connecticut State University (SCSU) that honors the memory of four alumni educators who passed away that day and pays tribute to social justice.
The shooting in Newton, Connecticut, occurred in 2012 and left 20 children and six teachers dead at Sandy Hook Elementary School.
SCSU 2013 graduate Carlene Barnes created a conceptual design for the memorial that was selected in a juried competition. The SCSU staff along with Barnes worked with Julie Moir Messervy Design Studio in Vermont to complete the design.
The Remembrance Garden features a sculpture lined with four fiber-optic lighting stands meant to represent the four alumnae lost in the shooting and the light they brought to the world.
"The garden creates a setting of peace and tranquility with a beautiful wooden sculpture that reminds us of our alumnae's courage and sacrifice," said Joe Bertolino, SCSU president. "This space will serve as a place of inspiration and motivation to break the cycle of violence and build a better society for generations to come."
The memorial garden is part of the larger SCSU Reflection Garden, designed to express the university's five core values: dignity, respect, kindness, compassion and civility.
"There were many hands involved to make this project a reality and we were honored to be a part of it," said Justin Wolf, branch manager at BrightView. "We began with planning conversations and then moved to prepping the site, helping to manage the project and completing hardscape for what is now the garden's Area of Compassion."
Over an eight-month period, BrightView provided materials, labor, and philanthropic support.
"We could not have had a better or more dedicated partner than BrightView, who performed the work with such care," said Dr. William Faraclas, faculty member in the Department of Public Health and co-lead of the Reflection Garden Council. "It was clear they understood the significance of the garden and embraced the spirit of this project."
The green space with will serve as a place for reflections as well as creative activities and SCSU faculty are working on ways to incorporate the garden into their curriculum.
Registration opens for Hardscape North America
Those attending Hardscape North America trade show in Louisville, Kentucky, on October 17-19, 2018 can now register for the event.
This year will mark a new Wednesday format, in response to the show's growth. While the show floor will be exclusive to dealers, retailers, and the media at 12 p.m. on Wednesday, the entire industry is welcome to visit the indoor exhibits at 3 p.m. The indoor and outdoor areas will be open Thursday and Friday for all industry members.
The hardscape demos will also have a new format, with hardscape consultant Frank Bourque and his team leading six sessions on topics such as installing around pools and creating long-lasting water features. Each one-hour demo is worth one CE hour for ICPI Certified Installers.
Attendees can upgrade their registration for $50 or purchase the HNA VIP Pass for access to all six demos. The VIP Pass gives the attendee access to seven conference sessions and all six demos, which is worth $400. ICPI/NCMA/BIA members pay $189 for the pass while non-members must pay $229 in addition to trade show admission.
Dr. Robert Ballard, the oceanographer who found the Titanic wreckage will present two keynote sessions on Wednesday and will share his approach on team building and execution. The dealers keynote is 10:30 a.m. to 12 p.m. while the contractors one will take place at 1:30 p.m. to 3 p.m. These sessions are included with registration.
The show also includes the HNA Installer Championship and HNA Hardscape Awards Presentation.
Early-bird registration is $15 and includes admission to the GIE+EXPO. The early-bird deadline is Sept. 6. Click here to register.
Briggs & Stratton accepts 50-yard challenge for 110th anniversary
Briggs & Stratton is choosing to give back to celebrate its 110th anniversary and plans to mow 110 lawns in one day.
Inspired by Rodney Smith Jr., founder of Raising Men Lawn Care Service (RMLCS), who started the 50-Yard Challenge, which challenges young people across the country to mow 50 lawns, for free for people who lack the resources or the ability to do it themselves.
RMLCS provides free lawn care to the elderly, disabled, single parents and military veterans.
"Since 2016, Briggs & Stratton has been a proud supporter of Rodney and RMLCS," said Rick Carpenter, vice president of corporate marketing. "His efforts are an embodiment of our company values and You.Powered. brand theme, and we are excited to see his movement expanding into year two."
Smith will be going on a 50 States, 50 Lawns 2.0 tour where he will once again travel to each state to mow at least one lawn. He will start his tour on May 17 in Milwaukee and take part in the company event. The company is providing Smith with the equipment needed for the trip along with a financial contribution for expenses.
"As Briggs & Stratton celebrates 110 years as a proud Milwaukee-based company, it's only fitting we mark this milestone by mowing 110 lawns in the Milwaukee area with Rodney alongside us this year," Carpenter said.
One lucky community member will also receive free lawn care service provided by Briggs & Stratton for the entire mowing season.
National Garden Bureau accepting applications for therapeutic garden grants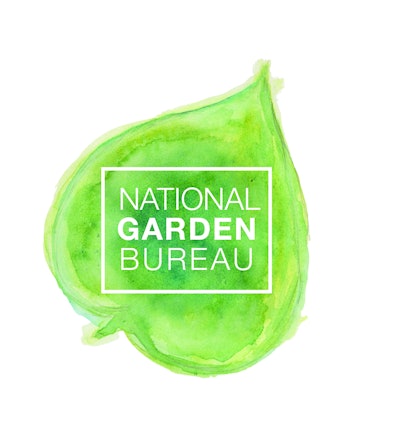 The National Garden Bureau and corporate sponsors American Meadows and Sakata Seed America are working together to provide $5,000 in grant money amongst three therapeutic gardens in North America.
The therapeutic benefits of gardens have been documented since ancient times and in the 19th century, Dr. Benjamin Rush noted the positive effect working in the garden had on people with mental illness.
A therapeutic garden is a plant-dominated environment designed to facilitate interaction with the healing elements of nature. These types of gardens have sub-categories such as healing gardens, enabling gardens, rehabilitation gardens and restorative gardens.
Those wishing to apply for the grant must meet the following criteria:
Have a defined program using the garden to further goals for participants led by a qualified leader. This could include horticultural therapy, physical therapy in a garden setting or using gardening to promote positive social relationships.
Offer a nature experience for population served, including, but not limited to, special-needs children or young adults, the elderly, veterans, or those recuperating from injuries or addictions.
Be used for job-training, skill-building, or food-growing for at-risk youth, veterans or the elderly.
Involve a large number of clients, patients, gardeners, visitors or students on a monthly basis.
To apply, click here and submit the application by July 1, 2018.
In July/August the applicants will be narrowed down to three finalists. The finalists will submit a one-minute video that will be posted on the NGB's website. The public will vote on the garden they want to receive the grants and the one with the highest number of votes will receive $3,000, while second and third place will receive $1,000 each.
NDS Inc. overhauls website for spring landscaping projects
NDS Inc, a manufacturer of drainage and stormwater management products, recently relaunched its website.
It now showcases a number of new features to make it a go-to resource for contractors, specifiers and homeowners. The first feature is the Interactive Product Selector tool that helps contractors identify the right tool for any job, taking the guesswork out. Users can conduct detailed searches, sorting by application, capacity and load requirements.
Another free tool is the NDS Home Drainage Center. This provides a step-by-step interface that identifies common residential landscape drainage problems and solutions. A four-part guide helps diagnosis the problem while providing product suggestions and installation guides to do the job right.
Users can also take advantage of a series of Drainage Calculators. Additional tools include being able to ask Dr. Drainage questions and a library of videos, case studies and downloads.
Click here to view the new site.