The Interlocking Concrete Pavement Institute (ICPI) recently announced its new Hardscape North America (HNA) awards categories and judging criteria for 2018.

ICPI says the awards recognize commercial and residential hardscape projects in the United States and Canada, including walkways, patios, driveways, commercial plazas, parking lots, streets and more.
Winning and honorable mention awards are given to hardscape installation contractors. HNA says designers and project manufacturers of winning and honorable mention projects will also be recognized at the 2018 HNA trade show during the HNA Awards Recognition Presentation. HNA also says the winners and honorable mentions will be featured in Interlocking Design magazine, the HNA website, social media, a press release and other industry publications.
Currently, the 2018 HNA Awards online submissions system is open, and entries will be accepted through Wednesday, Sept. 5. HNA says projects entered by Monday, Aug. 13 receive a discount of $40.
The 2018 HNA Awards feature 18 hardscape categories, including new categories for natural stone, outdoor living features, and vintage installation:
Concrete paver residential (less than 3,000 sf.)
Concrete paver residential (more than 3,000 sf.)
Concrete paver commercial (less than 15,000 sf.)
Concrete paver commercial (more than 15,000 sf.)
Segmental retaining walls residential (all sizes)
Segmental retaining walls commercial (all sizes)
Clay brick residential (all sizes)
Clay brick commercial (all sizes)
Clay brick permeable residential or commercial (all sizes)
Porcelain paver residential (all sizes)
Porcelain paver commercial (all sizes)
Combination of hardscape products residential (less than 4,000 sf.)
Combination of hardscape products residential (more than 4,000 sf.)
Combination of hardscape products commercial (all sizes)
Natural stone residential or commercial projects (all sizes)
Outdoor living features residential or commercial projects (all sizes)
Vintage installation for residential or commercial projects installed before 2008 (all sizes)
Awards submissions will be judged on five criteria:
Design (including use of color, shape, texture, and pattern)
Quality of construction and craftsmanship
Compatibility with related construction materials and systems
Construction innovation
Overall excellence
HNA says entrants will be asked to submit five photos and written descriptions of the completed projects that address the five judging criteria.
OPEI holds 66thannual meeting
The Outdoor Power Equipment Institute (OPEI) recently held its 66thannual meeting, which focused on messages of innovation and industry advancement.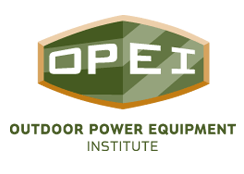 "Our annual meeting is the premier opportunity for members, suppliers, vendors and financiers to engage in a relaxed atmosphere, discuss the most important issues facing the industry today and to do some business," says Kris Kiser, OPEI president, and CEO. "With more than 100 members, we have record levels of membership and engagement, and the annual meeting is the place where they come together."
OPEI says it introduced its new statistics vendor, Vault Consulting, which showcased updates to the members-only program's capabilities and categories. OPEI says its staff also shared the latest forecast update for key categories of equipment.
OPEI says it also rolled out a preview of a new television program sponsored by TurfMutt and produced in partnership with Hearst Television and Litton Entertainment. The show, which OPEI says highlights the importance of lawns and outdoor space to families and pets, will debut this fall on the CW.
John Dunlap, OPEI consultant and former chairman of the California Air Resources Board, outlined the potential market impact of new regulatory schemes in California on the outdoor power equipment industry in the state and nationwide.
OPEI says the keynote addresses from futurist Vivek Wadwha and NASA Mars Rover team leader Adam Steltzner highlighted the power of technology, teams, innovation, and exploration to advance companies and civilization.
OPEI says the annual meeting also plays host to the OPEI Propane Golf Classic, sponsored by the Propane Education Research Council (PERC). The top teams at the tournament this year were:
Joe Wright, Excel Industries; T. J. Landrum, Kohler; Greg Goings, Freudenberg-NOK Sealing Technologies; and Greg Knott, OPEI
Del Zhao, Loncin Motor Company; Jeff Plotka, Precision Work; Steve Fregneau, Precision Work; and Bob Byrne, Sheffield Financial
OPEI says the 2019 annual meeting will be held at the Stein Eriksen Lodge in Park City, Utah, June 18-20, and members are encouraged to contact association staff with suggestions for topics or speakers.
The OPEI board of directors appointed Earl Bennett, president, Husqvarna Professional Products, to the board.
"Earl Bennett is a longtime advocate for the outdoor power equipment industry, and we welcome his perspective on the OPEI Board of Directors," says Kiser.
The 2018-2019 OPEI board of directors comprises:
Chair
Tom Cromwell, group president, Kohler Power, Kohler Company
Vice chair
Bjoern Fischer, president, STIHL
Secretary/Treasurer
Rick Olson, chairman, president and CEO, The Toro Company
Immediate Past Chair
Dan Ariens, chairman, and CEO, Ariens Company
Directors
Earl Bennett, president, Professional Products, Husqvarna
Edward B. Cohen, vice president, Government & Industry Relations, American Honda Motor Company, Inc.
Tim Dorsey, president, Echo Incorporated
Tom Duncan, president and CEO, Positec USA, Inc.
Peter Hampton, president and CEO, Active Exhaust Corporation
Jean Hlay, president and COO, MTD Products, Inc.
Tim Merrett, vice president, Global Platform Turf & Utility, Deere and Company
Lee Sowell, president, Outdoor Products, Techtronic Industries
Todd Teske, chairman, president and CEO, Briggs and Stratton Corporation
Mark Wagner, president and CEO, Club Car, LLC
Joe Wright, president and CEO, Excel Industries
American Rental Association unveils new brand identity
The American Rental Association (ARA) says it recently unveiled a new brand identity to reflect the evolution of the equipment and event rental industry. This move, ARA says, is part of an extensive branding initiative designed to carry the association forward in better serving its members and representing a community of equipment and event rental professionals.

"In order to effectively support this ever-changing and growing industry, we knew we needed to modernize our brand and our communications," said Tony Conant, ARA CEO. "As more second-, third- and fourth-generation owners get involved and the large national companies expand, it was necessary for us to evaluate the association's role and determine how we can best support the industry. This is one step toward enhancing our relevance and value to all who are part of this unique rental community."
The ARA board of directors approved the formation of the ARA Brand Committee in 2017 to guide the association through the rebranding process. ARA says committee members represented all three segments of the equipment and event rental industry. The goal, ARA says, was to create a cohesive family of brand marks that would work and read well in all facets of communications, represent the entire rental industry and speak to the values of young professionals and future leaders of the association.
The rebranding process also led to a new positioning statement for the association: 'Advancing the equipment and event rental community.'
"Our previous identity recognized the members who specialize in equipment rental, but it didn't specifically speak to those in the party and event segment," says Conant. "Furthermore, the term 'community' is an accurate reflection of who we are as rental professionals and how we operate, like a community of helpful, like-minded people"
ARA says the new brand mark reflects a modern and approachable look in terms of color, typeface, and design while paying homage to the previous logo.
"We're focused on continuing the development of the association with a brand update that builds on our rich history of being a unique platform where rental professionals can learn, share ideas and give back to our industry," says Conant.
NALP names new vice president of government relations
The National Association of Landscape Professionals (NALP) recently announced that Andrew Bray will join the association as vice president of government relations beginning on July 9.

The organization says Bray is a seasoned association advocate, having worked in a government relations capacity for the North American Meat Institute, the Grocer Manufacturers Association and most recently as the vice president of public policy at the National Pest Management Association.
NALP says early in Bray's career, he honed his policy, political skills and advocacy working on Capitol Hill in a congressional office and while working on multiple federal, state and local campaigns. In 2013, he earned his law degree and maintains an active license to practice law in the state of Virginia.
"Andrew will be a huge asset to our members and to the industry," said Sabeena Hickman, CAE, NALP CEO. "He is not only a seasoned government relations pro, but he also has extensive experience working on key issues our industry faces including pesticide regulation, proposed product restrictions, and labor laws."
Bray will replace Paul Mendelsohn, who left the association in June.