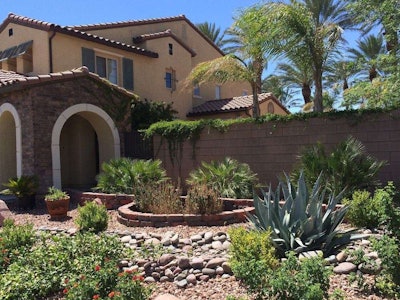 A well-maintained and beautiful landscape doesn't always have to feature exotic and elaborate plants, especially for customers in the Southwest.
If you service an area of the country where rolling green lawns aren't always realistic, don't let customers think that an eye-catching and beautiful yard isn't attainable.
To find out more about creating a Southwestern desert landscape, check out these helpful planting and design tips.
Planting
Contrary to how it might sound, desert gardens can contain beautiful and vibrant plants, but the keys to making sure this design comes together are proper planning and plant choices.
Start by selecting native or well-adapted plant species that will perform well without a lot of water, as well as types that will showcase the beauty of the region.
Native plants like agave and mesquite will add in a hint of the region, while Mediterranean plants like thyme and rosemary will be able to survive and thrive in the heat.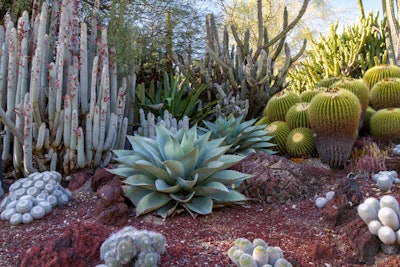 Be sure to keep similar plants grouped together, as you don't want them competing among themselves for water and nutrients. Likewise, when plants are grouped according to their water needs, it helps you to better plan out watering times and irrigation needs to ensure each plant is taken care of properly.
The mulch you use should also be tailored to the plant types. For desert natives with a finer leaf texture, they will really stand out against gravel and will grow well when mulched with it. For larger leafed plants, it's best to use a soil with more organic matter, such as shredded cedar or cypress mulch.
It's also a good idea to create lower areas in the landscape where you can plant trees. Trees will require more water to establish themselves, so planting them lower in the landscape will allow excess water to naturally flow where it's needed most.
Avoid filling your customer's yard with only rocks. Rocks will prove to be lower maintenance than other materials, but they can become hotter and brighter when exposed to sunlight, which can make it a bit more unpleasant for your customers to look at and live with.
The colors you use in the space will be important for a project like this because the ground in many areas where desert gardens are popular will be brown or gray. If you're going to incorporate some colors, you need to make sure it's done in a strategic way.
Two of the most popular colors to bring into the space are warm tones of red and yellow, and they can be planted directly in the ground or spread out in pots and planters.
Another good recommendation is, unless local codes require this, to not begin with using mature specimen trees. A younger tree won't require as much water to become established as a full-grown tree will.
Along with choosing native plants for the landscape, avoid choosing types that will monopolize water, require heavy irrigation, richer soils or humidity to thrive.
Equally important is to remember the plants present in the landscape and do not overwater them. After about one to two years, transition the plants to a deep watering schedule that should only occur every two or so weeks.
Hardscaping and softscaping
When creating a Southwestern desert landscape, keep in mind that adding in hard and softscaping will help pull the look together.
Scale is incredibly important when creating accent pieces or accent areas in the space, as you want them to flow into the overall design and not stick out like a sore thumb.
For instance, lining pathways or patios with large rocks or boulders can create a natural looking wall, or adding in taller grass types in the middle of a shrub ring could serve as a focal point.
Traditional building materials like walls made of adobe-mud or dry-stacked stone and gravel pathways are perfect for a classic Southwest look. When it comes to softscapes, many desert landscapes will, naturally, rely on the desert for color-palette inspiration.
If your customers are really wanting to stick with the desert landscape style, consider using warm sandstone, sun-bleached wood and hues found in the desert sunset for an added pop.
Other elements
Another common element in a desert landscape is the use of accent walls. Accent walls are free-standing walls or ones created to stand out with a vibrant coat of paint, and these can be useful as a design element to create backdrops or provide screening.
As mentioned earlier, saving water is exponentially important in desert areas, and larger water features such as pools and artificial waterfalls, while pleasant to use and look at, aren't always the best for saving water. Evaporation will take a lot of the water from the space, and the chemicals involved in the upkeep of these features cut down on their sustainability elements. Smaller water features, however, will serve as an attractive focal point, a good water feature for the space and are typically more ecologically mindful.
For clients not necessarily wanting water features, talk to them about simply adding in the illusion of water with a dry creek bed. Just having the look of a water source can create a calming effect on the design of the space, and they can also be effective methods of managing stormwater runoff.
To create this look, start by making a subtle grade change in the yard with mounds of soil and low-lying areas that will mimic a natural stream. Use stones and gravel to fill in the valleys and use drought-tolerant shrubs and ground covers for the hills.