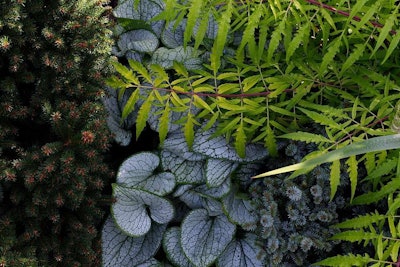 Sometimes customers desire plant combinations that can't always be installed in their landscape, but does that mean that the whole project has to be scrapped?
The short answer is definitely not, as there are multiple plant varieties that can serve as substitutions. Whether the originally chosen plant type won't thrive in the area of the landscape, doesn't work well in the surrounding climate or simply isn't available from the local nurseries, there are a few tips you can use to choose an adequate substitute.
Growing conditions
When choosing which plants can serve as a substitute, first take stock of the characteristics of the originally chosen plant. Consider what role it will be playing in the landscape, what design attributes it's contributing and what it will contribute in the way of practicality.
It's important to keep in mind the cultural needs of the plants in these combinations, especially when choosing substitutes. Keep in mind that these substitutes will need to be able to thrive in the same growing zones and soil conditions, and they will need to have the same water requirements as the other plants in its combo.
Be sure to note what your client's landscape can provide when choosing appropriate combinations and substitute plants. Check the area to see if it will be in a fair amount of direct sunlight or shade, if there will be enough space to accommodate mature plants and how much water is collected and stored in the area.
Research plant combinations that are thriving to learn as much as you can about individual plants and how they are expected to perform once added into a combo.
Designs
When choosing substitutes, think about the textures, shapes, colors, foliage and blooming times that will work well with the landscape and the surrounding plants.
If one plant will ultimately bloom into a more rounded shape, it's best to pair it with another plant that will have an upright shape. Bolder colored, shaped and textured plants pair well with fine ones, and flowing varieties pair well with rigid ones. Be sure to match plants together based on their expected size and growth rate to ensure they can grow together and not compete with each other.
Some combinations can be composed to accentuate and spotlight seasonal details, and substitutes might not always give your customers the same desired result. But, having a few ideas in mind that are strikingly similar can help you still offer clients what they crave.
Eye-catching borders
For customers who want eye-catching borders for their gardens, try combining bright flowers in varying colors, such as the greenish-yellow flowers of Euphorbia palustris (Marsh Spurge) combined with the burnt orange flowers and reddish leaves of Euphorbia griffithii 'Fern Cottage' (Spurge). These perennials can be paired with Allium hollandicum 'Purple Sensation' to add in more of a color pop.
Mediterranean feel
For customers in a more Mediterranean climate or those longing for this kind of look, consider adding in two Agave hybrids. The Agave 'Blue Flame' is a hybrid of the Agave shawii and A. attenuate with smooth bluish gray leaves. Edged with small teeth and decorated with reddish-brown margins, its thin yellow-green ribbons glow when hit by the sun. The Agave 'Blue Glow' combines the frosty blue sheen, smaller size, terminal spine and solitary habit of its parent plants. This type is slow to grow and produces rosettes of blue-green, chalky leaves.
Contemporary garden ideas
If customers desire interesting and textured looks, consider planting Verbena bonariensis, Agastache 'Black Adder' and Nepeta faassenii 'Six Hills Giant'. These can also be veiled by Deschampsia cespitosa (tufted hair grass). This color palette offers purples, blues and whites mixing well with the fine, wispy grass.