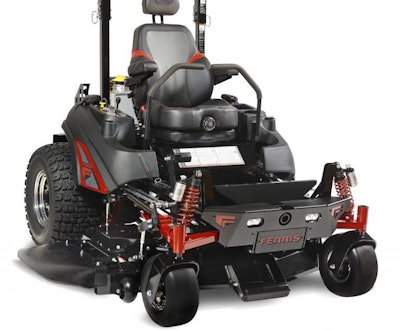 The Briggs & Stratton Corporation came to this year's GIE+EXPO with a plethora of new products.
For the Ferris brand, the company introduced the IS 3200 Midnight limited edition commercial mower to celebrate its 20th anniversary of suspension technology.
The IS 3200 Midnight includes the following features:
Comfort: A premium HP shock system with a 12-position adjustable dampening and progressive rate spring allows the shock to smoothly absorb smaller bumps while being firm enough to handle big dips. A two-tone suspension seat with headrest optimizes operator comfort.
Cut quality: The upgraded shocks and springs on the IS 3200 Midnight allow the patented adjustable front and rear suspension technology and the iCDäCutting System to follow the terrain even more closely, allowing the systems to work even better.
Access and visibility: A new multi-functional front-end guard provides a recessed jack mount for easy access to deck components and recessed LED headlights for loading enclosed trailers at dusk, extending the day.
Traction: New tires feature a rugged, deep tread design for added traction.
"The IS 3200 Midnight edition is the first unit crafted by the advanced concepts team," says Joe Ferris, product manager, commercial products. "This select, cross-functional team took the IS 3200 model to the next level of performance and styling through the application of advanced technology."
The IS 3200 Midnight is powered by a 37 gross horsepower Vanguard Big Block EFI engine, and the company says it features the Oil Guard System. Exclusively for Vanguard, Ferris says this system extends the oil change interval to 500 hours, which they say saves landscape contractors up to 60 percent per unit on oil maintenance each season.
Ferris says they will manufacture 500 units of the IS 3200 Midnight and will be sold exclusively through the authorized Ferris dealer network. The company adds that the IS 3200 Midnight is protected by a 2+2-year limited warranty and is covered for the first two years with unlimited hours and years three to four up to 500 hours.
Ferris says all suspension components, including the coil-over shocks, and frame are covered for five years or 60 months.
Ferris also introduced the ISX 800, which they say will allow landscape professionals to mow faster without sacrificing cut quality and experience a smooth ride.
Ferris says the ISX 800 offers the ForeFront Suspension System, which they say is the next generation in the company's independent suspension technology. Ferris says the ForeFront Suspension System is a natural evolution of independent suspension for the company.
According to Ferris, the system utilizes four upper and lower control rods that ensure the front caster bearing remains vertical through the full range of travel. Ferris adds that this controlled motion results in a smoother ride, more precise tracing of the terrain and an improved cut.
"The ForeFront Suspension System proves that we're not done taking care of our operators who ride every day," says Dan Roche, marketing director, commercial products at Briggs & Stratton. "They expect excellent results from their equipment, and we're providing them with advanced technology you would find on an ATV."
With an innovative two-belt iCD cutting system, Ferris says the chance of a belt dislodging or rolling from the pulley is reduced, and reliability is increased in a variety of conditions and covered by a three-year belt limited warranty.
The ISX 800 is also equipped with a hydro-gear ZT-3400 transaxle that Ferris says adds durability with every pass and is powered by the operator's choice of Briggs & Stratton Commercial Series engines or Kawasaki engines.
Ferris says operators can choose from a 52-inch or 61-inch iCD cutting deck, and they add that the ISX 800 is capable of mowing at up to 10 miles per hour. The ISX 800, Ferris says, also features larger front casters and rear tires than the IS 700Z, as well as a premium mid-back seat for operator comfort.
Backed by a 2+2-year limited warranty, Ferris says it covers the unit for either four years or 500 hours. During the first two years, Ferris says the mower is covered for unlimited hours, and all suspension components, including the coil-over shocks, are covered for five years.
Ferris also showcased their new corrosion-resistant stand-on spreaders, stand-on spreader/sprayers and stand-on blowers while at GIE.
"Commercial landscapers can now visit qualified Ferris dealers and choose products beyond just mowing," says Roche. "Professionals have come to trust and demand the highest quality from our commercial mowers, and they can expect the same level of performance from our stand-on blowers, spreaders and spreader/sprayers."
The company says the Ferris Rover FS1100 is a compact stand-on granular spreader with a 100-pound capacity hopper for maximum coverage of over half an acre. Ferris says the Rover FS1100 is optimal for residential areas where maneuverability around objects is critical.
For bigger jobs, Ferris says the Rover XC FS1200 has a 200-pound capacity hopper for maximum coverage of 1.1 acres. The company adds that this unit is capable of handling large acreages or commercial sites.
Additional Rover series features include:
Corrosive resistant: A Peerless 855 series coated transmission, stainless steel frame and well-placed cables, hoses and wires, increase the Rover's durability to withstand consistent contact with chemicals with each application.
Low friction sulky: The dual-pivot sulky has a ¾ inch tapered roller bearing which delivers a smooth ride at 5 mph.
Easy-to-operate controls: Operator controls are optimized to position the dry pattern and throttle on the right, and the spreader gain and gate control on the left.
Ferris says their Pathfinder series stand-on spreader/sprayers release both dry and liquid fertilizers, and the company says the unit is ideal for residential communities where navigating obstacles is important.
With a low center of gravity, Ferris says the unit is able to hug sloped terrain while its compact 36-inch width allows easy access to smaller backyards. Ferris adds that the Pathfinder XC FS2200 is ideal for larger properties or commercial sites.
Additional Pathfinder series features include:
Adjustable spray system: Operators change the depth of spray to 3 feet for trim and 10 feet for broadcast coverage.
Coverage and capacity: The Pathfinder FS2100 has a Spyker Hopper that is capable of holding 100 pounds for over half an acre of maximum coverage. The Pathfinder XC FS2200 has a Spyker Hopper with a 200-pound capacity for 1.1 acres of maximum coverage.
Large spray tank: The onboard spray tank on the Pathfinder FS2100 can hold 12 gallons of liquid fertilizer for maximum coverage of 1.1 acres while the Pathfinder XC FS2200 has a liquid capacity of 16 gallons for a maximum coverage of 1.4 acres.
Ferris says their Venture FS3100 and Venture XC FS3200 are both powered by an 18.0 gross horsepower Vanguard V-Twin engine and are equipped with a hydro-gear transaxle.
Additional Venture series features include:
Three-section breakaway boom: With an adjustable spray width of 2 feet, 4 feet, 6 feet or 8 feet, the Venture series models allow the operator to customize coverage to the site and conditions.
Dual spray tank: The Venture series models feature two 12-gallon spray tanks, providing a maximum liquid coverage of 2.2 acres.
Granular coverage and capacity: The Venture FS3100 features a Spyker Hopper that has a 100-pound capacity, providing maximum coverage over half an acre, while the Venture XC FS3200 has a Spyker hopper with a 200-pound capacity, providing maximum coverage of 1.1 acres.
Featuring a Dual Deflector Air Flow System and powered by a Vanguard engine, Ferris says their FB2000 and FB3000 stand-on blowers are capable of blowing air left, right and forward at an air speed of 165 mph.
With a torsion-mounted front axle assembly and hydro-gear ZT-3100 transaxles, Ferris says the blowers have a zero turning radius and added stability to easily navigate sloping terrain and obstacles.
Ferris says the FB2000 provides airflow of 6,500 cubic feet per minute, while the FB3000 provides airflow of 8,500 cubic feet per minute. The company says an air shut down system on all three blower discharge chutes and an automatic parking brake allow the operator to quickly power down the blower to safely pick up larger trash and debris.
Additional FB2000 and FB3000 features include:
LED lights: Operators can extend cleanup hours well into dusk with a bright, energy-efficient front LED light.
Quieter experience: The FB3000 operates at 2600 rpm, resulting in less noise output for the operator and work crews.
Easy to navigate dashboard: An ergonomically-designed patented quad control handle system increases driver comfort and ease of operation.