This week marks the beginning of National SnowCare for Troops Awareness Week. Project EverGreen says this week is intended to raise the profile of the program and spotlight the efforts of the initiative's loyal volunteers and the military families they help.
Now in its ninth year, Project EverGreen's SnowCare for Troops, in partnership with Boss Snowplow, is a program that pairs volunteer snow and ice removal contractors with local military families and disabled veterans in need of a helping hand.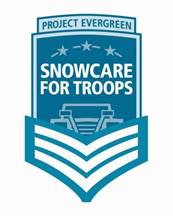 SnowCare for Troops is open to military families across the country with an active deployment and veterans with a post-9/11, service connected disability. The program was modeled after Project EverGreen's GreenCare for Troops initiative.
Throughout the week, Project EverGreen says profiles and stories will be shared via social media.
The group says it is actively seeking volunteers who are willing to add a few more stops to their winter service route this season. These volunteers will provide complimentary snow and ice removal services to qualifying military families when they are in need.
With military deployments occurring regularly across the United States, Project EverGreen says new volunteers are needed in all states to provide snow removal services to the families of deployed military personnel. Volunteers are matched with families within their service area.
"SnowCare for Troops provides military families in need with peace of mind and lifts a significant burden from their plates," says Cindy Code, executive director of Project EverGreen. "We're very grateful for the commitment of our dedicated volunteers and the continued support from Boss Snowplow. The leadership they have demonstrated in support of military families goes above and beyond the call of duty."
Project EverGreen says SnowCare for Troops is more than just clearing driveways and sidewalks; it is a means to help military families maintain their independence and go about their daily routines taking care of family, work, school and more.
"Boss Snowplow supports the SnowCare for Troops program as a meaningful way for our employees and our customers to give back to military families," says Mark Klossner, director of marketing, Boss Snowplow. "Our customers have great pride for their country and our armed forces and want to help others, so we are proud to lend our support."
Since beginning the program, Project SnowCare says it has seen more than 5,000 military families and 1,500 snow removal contractor volunteers across the country register to either provide or receive services since its inception.
"We are passionate about supporting active and disabled veteran members of the Armed Forces in whatever way we can," says Klossner. "Supporting initiatives like SnowCare for Troops allows us to make this passion a reality."
To find out more about volunteer opportunities, information on SnowCare for Troops or to register for the program, click here.