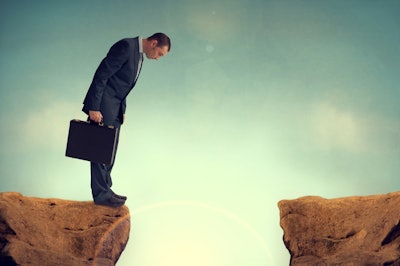 Fear is an emotion that comes from a sense of impending danger and it can exist whether the threat is real or imagined.
While it is normal to be afraid in legitimately frightening situations, and having a sense of fear can boost your sense of self-preservation, being afraid as you run your landscaping business can hold you back from becoming the best you can be.
They say courage is not the absence of fear but rather the judgment that something is more important. The brave may not live forever but the cautious do not live at all.
The great thing about fears is they are not insurmountable. Fears can be overcome. The first step is to identify exactly what it is that you are afraid of.
Fear of failure
Fear of failure is a major concern for many people. You don't even have to own a business to be afraid you're going to mess up somehow in life. This fear could be causing you to not even set goals because you are worried you won't be able to reach them.
But if you talk to any successful landscape company owner, they will tell you they have all made their fair share of mistakes. Eric Schultz, owner of Schultz Industries, in Golden, Colorado, calls his mistakes scar tissue, as you can recover from certain mishaps but you certainly won't forget them.
If the fear of failure is paralyzing you from attempting to achieve more, ask, "So, what if I do fail?" Figure out what the absolute worse-case-scenario is. If the reality is mainly embarrassment and a possible waste in time and/or resources, go ahead and give it a shot.
Fear of saying no
If you're just starting out, you might be afraid say no to a potential customer asking if you install an irrigation system, even though you've never laid an irrigation pipe in your life. If you prefer doing lawn care, don't tell customers you can do a service if it's not what you're interested in or equipped to do.
"Just because you can do it doesn't make it the most strategic use of your time," says Jan Johnsen, co-principal and owner of Johnsen Landscapes & Pools in Mount Kisco, New York. "Say, for example, a client says, 'Do you put in drainage systems?' and maybe they can, but is that where they want to spend their time? It might be, but they could be doing three new lawns during that time."
Knowing your goals will allow you to say no to the projects that are not a good fit for you and to say yes to the right opportunities.
Fear of asking for what you're worth
You might be afraid to price your landscaping services for what they're actually worth. You may have convinced yourself this is the only way to compete with low-ballers or that customers will refuse to pay for anything higher.
It is important not to undervalue your knowledge and skills. Not pricing accordingly will only end up hurting your business in the long run. If a client wants to know why you are charging so much for a service, educate them on what all goes into the costs.
And as for competing with low-ballers, do you really want to work a customer who only cares about the bargain basement prices? Lindgren Landscape in Fort Collins, Colorado, charges their customers for their landscape design because they know how much their time is worth, and it also helps determine if the customer is a good fit.
"If they're willing to pay to have a design, that means that they're invested and not just looking for some cookie cutter type design," says Tim Lindgren, president of Lindgren Landscape.
Fear of asking for help
There are a multitude of reasons why a person won't ask for help, and this could be internally within the company or externally throughout the industry. If your landscape company is growing, it may be time to hand over certain responsibilities to others. You may be reluctant to do so out of fear you'll look like you're passing the buck or you just don't trust others to handle a task.
However, delegating is necessary as a leader, as it will free you up to handle more important duties while empowering other employees.
"Delegate items to competent staff members by giving detailed, written instructions, coaching/mentoring them along, and hold them accountable," says Laurence Coronis, owner of Coronis Consulting, which provides operational, management, business and leadership coaching to landscaping companies.
If you are struggling with a problem, don't feel like you are alone. Stop worrying about appearing foolish and turn to your peers or an industry consultant when you need some assistance.