Technology plays a crucial role in running a business nowadays, and more and more small businesses are transitioning to the way of paperless practices in their everyday operations.
Not only can going paperless help cut down on wasted paper and supplies, it can also help streamline operations, cut costs and save you and your team members time.
Take a look at what you need to know about going paperless, the benefits behind it and how you can start the process of transitioning to a paperless landscaping company.
Pros
The first question you might find yourself asking when presented with the idea of going paperless is, is it worth it?
According to SmallBusiness.com, going paperless isn't easy and it may not be the right fit for every small business.
SmallBusiness.com says there are numerous positives that accompany going paperless, and the top two are the environmentally friendly and cost-efficiency benefits associated with it.
Paper accounts for 25 percent of landfill waste, and SmallBusiness.com says that reducing office paper use by just 10 percent could help prevent the emission of 1.6 million tons of greenhouse gases.
According to Constellation, up to 50 percent of small business waste is paper, which also means going paperless can also help with water conservation since each sheet of paper takes an average of five liters of water to make.
If your landscaping company boasts of being environmentally friendly, going paperless can ensure you're following through both inside and outside the office.
"From a purely financial standpoint, going paperless can save on office supply costs: the average American office worker goes through 10,000 sheets of paper annually," Constellation said online. "The cost of replacing black ink cartridges three times a year for a single printer ranges from $60 to $120, while color cartridges can cost $75 to $160 on the same purchasing schedule. If you add in the cost of pens and printers and the energy required to print documents, the financial importance of a paperless office becomes clear."
According to Forbes, a few other pros associated with going paperless are the reduction of your incoming mail and the accumulation of clutter around the office.
For important documents such as bank statements, invoices, and bills, check and see if you're able to opt-out of the physical copy and instead have them sent electronically. This cuts down on having to sort, file, and dispose of paper, and it also ensures that your private company information doesn't fall into the wrong hands.
Forbes also adds that by changing over from traditional filing methods and moving to digital files, your office space will become decluttered and clunky filing cabinets can be disposed of to create more space.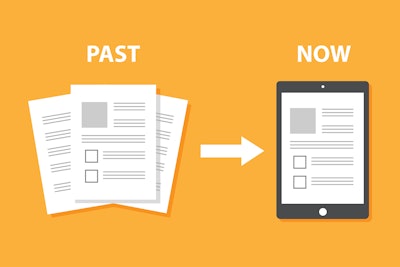 Both Forbes and SmallBusiness.com agree that going paperless allows businesses the ability to easily access digital files once they are transitioned over, as well as keep multiple files in varying categories all in one centralized location.
"With paperless business systems, you don't need to sort through mountains of paperwork to find documents," Forbes says online. "If you use a cloud-based filing system, you can access data from any device with an internet connection. For example, if you use online accounting software, you can update your books any time you want, from any location you want."
Forbes notes that going paperless can also allow employees an easier method of sharing information via emails, shared company servers, and online file-sharing systems. Constellation adds that instead of using paper handouts in meetings, consider taking advantage of information technology.
Cons
Along with the plethora of good that accompanies going paperless, there are a few cons you will need to keep in mind when considering the paperless transition.
SmallBusiness.com and Constellation agree that with the move to digital systems comes the very real possibilities of technology crashes and cyberattacks.
Everyone has those days where technology just refuses to work, and if your entire landscaping company runs without paper options, business could be at a standstill if a computer or server crashes for the day.
"You could lose everything," SmallBusiness.com says online. "It's important for every small business, and particularly those that are paperless, to have a system for backing up and protecting data off-site."
Document security is of the utmost importance when it comes to sensitive and private company information, so having strong encryption, local servers, and restricted access can help ward off cyberattacks.
Since going paperless will make your office rely more heavily on technology, there's a good chance you'll need to upgrade your existing office equipment to accommodate wireless printing and connectivity, and more. This could be an expensive process depending on how large your landscaping company is and how much upgraded technology you'll need.
For employees not yet used to the overabundance of technology in the workplace, going paperless could cause lapses in project completion and communication, which could trickle into communication and interactions with customers.
Speaking of customers, there's also a chance that customers might not be so keen on the idea of transitioning their paperwork to online statements, so be sure to consider your customer demographic and preferences before making an executive decision.
A final thought to keep in mind when discussing going paperless is taking into consideration the actual time and attention that will be required to successfully make this transition.
To start, you'll need to take all of your current paper-based operations and find adequate alternatives, and your entire staff will need to be trained on how to use this incoming technology and practices.
Making the move to paperless won't happen overnight, and it probably won't be easy. So, be sure to take enough time to consider every option, as well as every pro and con before jumping in head first.