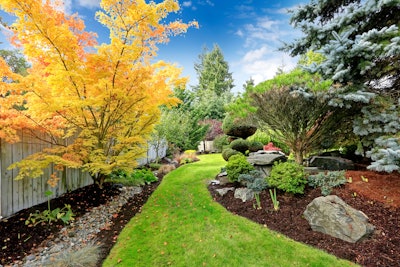 It's officially a new year and with it comes the new prediction of trends for 2019.
We spoke to some landscapers about these possible trends and their outlook on the future, and all of them agreed the future is looking bright.
"The economy is still strong, and companies continue to invest in landscape enhancements," says William Cruz, senior branch manager for Gachina Landscape Management, based in Menlo Park, California. "There is still some concern regarding labor cost and manpower availability; however, continuous growth is expected in 2019 and this positive momentum provides an opportunity to analyze the challenges and develop new strategies."
Here are seven trends to watch for in 2019:
Younger customers and landscapers
As younger generations are becoming homeowners, the customer expectations are changing as well.
According to Garden Research's 2018 National Gardening Survey, those between the ages of 18 and 34 have set a record high, making up 29 percent of all gardening households.
"Many younger people are not as concerned about how the lawn looks," says Rachael Williams, residential account manager and horticulturist with James Martin Associates, Inc. based in Vernon Hills, Illinois. "With small children and pets roaming the back yard, younger couples are looking for a more organic approach to gardening and maintaining their landscape. So, the challenges we face are keeping up with the new demands and updated our products and services to accommodate the new expectations."
Jan Johnsen, co-principal and owner of Johnsen Landscapes & Pools, based in Mount Kisco, New York, says that often, new homeowners underestimate how much care their landscape requires and the price of quality landscaping.
"Sticker shock is common with younger customers," Johnsen says.
These younger generations are also entering the workforce, bringing with them a number of innovations such as smart irrigation systems and new methods for weed control.
"This new generation embraces new technology better and many customers want to know about saving money with those new and improved practices," Cruz says.
Integrating technology
Speaking of technology, landscapers can boost their efficiency by taking advantage of new technologies such as aerial photography, smart controllers and apps to track workers or control systems remotely.
Johnsen says cell phone-controlled pools are big currently and that anything controlled by a smartphone will win out.
"There are more apps available for anything from identifying insects, diseases and plants to estimating and measuring on site with a laser app," Williams says. "These technologies will make it easier and more efficient for the landscaper to manage their properties."
James Martin Associates has also begun integrating robotic snow removal machinery as part of their equipment, but others are still withholding judgment to see how effective robotic equipment truly is.
"The industry relies more on computers, smart phones and systems that offsets manual labor and paperwork, which in turn make the work more efficient," Cruz says. "Those who don't embrace new technology will get left behind."
Battery-powered equipment
One bit of technology that landscapers are seeing a push for is the usage of battery-powered equipment.
Johnsen says that while her customers haven't voiced a desire for battery equipment, she says if they knew about it, they would want it.
Williams says that call for a switch is coming more from the local municipalities.
"Clients are voicing their concern to their local governments, who then issue new rules for landscapers to follow," Williams says. "I expect that we will be seeing more of this in the future."
Cruz agrees that city ordinances are increasing the demand for battery-powered crews, but there is also interest from retirement communities, assisted living and nursing home centers.
"As electrical equipment becomes more powerful and efficient, we are seeing a trend to have this in place, especially in environmentally-conscious areas such as the Bay Area.
While some brands like Greenworks believe battery is the way of the future, other OEMs like Stihl prefer to cater to both gas- and battery-powered crews.
Low-maintenance landscapes
A common theme among customers, regardless of age, is the fact that a majority do not have the time to properly care for their landscapes.
This results in them either requesting a more low-maintenance design or hiring professionals to do the work for them.
"People are either avid gardeners or not," Johnsen says. "There doesn't seem to be much of a middle (except for two weeks in spring). I think having others do the hard work is becoming more popular."
Williams says that some would rather have a customized landscape program with them handling the mowing but leaving the pruning, mulching and garden care and such for the professional landscapers.
While lower maintenance gardens can reduce the cost to maintain, it's important to stress to customers this doesn't mean there will be no maintenance.
"Many large commercial and residential customers are thinking to divert their standard landscape into another direction: low maintenance landscapes with drought-tolerant and native plants, which require less maintenance and less water in the long term," Cruz says. "Our role is to educate the customers about the levels of maintenance, regardless of the type of landscape they want to install."
Pollinator gardens
A particular type of landscape that is predicted to continue to be requested are pollinator gardens, as more homeowners become aware of the peril that a number of pollinators, including bees and butterflies, face.
"Not only are the younger clients interested in being more conscientious of pollinators, but many people in the older generation feel the need to be responsible for creating ecosystems in their backyard and communities," Williams says.
Johnsen says she installs pollinator gardens and strives to educate everyone.
"I explain how we are in a crisis and everything we do for pollinators helps," Johnsens says.
Cruz agrees that more clients are interested in creating pollinator habitats within their landscape whether it be for butterflies, bees or just a general wildlife habitat.
"In some instances, we are taking advantage of federal grants that cover a percentage of our clients' new installation cost," Cruz says.
Asymmetrical design
Another look that is anticipated to be popular in 2019 is asymmetrical design. Asymmetry tends to have a more natural feel to it and can work for spaces that are less structured.
"Asymmetrical is less formal and casual and gives the impression that it is easier to maintain," Williams says. "A more symmetrical design suggests that the landscape is more complicated to maintain. Not true! That being said, a lot of newer homes are being designed to be less symmetrical – farmhouse style is very popular now. I think the asymmetrical design compliments the newer housing design styles. A farmhouse style is generally a looser design."
Asymmetrical landscapes don't mean you can't have any symmetry but rather that it is less obvious and predictable.
"You can create a more interesting landscape by choosing a design that uses asymmetrical balance and combines elements of varying weights," Cruz says. "Particularly, new generations of homeowners and commercial landscape managers like the non-traditional landscape and prefer the diversity of plants. We, the professional landscapers, need to make sure that those asymmetrical designs and groups of plants are installed with specific irrigation root zone (all the plants in a group, i.e. lantana, manzanita, oleanders) and have almost the same lower rate of water needs. As an example, do not plant Redwood trees in this root zone area because they require a high rate of root zone irrigation."
Secluded spaces
Both Cruz and Johnsen report they have had more customers asking for private, secluded spaces.
"People love to be nestled," Johnsen says. "I was just asked to make an area smaller to create a cozy feeling. I wrote about this in my book Heaven is a Garden."
While outdoor living spaces tend to be all about entertaining guests and family, these smaller retreats provide a quiet place for homeowners to relax, read or unwind.
"Many residential estates and some commercial properties are asking for small, secluded spaces within the landscape area to celebrate family reunions, meetings, etc.," Cruz says. "These areas are normally small Japanese garden styles screened with natural hedges for privacy. We are becoming more familiar with these kind of secluded areas as we are doing more business with different cultures from different parts of the world."
These smaller portions of the garden are easy to create by providing seating for two, surrounding the area with lush plants and using a wall or tall narrow plants to create privacy screen. A sense of calm can be created with a neutral palette and a simple water feature.