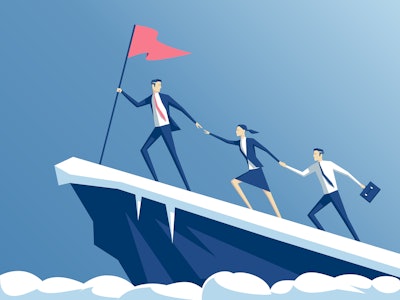 This is part two in a three-part series. Click here to read part one. The final article will publish on TLC tomorrow.
---
During his presentation at this year's Gulf States Horticultural Expo held in Mobile, Alabama, Tom Grandy, founder of Grandy and Associates, discussed 15 aspects he's noticed all successful companies have in common.
Yesterday, we discussed the first five and today we will dive into the next five.
Multiple corporations
In his time consulting with successful green industry businesses, Grandy has found that one of the most beneficial moves you can make as an owner is to set up at least three completely separate corporations.
Under corporation one, he recommends having your technicians and office help. Under corporation two, he recommends having you and any of your family members that work with you. Under the third, he recommends having your own vehicles and major pieces of equipment.
Since the law states that benefits offered to one employee must be offered to all employees, Grandy says that having you and your family under its own corporation can allow you more flexibility with what is and isn't offered. In the event of an accident or lawsuit, he adds that having your equipment and vehicles under a separate policy can also keep your other companies from being pulled into legal situations.
Networking
Grandy says that networking with fellow green industry companies and other trade businesses at trade shows and conferences is incredibly beneficial to generating referrals and leads.
If another trade professional has a customer in need of landscaping work, Grandy says there's a much higher chance of that customer trusting the recommendation of this other professional, which in turn helps the trade industry grow as a whole.
Plan the growth of your company
When it comes to discussing how to grow a company, Grandy says the word growth is often misunderstood by most people, as many associate growth with profitability.
According to Grandy, there are three specific points of growth that can put you out of business. The first point is when the owner moves from the field to the office.
Grandy says that most landscape owners get into this industry because they enjoy working outdoors, but once they make the transition to working indoors, they must then learn the ins and out of running a business.
"It's a tough transition mentally moving from the field to the office," Grandy says. "On average, when the owner moves from the field into the office, they need to raise their hourly rate somewhere between $8 and $12 an hour just to make the same profit."
The second point, Grandy says, is when your company's gross sales reach between roughly $750,000 and $1 million per year. This, he says, is the absolute toughest point in the entire life of your company.
Because the owner has moved from the field to the office, Grandy says owners may begin to think that since he/she is already overworking, there's no time left for them to grow the business. Therefore, it becomes necessary to hire more people to the team, which adds to your company's overhead costs.
When a company has reached this point, Grandy says Quickbooks no longer meets all of your needs, which means you will have to invest in a fully integrated inventory system, as well as someone to operate said system.
"So, what's happening when I get around to $1 million in gross sales, is that I'm being forced to make some significant investments in my company to prepare me to move to the next level, but I don't have the sales to support it," he says.
In his experience, Grandy's found that 70 percent of contractors who reach $1 million in gross sales for the first time lost money. If you've already made it to this $1 million mark, Grandy says not to take too deep of a breath because this process will repeat itself as you reach more monetary milestones.
"Those are all points of growth where you need to make some significant investments to prepare you to move to the next level," he says.
The third point, according to Grandy, is during any period of rapid growth, which equates to anything over 15 percent a year.
"I'm not saying you can't grow more than 15 percent a year, but you'd better have a budget in place, you better review your pricing and you better be making modifications as you get larger," he says. "Anything over 15 percent a year is going to cause severe cash flow issues in your company."
Service department is on flat rate pricing
Grandy says when your hourly rate reaches around $75-$100 an hour, upfront, flat rate pricing will become the industry standard, as the cost of labor is going up, the cost of benefits increases and the cost of doing business increases.
"Once you get up to $75 to $100 an hour in terms of your service portion and your business, it's a tough sell to the customer," Grandy says.
The benefits Grandy says accompany the transition to flat rate pricing are no longer having to quote an hourly rate, better cash flow, the ability to weed out problem customers, creating an excellent vehicle for selling service agreements and allowing for higher hourly rates.
Send out company newsletters
Whether it's an actual physical letter you mail out or an electronic newsletter that's emailed, Grandy says it's important to show customers they are appreciated by sending out newsletters two to four times a year.
By sending out these letters, you keep your name in front of your customers, keep them informed of your new products and services that are available and also make them feel like part of the company by building relationships with them.
Check back tomorrow for part three of this article, where we'll talk more about internal collections policies, customer response cards and more.