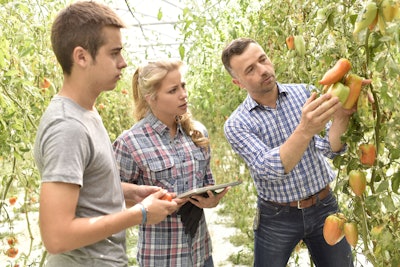 One of the most underutilized generations in today's society is millennials, and many leaders in business still cringe at the mention of the word. This generation certainly has a plethora of negative stigmas attached to it, but have you ever stopped to consider why that is and what you can do to change it?
It's hard to imagine that the green industry continues to grow when looking at the labor shortage facing the nation today, but statistics from the IBIS World November 2018 Landscaping Services Industry Report show that this industry employs more than 1 million people, represents 513,305 businesses and brings in annual revenue of $93 billion.
The number of projects is certainly not decreasing, but what experts are noticing is that fewer and fewer of the younger generation are getting involved in this type of workforce.
"The heart of the issue is how our industry is perceived in today's society," says Caitlin Clineff, recruiting specialist and company ambassador with Myatt Landscaping Concepts. "The only way to change that is for us to do something about it ourselves."
Take a look at a few suggestions you can implement in your landscaping business to help bring in and retain more millennial workers.
Know the mindset
Millennials make up a large portion of the workforce today. Born between 1981 and 1996, this generation consists of individuals ranging in age between 22 and 38. Many green industry professionals have found that retention is difficult when it comes to hiring millennials, as many aren't interested in manual labor jobs that don't require a four-year degree.
But the reasoning behind this isn't a lack of work ethic or apathy. Simply put, millennials were raised in a time when a four-year degree and a 9 to 5 job were valued, which makes the idea of not getting a college degree unappealing. The problem is that nowadays, the trade job pathway hasn't been shown to them in an equally positive light, resulting in a lack of interest in manual labor fields.
In a poll performed by the National Association of Home Builders (NAHB), 64 percent of millennials wouldn't consider a construction job for $100,000 per year.
The issue isn't that manual labor jobs, such as landscaping, aren't long-term and prosperous career paths. The issue is that we as green industry leaders and voices haven't always done the best job of showing the up and coming generations how great of an option these fields can be.
Gerardo Rodriguez, president and owner of Pullmann's Landscape and Associates Inc. in Morehead City, North Carolina, agrees that more needs to be done to help shed light on the industry even before students graduate high school.
"Not every kid is college material," says Rodriguez. "They put it in the kids' minds that they have to have a college degree, but they don't tell them that one out of 100 kids will get the CEO job. If they find in high school that a kid is not college material, they can pitch him a career. And this kid in the future can have a great career and make a lot of money."
As a green industry leader, it's up to you to know the best way to reach this targeted audience so you can make your job offer look as appealing as possible.
Know what they want
Contrary to what many believe, the vast majority of millennials aren't just looking for an easy, comfy job or for one where they don't have to work hard.
Some of the most important work aspects that appeal to millennials are a career that involves sustainability, flexible work schedules, utilizing technology and a strong company culture. Now, if that doesn't sound like the green industry, what does?
Technology in the green industry is always changing, which offers ample opportunity for tech-savvy individuals to dive in headfirst and learn all they can.
As a landscaping company owner, be sure to stress this technological bonus when talking to possible millennial candidates about open positions on your crew. These technological aspects can also play heavily into the sustainability aspect most millennials crave. By focusing on more sustainable products and working on plans to increase water-efficiency, you'll pique the interest of more members of this generation.
With more millennials moving into the roles of parents, finding a career that pays well while also offering the flexibility to care for children is paramount. This goes for both male and female employees, as more millennial fathers are opting to be the stay at home parent.
"One huge problem I ran into when I first got into this industry was the hours that you were expected to work in a week, especially since I was getting older and thinking about starting a family," Clineff says. "I couldn't see myself continuing to work 60-70 hours a week with no overtime and think about starting a family."
Clineff says if more companies would consider implementing shift-based crew work or allowing crew members to only work a certain number of hours in a day, this could potentially help attract more millennials to the field.
Another benefit that could be appealing to millennials is the possibility of getting out of the office to do work with a team that's hands-on. Highlighting the fact that most of the work done in the green industry is a team effort will bring a level of appeal to a position that solitary work just won't.
Being able to work outside and away from a desk can add a very freeing atmosphere to a job, and it can also be a health benefit, as the younger generations are proving to be more health-conscious than those of the past.
Having a sedentary job can contribute to cardiovascular disease, obesity, diabetes risks and more, and being able to offer millennials the chance to stay active and healthy will help tremendously when it comes to choosing a career.
Meet them where they are
As mentioned previously, millennials understand the value of a four-year degree, so take this opportunity to partner with local community colleges and four-year institutions to show the green industry career options in front of them at the collegiate level.
Consider setting up a career fair booth and participating in the National Association of Landscape Professional's (NALP) National Collegiate Landscape Competition (NCLC). This venue can expose your company to many interested young individuals who are already willing and waiting for green industry work opportunities, and it's possible you could fill a few jobs on the spot.
Community and technical colleges are also an excellent place to look when trying to reach students who already have a strong interest in horticulture or landscaping. It's at this level that students will be able to broaden their concepts of what kind of careers are available to them.
With many community and technical colleges, Clineff says partnering with their career centers or employer relations coordinators can help you with setting up company visits, field days, career fairs, meet and greets and more.
"With high schools or community colleges, the most important thing is to collaborate with the educators to meet their students' specific needs in ways that will also improve the image of the industry and encourage students to consider careers in landscaping or related fields," Clineff says.
If you're a landscaping company owner who's still in the mindset that millennials are a bad choice when it comes to hiring, keep in mind that you and your veteran staff members won't be around forever. It's important to look to the future and see what you as a leader need to do to make sure your company is still growing and thriving 10 to 20 years down the road.
"The idea is that if the company is going to grow, we're going to need younger people to start in labor positions and move them into team leader positions so that as we grow, we have enough bend strength," says Michael Pickel, owner of Pickel Landscape Group in Landenberg, Pennsylvania.
Millennials are absolutely critical to the future of this industry, so don't make the mistake of counting them out because of a few bad reputation rumors.