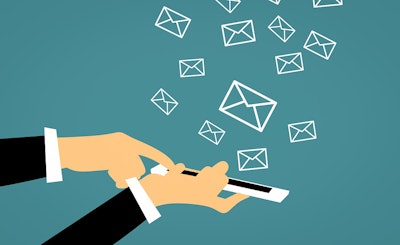 If you're good at what you do, you will have no problem keeping customers happy and coming back to use your services time and time again. But it's getting the word out there to obtain those customers in the first place that can be challenging.
Landscaping is a growing industry, and if you promote your business well and do a good job for each customer, you can create a thriving business. Email marketing should be a part of your overall marketing strategy to get new customers and hang onto existing ones. Here are eight top email marketing ideas you can implement into your strategy to help increase the effectiveness of each message you send out.
Make yourself recognized
If you're trying to get the name out there for your business, one of the easiest ways is to create branding that's recognizable. Your logo is almost always the first thing customers are going to see, either when they go to your website, pick up your flyer, or open your emails. It needs to make a good first impression because customers will base a lot of their decision making on the impressions they get of you and your business. Include this design within each email message you send out so that it's instantly recognizable when your customers open those messages.
Send out a message before the busy season
Don't wait until you're in the middle of peak season before you start looking for new customers. Get ahead of the game by sending out email messages before the springtime, when landscaping business generally picks up.
You want to grab new customers before the competition has a chance. But you won't want to send messages so early that the work you're offering isn't even on your customer's radar.
Target your ideal customers
It's incredibly difficult to try to reach every potential customer out there, especially if you're a small business. It's much more effective and realistic to take a look at who your target customers are and focus on marketing directly to them.
Take a look at your local market to get a better idea of who is most likely to seek out your services. Perhaps it's homeowners looking to improve their curb appeal before selling their house, people who are frequently out of town for work, or even elderly folks who may need assistance with maintaining their yards.
There are also plenty of businesses that would be looking for help with keeping the exterior of their businesses looking pristine. When you know who you're targeting, you can begin creating more customized messages to address their needs and outline the services they would be most interested in.
Write emails that engage
If you want people to read your emails, they've got to be interesting. You'll want to write a subject line that captivates them and entices them to open the message. Once they're reading, keep their attention with interesting and accurate copy. If you are stuck on what you should write, don't have the time to do it or just need a little assistance, there are some great online resources you can tap.
Get listed
There are all sorts of online business listings you're going to want to get yourself put onto. Often, these online searches are the first place people will look to find the services they're looking for. Among the most popular of these listings are Google, Yelp and Houzz. Link your website through your listings, so it's easier for customers to get even more information about what you offer.
Create a strong online presence
Your website is a great place for you to be able showcase all of the work you've done. Landscaping is a highly visual industry, so people are going to want to see pictures or videos of what you've previously done so they know what you can do for them.
Make it easy for customers to request price estimates with a simple form on the site to fill out. You can follow up with them to find out if you're the best fit for them.
Help someone for free
Yes, the purpose of a business is to make money. But sometimes when you're first starting out you've just got to get your name out there in order to make a name for yourself and show people what you're able to do. If there is someone with a particularly high profile or is well connected, they may be a good person to do some free work for. Get that person to give you feedback about their experience with you, which you can then add to an email message.
Become more social
It's become a hugely effective marketing channel, and it's only growing. There is no reason why you should be all over social media promoting your business. You can easily connect with customers, they can contact you to ask questions and you'll be able to share photos and video of work you've done.
And, when you post content that's relevant to your customers, they can share it with their friends, spreading your name even further. Give links to your social media pages in all of your email messages.
Use the power of email marketing to get your landscape business noticed and help to get your business growing and thriving.
EDITOR'S NOTE: This article was written by Nora Mork. Mork is a business and tech journalist, and a content writer at Ukwritings and Boomessays. She regularly speaks at public marketing events, and writes columns for blogs and conferences.