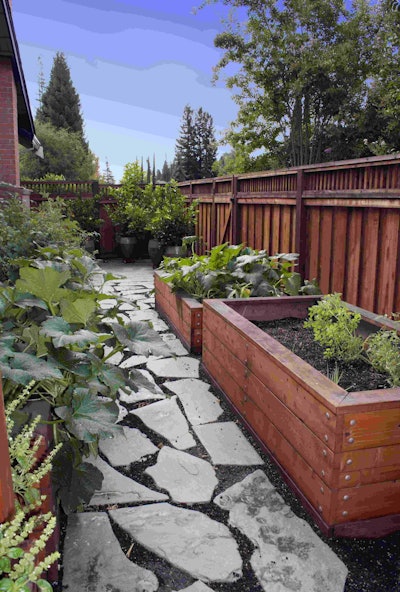 Most of your customers desire a landscape design that's got some pizzazz and interest to it, and an excellent way to bring that to the table is to offer options that create more height and depth.
When a yard shows off delicate dips and rises, it comes across as more appealing to the eye, and it creates an atmosphere that your customers will want to flock to. Many typical home landscapes only consist of flat land, but this is where you can step in and offer something out of the ordinary.
If you have customers with flatter landscapes that are longing for more height and depth, take a look at a few tips and tricks you can suggest that will add a unique and eye-catching look to their yard.
Raised garden beds and sunken patios
An easy way to begin the process of adding height and depth to a space is to utilize raised garden beds.
A starting layer of raised beds in an area can serve as a good beginning step when adding height, but it can be taken one step further by stacking raised beds at staggered heights to create level changes. These raised beds can become especially handy for customers who dabble in edible gardening and those who want to get a head start on the growing season.
Since raised beds will warm up more quickly in the spring than traditional gardens, it allows for faster seed germination and transplant growth.
Raised beds allow for dense planting and high production per square foot, and this heavy amount of planting also reduces the likelihood of weeds, as well as the ability to monitor pest better.
Another idea to create layers in the landscape is to stray from the traditional design of a patio and instead go for the idea of a sunken patio.
Not only will it add a lower layer to the yard, but it will also give your customers a unique seating and entertainment area that can serve as a stunning focal point.
When the patio is dropped down in this manner, it can help make the yard look bigger, and having it at this level allows your customers the opportunity to add a few extra seats around the perimeter of the patio. Small fire pits can also be added into the sunken patio to create a more cozy atmosphere.
Keep in mind, though, that these sunken patios will require a solution for drainage, so keep different options in mind when pitching this idea to your customer, as they will more than likely want to go with the option that doesn't take away from the beauty of the patio.
Berms and boulders
Another creative way to add height and interest to a landscape is to build a berm.
Berms are mounded hills of dirt constructed for blocking out unwanted or unsightly views, creating a subtle sense of privacy, directing or redirecting drainage and foot traffic, emphasizing a particular focal point or adding raised elements to the garden.
Overall, creating a berm isn't difficult. When constructing a berm, you typically will use some sort of fill material like plant debris, sand, soil or rubble, and this material can be used to make the bulk of it. As long as the material is capable of retaining stability without deteriorating, it can be used as the fill material. Talk to customers about drainage options within the area that surrounds the berm before implementing this idea, as it could redirect runoff to other areas, affect drainage patterns or encourage pooling after it rains.
Another option is to consider adding in boulders, which can prove especially appealing in desert landscapes. Having these larger rocks placed throughout the landscape helps create the illusion of small hills and mountains, and if your customers already have cactuses and other desert landscape features, it only increases the authenticity of the look.
Keep in mind that when adding in boulders, it's beneficial to the aesthetic to leave one-third to two-thirds of the boulder underground to make it look naturally anchored in the garden. Also, consider adding in plants nearby and up close to the side of the boulder to help it fit more smoothly in the landscape.
Vertical gardens and built-in planters
Not all levels have to stay horizontal, however. One creative method of adding layers to a landscape is to build up with a vertical garden. Vertical gardens can showcase narrow trees, arbors, climbing vines and more, and they will definitely show off height change without taking up a lot of ground space.
If your customers live in a particularly small area, having multiple vertical gardens scattered around the landscape could be the ideal solution. Keep in mind that irrigation will be necessary for vertical gardens, and it's important to establish a watering schedule from the beginning, as gravity may cause plants to fall out of the wall as the soil dries.
Typically, drip irrigation options are the most useful for vertical gardens, as hand watering is very labor-intensive and can prove impractical for many applications.
If your customers live in an area that doesn't necessarily have enough room for berms and similar attractions, consider investing in built-in planters to give your customers plant variety at varying heights.
Built-in planters can add more height to a space when paired with an accent wall, and they also can serve as an anchoring point for a space-saving bench. The plants themselves also serve as focal points, drawing the eye to wherever the planters are located.