BrightView and the National Park Service (NPS) recently celebrated the re-opening of Independence National Historical Park (INHP) as the first phase of the renovation was completed.
Located in Philadelphia, Pennsylvania, the park has been closed since the project began March 25. BrightView replaced nearly 100,000 square feet of damaged sod, as well as repaired the irrigation and carried out tree care.
"Independence Mall is one of the nation's most important historical sites and a destination for both Philadelphia residents and visitors to our city," says Andrew Masterman, BrightView president and CEO. "Our company is headquartered here, and it was our honor – in partnership with the National Park Service and our valued suppliers — to help bring the landscape back to what its designers intended more than a decade ago."
The suppliers who made significant contributions include National Construction Rentals, Sunbelt Rentals, Clearview Nursery, Feeney's Nursery, Laurel Valley Soils, Delaware Valley Paving, Aquarius Supply, Rain Bird Corporation and Center City Film & Video.
"We are sincerely grateful to BrightView for this valuable in-kind donation," says Cynthia MacLeod, INHP superintendent. "This landscaping project in front of Independence Hall – a World Heritage Site and the birthplace of our nation, will enhance the visits for our millions of visitors to enjoy all of the park and make their connections with history. Independence Mall looks beautiful, and we are thrilled it will be showcased during all of our special events and other park festivities."
The second phase of BrightView's donation to NPS is maintaining the Independence Mall landscape for the next year, free of charge. Employees from eastern Pennsylvania, southern New Jersey and northern Delaware locations will volunteer days at INHP.
PERC survey says contractors who buy propane don't go back
The Propane Education & Research Council (PERC) conducted a survey of contractors using propane commercial lawn mowers and 85 percent said they were likely to continue to adding propane equipment to their businesses.
Nearly all of the 374 landscape contractors surveyed started their transition to propane with a conversion kit on existing equipment.
"This latest data is proof positive that contractors who make the initial transition to a propane mower are satisfied with their purchase, and frequently end up purchasing or converting more equipment to propane," says Jeremy Wishart, PERC director of off-road business development. "The fact that most contractors start out using a propane conversion kit and end up staying with the fuel just shows that the initial investment is often offset by a quick return on investment and leads to long-term use as contractors observe the fuel's benefits."
A majority of the respondents say they have been using propane for at least three years and have seen their propane mowers perform as well or even better than their gas models.
Since PERC's last survey in 2016, the number of landscape contractors who are unfavorable towards propane has dropped by more than 60 percent, with only 14 percent now saying they are unfavorable towards propane. Yet 62 percent of respondents said they were unfavorable or very unfavorable towards electric commercial mowers.
PERC also learned that awareness of its Propane Mower Incentive Program remains low among contractors not using propane equipment.
The program offers contractors up to $1,000 for each new propane mower purchase or $500 for each new qualified propane conversion kit. Fifty-seven percent of contractors surveyed said that knowledge of this incentive would increase the likelihood of purchasing a propane mower.
Hardscape North America registration opens
Registration is now open for the Hardscape North America (HNA) tradeshow that will be held in Louisville, Kentucky Oct. 16-18.
The show floor will open for dealers on Oct. 16 at 11 a.m. Distributors, retailers and media are invited for this preview time. All attendees are able to access the show at 3 p.m. on Wednesday.
Thursday show hours are from 9 a.m. to 5 p.m. for both indoor and outdoor exhibits. Friday, the indoor exhibits are open from 8 a.m. to 2 p.m. and outdoor exhibits are open from 8 a.m. to 1 p.m.
This year's show will include a 42,000 square foot pavilion under a roof known as the Hardscape House and will be adjacent to the 20-acre Outdoor Demonstration Area. The Hardscape House will include demos by hardscape consultant Frank Bourque and his team. The HNA 2019 National Installer Championship and exhibitor displays will be available for hands-on testing.
Early bird registration is $15 and includes access to both indoor and outdoor exhibits, GIE+EXPO and the opportunity to watch the HNA Installer Championship competition and attend the HNA Hardscape Project Awards presentation.
The deadline for early bird registration is Sept. 5, 2019. Click here to register.
Aquascape sets date for Pondemonium 2019
Aquascape Inc. will be hosting its business and networking event, Pondemonium, on Aug. 21-25.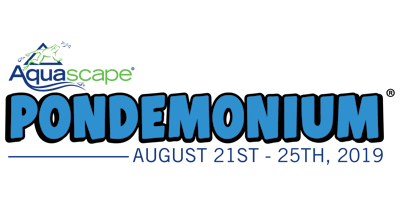 Distributors, contractors and retailers are invited to attend the water feature industry event in St. Charles, Illinois. Attendees will experience a full schedule of hands-on water feature training sessions, classroom presentations, networking, team building, a full-day pond tour and more.
"The theme for Pondemonium 2019 was an easy and obvious choice," says Greg Wittstock, founder and CEO of Aquascape Inc. "This year, our theme of 'I Love My Job' encompasses why we do what we do. We love nature, we're passionate about water features and we enjoy improving the lives of our customers with something beautiful they can enjoy year after year."
Training is available for both new and experienced water feature professionals. Attendees can network and share best business practices at different sessions like the "Cup of Coffee" roundtable discussions.
To learn more and register for the event, click here.
TreeTown USA sponsors SmartLandscape Program
TreeTown USA has donated to the University of California Davis' California Center for Urban Horticulture (CCUH) to help create water-conserving landscape through its SmartLandscape Initiative.
"TreeTown USA appreciates this opportunity to help sponsor the SmartLandscape Initiative at the University of California, Davis," says Mark Marriott, senior vice president for TreeTown USA's Northwest Operations. "The donation is in keeping with our overarching mission to provide the very best plants to landscape architects, designers and contractors. Whenever we have an opportunity to get involved in demonstrating water conservation and efficient landscapes within a public/private partnership, we want to participate. Plus, we get to see how our plants perform in that environment through the prism of academic researchers and students who are an essential part of the horticulture ecosystem."
Smart Landscape is designed to show how water conservation works with the latest irrigation technology, connect industry professionals with academic researchers, leverage technology such as robotics and provide policy makers with water efficiency information.
"Students will be at the forefront of SmartLandscape," says David Fujino, executive director, UC Davis CCUH. "Working alongside horticultural experts and faculty, students will gain valuable hands-on experience that will prepare them to enter the horticulture industry as leaders in resource conservation and sustainable urban landscapes. We are pleased to have TreeTown USA as one of our SmartLandscape partners, educating students on climate-appropriate plants for low-water-use landscapes in California."
RightPlantz.com passes user milestone
The website RightPlantz.com, which was started by Bruce Allentuck and his daughter Tara Allentuck, has now passed 50,000 users.
"This milestone means that RightPlantz has been successful in improving the knowledge of 50,000 gardeners of all skill levels," says Tara Allentuck, co-chief plant officer. "Hopefully, we have engaged many new gardeners and helped them get excited about a pastime that we are passionate about. 50,000 is a real nice number, but it is only a start of what we know RightPlantz can become."
The site was launched in January 2018 and serves as an online consumer gardening site as well as a marketing site for green industry companies including landscape contractors, lawn care operators and garden centers. Eighty-two green industry vendors have been listed in the directory so far.
There are 139 blog posts in the Learning Center and 1,382 plants are listed in the Plant Finder currently.
"Gardening is one of the most popular pastimes in the country," Tara says. "It improves the environment, people's mental and physical health and improves property value. We are thrilled to be a growing part of the garden community."
National Garden Bureau membership reaches all time high
The non-profit membership-based organization, National Garden Bureau (NGB), has gained its 100th member. The organization promotes gardening on behalf of the horticulture industry.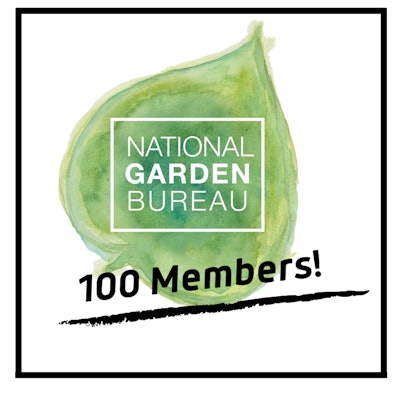 NGB credits its continuing growth to its influence on a consumer community that is growing as well. NGB now has 250,000+ website visitors per year, 60,000 social media followers and 25,000-name email database.
"NGB's membership has been on the rise for several years now as millennials and the next generation of gardeners seek information to help them succeed in their gardening pursuits," says Tim Hodson. "NGB's goal has always been to help all gardeners be successful and as our website mission states, 'Inspire. Connect. Grow.' Our continued growth is a reflection of how the horticulture industry is eager to help people pursue their passion and achieve their gardening goals."
NGB will also celebrate its 100-year anniversary in 2020. The NGB was born in the wake of World War I when James H. Burdett, a newspaper journalist and seed company ad manager realized there was a need for basic garden instruction. He enlisted the help of horticulture writers to create a population of informed gardeners.
World War II brought about a boom in interest in NGB as the government encouraged citizens to grow victory gardens.
The organization's members include retail seed companies, breeders, wholesalers, publishers and more.
Real Green Systems names new president
Bill Nunan is the new president for Real Green Systems, as Don Brown is retiring. Brown will continue to serve on the board of directors and as a corporate advisor.
Nunan has spent the majority of his career in leading vertical enterprise software companies in the automotive, airline, property management and telecommunication industries.

"My engineering background fuels my passion for designing and building innovative solutions that deliver exceptional value to customers and help them grow and improve operations," Nunan says. "My vision for Real Green moving forward is simple, preserve the customer-centric culture, continue to build and deliver great products and services for our target markets and grow the business by delivering exceptional value to our customers. I'm excited to be back in Michigan at a company that is so well respected in the industry and with so much potential growth. I look forward to being part of the Real Green family for years to come."
"Bill's appointment as the new president is a clear reflection of Real Green's continued mission of delivering cutting-edge best-in-class software and services for the management and growth of lawn care and pest control businesses," says Brown. "He shares my commitment to Real Green's culture, customers and staff and will be instrumental in leading Real Green into an exciting new phase of long-term growth and maturity."
McHale promotes employee to human resources manager
McHale Landscape Design has promoted Lizeth Miller to human resources manager.
Miller joined the company in 2016 as a human resources assistant. She has a bachelor's degree in finance from The University of Medellin-Colombia.
"The best thing about HR is the continuous change to make things better – whether it is new strategies to help employees with their development or finding ways of improving processes to help the company reach its objectives," Miller says.
Additionally, McHale Landscape Design is celebrating Keith Bowman for accepting a three-year term on the Board of the Maryland Turfgrass Council. Bowman has been with the company for 17 years and the head of the maintenance division and business development.
He has a Bachelor of Science in turfgrass science from Pennsylvania State.
PBI-Gordon announces new hire
Steve Tomac has joined the employee-owned PBI-Gordon as channel marketing manager.
This newly created role consists of working with the marketing and sales teams to maximize market opportunities at a customer level. Tomac has 21 years of industry experience, including working for John Deere.
He holds a Master of Business Administration in finance from Indiana University, a Master of Science in agricultural economics from Purdue University and Bachelor of Science degrees in both agri-business management and ag and natural resources communications from Michigan State University.
Takeuchi names national account sales rep
Austin Smith will take on the role of national account sales manager for Takeuchi. He will be responsible for sales and support of national account customers across the U.S. and Canada.
Smith has a decade of experience with compact equipment in the landscape industry. He has worked as the sports turf manager at Precision Turf LLC and managed over 60 acres of athletic fields.
"Coming in with a great deal of in-the-field experience and knowing and operating compact equipment firsthand made it an easy choice to bring Austin onboard," says Scott Place, director of national accounts. "Austin is a go-getter and very knowledgeable, which will be a perfect fit to call on our national account customers. We are excited to welcome him to our team."