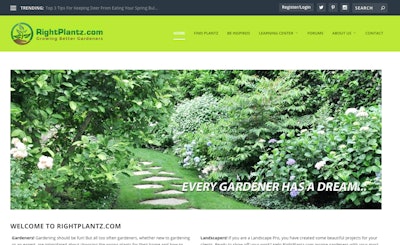 Gardening and choosing the right plants can be intimidating to the uninitiated, which is why Bruce Allentuck and his daughter, Tara Allentuck, decided to launch RightPlantz.com.
RightPlantz is a site that features a robust plant finder tool, a how-to blog and a forum that serves as a place for homeowners to get excited and educated about gardening.
"We launched it because one, we saw a need that regular homeowners who don't have a great resource to go to for everything they want in gardening," says Bruce, who is also president and owner of Allentuck Landscaping Co. based in Clarksburg, Maryland. "We're trying to create a very user-friendly, homeowner-friendly site to help people out and encourage gardening."
The name comes from the theme "Right plant, right place" and since RightPlants with an 'S' was already taken, Bruce and his daughter chose to go with a Z.
The Find Plantz tool allows visitors to see what plant options they have based on criteria such as USDA Hardiness Zones, lighting needs, plant type, special features, bloom season and color.
According to Bruce, they have over 1,000 plants with their own photos currently in the database and they are continually adding to the catalog every week. He often visits local botanical gardens and arboretums when he travels and does shoots of the plants he finds there as well.
As of right now, he says the strongest selection of plants is for the mid-Atlantic region and zones 4-9. He hopes to find some partners in other regions such as the Southwest and the Rockies to expand on those regions' plants as well.
Both Bruce and his daughter have to balance the responsibility of running RightPlantz with their day jobs. Tara Allentuck has a full-time job in Brooklyn with an urban planning firm and works on its non-profit side on inner-city low-income housing issues.
"I try to keep my normal business hours and then come home and work on RightPlantz for a while," Bruce says. "I'm constantly thinking about both of the companies and how to improve them."
It took around four or five months to create the site, which was launched last year, and now the Allentucks are preparing to launch Phase 2 of the site.
Phase 2 was targeted at landscapers after receiving feedback that while some of the site visitors want to do their outdoor projects themselves, others are looking for professional help. In response, RightPlantz will offer a vendors section divided into nine categories, covering services such as lawn care, tree care, irrigation, landscape design and more.
"That's where professionals around the country can sign up for RightPlantz and display their companies and display their work and their contact information and be contacted by our homeowner users," Bruce says.
RigthPlantz has four different tiers for vendors: free, professional, featured and spotlight.
Each tier has different pricing and different levels of benefits. For the free tier, landscaping companies have their website URL displayed on the Storefront page and unlimited photo albums to display their projects.
For $97.15 a month, the Professional tier listings will be above the free listings and have enhanced SEO benefits. The Featured tier costs $135.83 and will have listings placed about the Professional and free listings. This tier will have no competitor ads and more lead details as well as the other benefits from the Professional tier.
The Spotlight tier only has four slots available for $208.33 a month and offers the most exposure with fixed top row placement. It also comes with a dedicated customer success representative and account analytics and lead tracking.
Bruce says RightPlantz has the opportunity to approve applicants by asking if companies are licensed and insured and will look over their work.
"Obviously, we don't want any bad apples in there," he says. "We want the best of the best, but that's really the job of the homeowner to make sure that they are vetting for themselves."
There are several different ways that professionals can take advantage of RightPlantz, according to Bruce. The plant finder can help designers find plants to suit site needs and for sharing with clients.
"I started using it when I work with customers and they want to know what the plants are, and they want to know more about the plants," he says. "I just send them the links to those particular plants."
One of Bruce's responsibilities for the site is writing the blog content. While he feels the topics are elementary and are supposed to be, they could serve as good information for companies to share with their clients. Bruce says they send out a monthly report to their professional members, which lists the top 10 blogs read and the top 10 plants searched on the site.
"That information is useful to know as to what's hot, to know what people are looking for and what plants people are interested in," he says.
One thing that Bruce is clear about is that RightPlantz is not a lead generation site like Porch and Thumbtack.
"We are a put yourself out there site, similar to Houzz, where they show off their work, show their professionalism, but the angle that we take is we already have a population of passionate gardeners who are coming to our site every day and those are the people it's easy to sell good landscaping to," he says. "These people are already looking at gardening and want to be invested in their landscape. We think that's where we stand out."