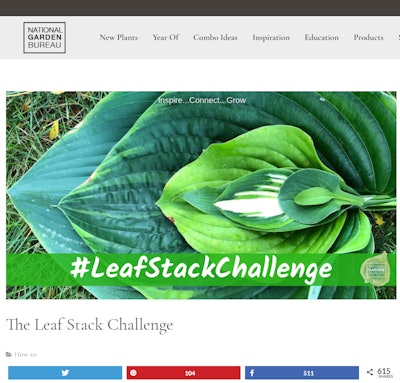 The National Garden Bureau (NGB) recently announced that its website has been named a gold award winner in the 2019 Hermes Creative Awards.
"We appreciated the vision that NGB had for a clean, modern, image-driven site which paved the way for a dramatic update to the brand look and feel," says Joan Begitschke, chief marketing strategist at Verve, the firm that created the site. "Creating this new site in WordPress has allowed them to make almost daily content updates to keep the site fresh."
The Hermes Creative Awards is an international competition for creative professionals, and it is administered and judged by the Association of Marketing and Communication Professionals (AMCP).
"The Verve team was amazing in helping us design and build a new site that is easy for home gardeners to navigate yet presents all the important information we want to provide site visitors," says Diane Blazek, executive director at the National Garden Bureau. "The flexibility of our site has enabled us to create new programs and benefits for our members that in turn, provides inspiring garden ideas for consumers that drives them to invest in our industry's products."
Project EverGreen announces National GreenCare for Troops Awareness Week
Project EverGreen announced that June 9-15 is National GreenCare for Troops Awareness Week, and it is issuing a call for volunteers to register to help meet the growing number of military families requesting services. The group says it also hopes to raise awareness with military families and encourages eligible personnel to register to receive services.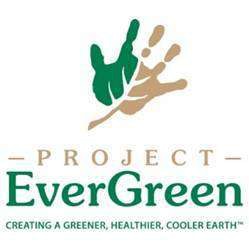 GreenCare for Troops marks its 13th year in 2019 and has seen more than 11,000 military families register to receive an estimated $8 million in donated lawn care and landscape services from more than 6,000 green industry professionals.
"GreenCare for Troops is more than a program that checks a box and takes care of a necessary service, it has become a transformative experience for both volunteers and recipients," says Cindy Code, executive director of Project EverGreen. "Not only do our volunteers provide a valued service and relieve a burden, but they are also allowing military families to benefit from two powerful forces – their families and nature."
"Thank you for caring for the troops and their families," says Emily S., a military spouse and GreenCare for Troops service recipient. "There are no words to say how much of a weight is lifted off our shoulders not having to worry about lawn care and being able to focus on my family."
Gachina Landscape Management promotes employees
Gachina Landscape Management says it recently promoted three key employees to the executive leadership team. The company says these three employees have over 35 years of combined experience in the industry and over 25 years with Gachina Landscape.
William Cruz, senior peninsula branch manager, was promoted to director of operations. The company says Cruz joined Gachina in 2004 as an account manager and has risen through the ranks as a highly effective leader and motivator. His new position oversees all branch operations and specialized departments.
"Our work culture is driven by core values which are engrained in the hearts and minds of each employee at Gachina," says Cruz. "The top three core values that I identify with are passion, sense of urgency and respect for others."
Samuel Anderson, senior account manager, was promoted to associate branch manager. The company says Anderson joined Gachina in 2012 as an associate account manager and has excelled by being a hands-on leader and team member. His new position oversees all operations for the peninsula branch.
"Being a part of the Gachina family has given me so much fulfillment both professionally and personally," says Anderson. "I have really grown up to be the man and manager I have become, in large part because of what the company has given to me. For that, I am truly fortunate. The values I connect with most are humility, sense of urgency and loyalty towards my team and the company."
Raul Guerrero, senior account manager, was also promoted to associate branch manager. The company says Guerrero joined Gachina in 2013 as an associate account manager and has surpassed expectations by successfully managing their largest and extremely demanding client. His new position entails overseeing all operations for the west branch.
"The values I relate the most with are passion, humility and loyalty," says Guerrero. "My teams and I try our best every day to do the right thing and make the best choices that will be reflected in the services we provide to our clients."
Two keynote speakers announced for GIE+EXPO
Two keynote speakers have been announced for this year's GIE+EXPO, which is set for Oct. 16-18 at the Kentucky Exposition Center in Louisville, Kentucky.

Lt. Col. Rob "Waldo" Waldman will present the opening keynote, "Never Fly Solo: The Power of Partnership to Reach New Heights in Business and Life," on Wednesday, Oct. 16 at 2 p.m.
Waldman is a highly decorated fighter pilot with over 65 combat missions, and his session is sponsored by John Deere. Immediately following his session at 3 p.m., the show floor will open to the entire industry, and attendees are invited to a welcome reception.
On Friday, Oct. 18 at 9:30 a.m., attendees will hear from Brian Beaulieu, an economist. His keynote, "More Growth – More People – More Business," will provide insights on the state of the economy and how it relates to our industry to help attendees plan their businesses for the future. Beaulieu, the CEO of ITR Economics, brings more than 35 years of expertise to his presentations.
These workshops, spanning all three days this year, will cover a variety of management topics specifically for landscape contractors' businesses. In addition, for contractors looking to diversify, Hardscape North America's (HNA) co-location with GIE+EXPO provides the opportunity to learn about expanding into the hardscape market.
Workshops and live demos
Wednesday, Oct. 16
9:00 a.m. – 12:00 p.m.
NALP Workshop 1: Estimating Workshop
Jim Huston, JR Huston Consulting, Inc.
12:30 – 1:45 p.m.
Irrigation Workshop: Secrets of a Successful Irrigation Business
Moderated by Chris Pine, CID, CIC, CLWM, CLIA, CIT, MCLP, CLVLT, C. Pine Associates, Inc.
3:00 – 4:15 p.m.
NALP Workshop 2: Snow and Ice Management Workshop: Liquids – Making the Most of a Key Ice Management Tool
Phill Sexton, WIT Advisers
4:30 – 5:45 p.m.
NALP Workshop 3: Benchmarking for Profit
Jeffrey Scott, Jeffrey Scott!
Thursday, Oct. 17
8:00 – 9:15 a.m.
Hardscape Workshop 1: Give Them Something to Talk About – Build Your Hardscape Business with Online Reviews
Susan Frew
9:30 – 10:45 a.m.
Hardscape Workshop 2: The Power of Breakeven Analysis for Hardscape Business Success
Leslie Shiner, The Shiner Group
11:00 a.m. – 12:15 p.m.
NALP Workshop 4: Your Fleet Structure – What Should it look Like?
Ed Schultheis, ThruPutNow
1:00 – 2:15 p.m.
NALP Workshop 5: QuickBooks Tools and Strategies for Better Cashflow
Monica Muir, Muir & Associates, LLC
2:30 – 3:45 p.m.
NALP Workshop 6: The Landscaper's Guide to Modern Sales and Marketing
Jack Jostes, Ramblin Jackson
Friday, Oct. 18
8:00 – 9:15 a.m.
NALP Workshop 7: Grow Your Sales by 300K and More in 2020!
Christopher Yates, Success Landscape Marketing
9:30 – 10:45 a.m.
NALP Workshop 8: Small Business, Free Cashflow
Sam Coates, Coates Company, LLC
Live hardscape demonstrations
(Held in the new Hardscape House in the Outdoor Demonstration Area)
Presenter Frank Bourque is an award-winning hardscape professional, speaker, writer, consultant and entrepreneur with an extensive background in business and hardscape construction.
Thursday, Oct. 17
10:30 – 11:30 a.m.
Hardscape Demo 1: Proper Takeoffs, VR Designs, and Layouts
12:30 – 1:30 p.m.
Hardscape Demo 2: How to Significantly Increase Paver and Slab Installation Efficiency
2:30 – 3:30 p.m
Hardscape Demo 3: The New Technology to Increase your Retaining Wall and Raised Patio Installations
4:00 – 5:00 p.m.
Hardscape Demo 4: Integrating Water Features, Rainwater Harvesting Systems, and Permeable Pavements
Friday, Oct. 18
8:30 – 9:30 a.m.
Hardscape Demo 5: Outdoor Kitchens and Technology for Rapid Installations
11:00 a.m. – 12:00 p.m.
Hardscape Demo 6: Hardscapes and System Automation: Outdoor Sound, Lighting, and FireFeatures
2019 Farwest Show offers tours of garden centers, sustainable businesses and wholesale nurseries
The 2019 Farwest Show, Aug. 21-23 in Portland, Oregon, will offer three tours from 7:30 a.m. to 6 p.m. on Tuesday, Aug. 20.
Every year, Farwest says its tours explore the dynamic facilities of Portland's thought leaders in the green industry, and this year's three tracks will look at retail garden centers, sustainable business processes and procedures and wholesale nursery operations. The Farwest tours are sponsored by The Peters Company of Wilsonville, Oregon.

Participants may choose the particular tour that best suits their interests, and Farwest says these tours give industry professionals a valuable opportunity to engage with the best in the industry, gain valuable knowledge and enhance their careers.
The cost is $99 per person for those who register before July 31 and $119 per person for those who register Aug. 1 or later, but space is limited, so early registration is best. The tours can only accommodate 50 people each, and they often sell out. Registered attendees will be transported by luxury motor coach and provided with lunch, beverages and snacks.
All tours will depart and return from the north entrance of the Oregon Convention Center (N.E. Holladay Street by the light rail line). Personal vehicles are not allowed.
Tour 1: Go-to Garden Centers (Retail Tour) — This tour will explore four of the Portland area's premier retail garden centers with reputations for phenomenal customer feedback. Attendees will see the innovative merchandise displays, product designs and retail space layouts that make these businesses the highest-rated local independent garden centers on Google and Yelp. Stops will include Cornell Farm (Portland), Farmington Gardens (Beaverton), The Garden Corner (Tualatin) and Dennis' 7 Dees Landscaping & Garden Centers (Lake Oswego).
Tour 2: Seeds for Tomorrow (Sustainability Tour) — This tour will shine a light on the sustainability efforts at three different green industry businesses, revealing what is alike and what is different. Participants will see how these operations invest time and money to reduce environmental impacts, improve energy efficiency and transform company culture — and they will also see the returns on these investments firsthand. Stops include The Oregon Garden (Silverton), Little Prince of Oregon Nursery Inc. (Aurora) and Brentano's Tree Farm LLC (St. Paul).
Tour 3: Growing Landscape Solutions (Wholesale Tour) — This tour will showcase the high-quality trees and shrubs grown in the fertile Willamette Valley south of Portland. Participants will see a range of plant selections across four sites, including growing operations for Japanese maples, grafted conifers, specimen plants, hedge-and-border solutions, azaleas and woody ornamentals. Stops will include Countryside Nursery (Aurora), InstantHedge (Canby), Highland Meadow Nursery Inc. (Molalla), and Woodburn Nursery & Azaleas Inc. (Woodburn).
Registration is required for all Farwest tours. Click here to get tickets.
Arborjet treats various historic trees
Arborjet, Inc. announced that it will be treating various historic trees at The Gardens at Elm Bank, home of the Massachusetts Horticultural Society.
Elm Bank was first developed as a private residence in the 17th century and was given its name when Colonel John Jones acquired the land and planted elms along the banks of the Charles. The property includes a 175-acre recreational area of woodlands and fields, and it is managed by the Massachusetts Department of Conservation and Recreation.

The trees are thought to be some of the original plantings from Frederick Law Olmstead's original design of the property. Arborjet also says it will donate the treatment as part of their "Saving America's Iconic Trees," program, the company's latest initiative to ensure the health and longevity of the country's trees.
Arborjet says the campaign targets America's most beloved trees, often located in public parks and gardens and other historic sites, offering complementary treatment to prevent insects, disease and poor health.
Media, residents and local arborists are invited to attend and watch a demonstration of the treatment process, and to learn more about the options available to both homeowners and municipalities to protect and save their trees.
Arborjet says this treatment method:
Injects and seals the formulation directly into a tree's vascular system. Nothing is placed in the soil or into the air.
Allows a tree to be treated for over 20 years if needed, before the costs equal that of removing and replacing a tree. Most cities retreat every 2 years.
Has allowed major cities like Chicago, Milwaukee and Rochester to save their trees for a cost of less than $50 per tree.
Saves mature trees, which reduce energy costs and stormwater runoff, while maintaining property values.