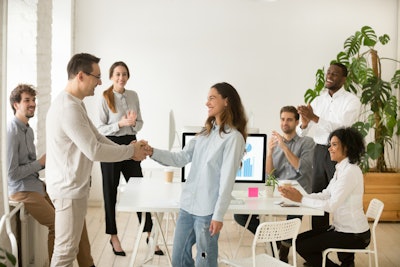 Yesterday, we explored a few misconceptions surrounding hiring members of the younger generations, as well as the mistakes many employers make when incorporating them into their company culture.
Check out what you as a leader in your landscaping company can do to create an inviting company culture, initiate effective communication methods and boost more interest in the green industry.
Appealing environment
Regardless of age and work experience, every employee desires to work in an environment that's inviting, supportive and enjoyable, and for the younger generations, it even goes a little deeper than that.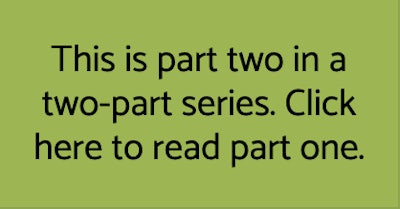 "Younger employees want to share their ideas and feel like they are heard and respected," says Caitlin Clineff, recruiting specialist and company ambassador with Myatt Landscaping Concepts. "Having a culture of communication and open-mindedness about trying new things may not be the reason the young people decide to apply to your company, but it may well be the reason they decide to stay."
Clineff says that companies can help build this culture of communicating by encouraging questions, implementing employee surveys, offering anonymous suggestion boxes and finding ways to incorporate this feedback into the company's culture.
According to Sarah Anderson, senior manager in the Tree Equity Program of American Forests, it's also important to keep in mind when hiring that like attracts like; exposure is important, but it's all about making the case to the right audience.
When targeting a specific demographic for hiring purposes, Anderson says to focus on looking in places where people already have an interest in the green industry, such as local community garden clubs, the local Chamber of Commerce or formal and informal green industry organizations in the community.
"If you're going to get people to stay, you have to make sure you're going after the people who have the highest propensity to want to stay and build their careers," says Anderson. "These jobs are hard, and these people are out in the elements."
She also recommends taking time to build relationships with people who run both community and professional organizations, but keep in mind that these relationships won't happen overnight.
Effective and ineffective communication methods

Communication is instrumental when it comes to the success of a business, and knowing how to effectively communicate across generations is vital.
Some may think that communication is communication regardless of how it's done, but Clineff and Anderson agree that younger generations require a different approach when it comes to corporate expectations and accomplishing tasks.
"The younger generations need to know why they are doing something and how it fits into the larger picture," Clineff says. "I've noticed that older-generation workers tend to pride themselves on being good at 'following orders' and being loyal to their supervisors. Younger workers may balk at being ordered around, which is often interpreted as not listening, being lazy or being insubordinate."
Clineff says if employers will take a little extra time to explain the big picture and what needs to happen to the younger members of their team, those same young workers could prove to be the most productive and will start taking care of things without being told at all.
Clineff also notes that millennials and Gen Z-ers will desire more frequent communication with their higher-ups and work associates, and she encourages those in charge to not wait until the end of the year to provide your younger employees with performance reviews and feedback.
While Clineff agrees that everyone in the workplace wants to be treated with respect, younger workers also come into the job knowing they have a wide variety of options ahead of them when it comes to employment.
"They don't want to wait around for years and years to earn respect based on seniority, whereas older generations may have had to develop more patience because they had fewer options," Clineff says. "In this competitive job market, why should anyone put up with being treated poorly just because they're new? They can easily go find another company who will treat them as a valued team member."
Anderson has seen many times in her career where ineffective communication caused issues and division in companies, and she says that not understanding how to properly engage with your fellow employees across age barriers could sink a company.
"The basis of poor communication, to me, is disconnectedness," Anderson says. "When we as people look at somebody else or a group of people that we're trying to communicate with as 'the other,' that means that something is going to be lost in translation. Even though your goal is to reach out and say, 'Join us,' you're putting them in a category that's not aligned with you."
In her experience, the basis for solid communication comes from the speakers taking the approach of "I am you, and you are me." She also notes that it's important to make sure that the people you are trying to attract are already represented in your company so these new employees will easily be able to see themselves represented in that work environment.
"That's the most powerful and effective form of communication," Anderson says. "You're not having to talk the talk; you just walk the walk and people will come."
What they have to offer
Taking a specific look at millennials and Gen Z, Clineff says both groups bring very unique and powerful attributes to the table that could ultimately help boost the green industry.
Millennials, she says, bring perspective to the table. As the generation that experienced both 9/11 and the great recession while growing up, Clineff believes that this group will be able to reimagine customer service, utilize new technology and find new ways to market environmental responsibility to the green industry.
As a millennial herself, Clineff says that when she began her current position, she fully understood the value of utilizing popular online job boards, keeping social media accounts updated and active and revamping the company's website.
"We know that our children will not have the same childhoods we did," Clineff says. "This gives us a unique perspective that could help companies modernize and adapt to the changing times, while still understanding and respecting the history that has come before.
Gen Z, she says, will be the change-makers, as she believes they are outspoken and unafraid of change.
"Gen Z employees can give companies the push to change things that are long overdue or re-evaluate what's important to the company and its employees," Clineff says. "Inaction on important issues will drive away Gen Z employees. Getting Gen Z employees involved in the industry, truly listening to what they have to say and then making real changes is the only way our industry will survive in the future."
Now, it's your turn
As a green industry employer, the ball is now in your court. With this information on hand, Clineff and Anderson urge those in charge to revitalize the way they market their jobs, to whom they are targeted and how communication is expressed in the workplace.
"Technology and social media are other ways to get younger people interested," Clineff says. "Showing that you aren't afraid to embrace technology and modern best practices and that you keep up with relevant research to the industry will go a long way toward making your company more attractive to young people."
Another important aspect both experts agree on is really showcasing the green impact your landscaping company has on the environment, as more and more members of the younger generations are eco-friendly and eco-conscious.
Anderson adds that another thing to highlight is the fact that interested applicants don't have to have a college degree to become successful in the green industry, as long as the work ethic and interest is there.
"No other field offers the pathway to be able to sustain yourself and sustain your family without having to have all of the education before," Anderson says. "You can go right into this work, you can grow in the field and you can become a job creator for others, all without having to go to school. You may need certifications along the way, but it's not the same as having to go to school."