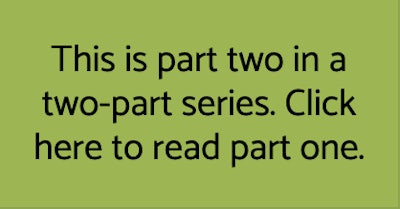 In part one, we touched on how important landscape suppliers can be for landscaping companies and how to find worthwhile vendors to partner with.
Today, we're looking at how to help strengthen the supplier relationships, the benefits that come from those relationships and how technology is changing the nature of these partnerships.
How to create a stronger relationship
Because landscape suppliers are running a business as well, one of the easiest ways to strengthen your relationship with vendors is to simply pay them in a timely manner.
"It's basically, whatever you say you're going to do, whatever deals that you make with them, you stick with them 100 percent because that's the only way that you can get trust," says Sharon Stettner, CFO of Environmental Enhancements, based in Sterling, Virginia.
Stettner says that if they happen to have a cash flow issue, they will communicate that to the vendor, who is very sympathetic and will give them an extension. In turn, when suppliers reach out to Stettner about a current cash flow problem, she will go ahead a pay part of a bill, even if it's due in 90 days.
"Whenever you do anything like that, all you do is just make friends all over town," she says. "You just have to be willing to have a relationship. I know the names of all the people who own these companies and the people who work for them. That makes a big difference when you call their office and try to make deals."
Arun Goel, CEO of STONEarch, suggests one way to personalize your relationships with suppliers is to visit their warehouse or invite them to company events.
"Share project pictures and reciprocate value back to your supplier through referrals and positive reviews online," Goel adds.
Another easy method of fostering a stronger relationship is to provide suppliers with as much lead time as possible on orders.
"Getting us the information as soon as they have it, whether the job's a month from now or two days from now," says Chris Mills, branch manager of a SiteOne Landscape Supply in Matthews, North Carolina. "Because that eliminates the chance of error or the chance that the customer's missing something, or if we didn't have something in stock versus something that we have to order and so on."
While this sounds like a simple thing to do, Mills says landscapers often call and need something in 30 minutes, which can result in elements of the order being missed.
Loyalty also goes a long way. Mills explains that while suppliers know landscapers will shop around, it's harder for vendors to help these companies grow.
"We value their business," Mills says. "If they've been with us some time, we'd like to hope that they're growing so when they're growing, they're buying more, which in turn, the more they buy, the cheaper the price goes on some things."
Reece Simon, owner of R. Simon's Lawn Care based in Matthews, North Carolina, says his advice is to ask suppliers lots of questions.
"I always tell others to ask questions," Simon says. "I ask a million questions. When landscapers go to a store, they need to be open to asking questions and taking their answers."
Benefits of strong relationships
There are multiple benefits that occur after you've found a landscape supplier you've built a relationship with. The main one tends to be special discounts or deals that suppliers won't do for just anyone.
One example of a supplier going beyond normal expectations is when Environmental Enhancements bought a considerable amount of snowmelt material, and their supplier bought back their last order's worth because they didn't end up using it. Stettner says they were very surprised the vendor was willing to take back the material and reimburse them.
"We try to stay loyal to our vendors," Stettner says. "And I think our vendors try to stay loyal to us."
Being a timely payer can also result in vendors being willing to offer 90-day payment plans for larger orders.
"Some suppliers even offer additional discounts to those who have a good payment discipline," Goel says. "There are even suppliers that may decide to provide you with some percentage off on your orders. The key here is to maintain a clean payment record with them and ensure your payments are right on schedule. Relationships are key in the landscape trade."
Some other strong supplier relationship benefits include excellent support, volume discounts and early access to new products that are innovative for the industry, according to Goel.
"Suppliers live and breathe their products, and they can help you further develop the new ideas and designs you have in mind," Goel says.
Technology's effect
Just like how technology has changed other aspects in the landscaping business, it has altered the nature of supplier relationships, but whether it is for the better or worse is a matter of opinion.
Simon believes the technology has helped improve things, at it allows him to order multiple products and save time.
"They punch your name in your company name and they've got your pricing," Simon says. "I mean, I can be in and out of the store if I want to very fast. And time is money."
Goel also believes that technology is strengthening supplier relationships.
"In particular, communication is more rapid with suppliers being available 24/7 through phone, text and email," Goel says. "Further, landscapers can often access the latest product information directly on supplier websites and be kept in the loop on promotions via email marketing campaigns. Suppliers are also producing extensive blogs to help provide landscapers with tips to install products and homeowners with product selection."
Mills doesn't see technology necessarily making anything better or worse, but merely provides a different way of doing things.
"Do they like being able to go on their phone and do this and do this?" Mills says. "Absolutely. But they also know that they can pick up the phone and call and there's that there's a supplier on the other side that is there to answer their question."
Stettner is a little more wary of the changes technology has on supplier partnerships, voicing her concern of how it has the ability to take away the personal relationship.
"I think technology makes it easier with respect to sending out purchase orders or getting invoicing or statements or things of that nature," She says. "I think technology is imperative for that because it has a fast turnaround. But with respect to business relationships, it's not to say that you can't have a business relationship through email, but it's not the same."