The iconic orange that is associated with Kujawa Enterprises, Inc. (KEI) based in Oak Creek, Wisconsin, not only helps the company win business with high-profile clients, but it also attracts some of its workforce.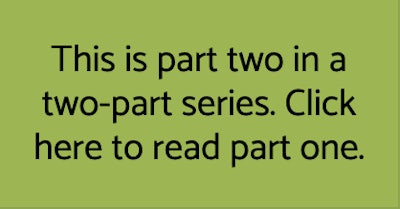 "People see us all over," says Chris Kujawa, president of KEI. "So if you're out looking for a job, just like maybe you're looking for a contract, you're going to seek out the people you know, or are at least perceived to be pretty big and pretty stable, so we do have that going for us."
However, KEI does have to deal with competitors trying to poach workers often. Yet despite this, Kujawa says he has an incredibly loyal workforce. A number of KEI's employees have been with the business for 20 to 30 years.
Kujawa says this loyalty comes from treating his employees right, paying them competitive wages and working with staff when they have personal problems come up.
"Because we're a family business, we engender a lot of loyalty and I think that helps," he says. "We have company picnics where we invite the whole family and the Christmas party where the families are invited. We try to just make everything really have a family atmosphere. We've got a number of fathers and sons, brothers and cousins that work for us all."
During the peak season, KEI employs anywhere from 130 to 150 workers. During the off season, the staff size drops a little bit but not by much, as the company rolls into its holiday lighting and snow and ice management services. Kujawa says these off-season services also help KEI retain its workers.
KEI used to participate in the H-2B visa program but found the program was a little cumbersome and unreliable due to the government's involvement. Some of the other ways KEI finds its workers are through employee referrals and recruiting in local Hispanic communities.
The Orange Standard
When the company switched from a beer distributor to a landscape contractor, they needed heavy-duty trucks in a pinch and ended up purchasing leftover city trucks that were orange. This is how KEI ended up associating its business with orange, and now the color is synonymous with all the company stands for.
KEI's values are summed up under The Orange Standard. Those at KEI are expected to care relentlessly, act graciously, lead courageously and learn continuously.
"Just not accepting mediocrity would be the easiest way to put it," Kujawa says. "Do not settle for complacency. That's a killer. Complacency, mediocrity, that all starts to manifest itself in a loss of clients, loss of creativity and you get bored."
Caring relentlessly means KEI focuses on earning its customers' business every day and maintains its long-term relationships. KEI acts graciously by giving back to the community and owning up to any mistakes it makes.
The company leads courageously by not being afraid to try new things or think outside the box for solutions. The value learn continuously means KEI takes the responsibility for its own development. One of Kujawa's favorite things about the business is mentoring young employees and watching them grow.
KEI is also driven by the MAGIS philosophy, which is Latin for "more."
"It's all about service," Kujawa says. "Be more. More means do more, be more, give more, expect more, demand more, all in a good way."
Even though KEI serves commercial customers, it strives to keep things personal. One way it does this is by posting employee bios on its website, where employees share some of their personal favorites, which serves as a springboard for customer connections.
"If you look at the questions, they're all pretty personal questions," Kujawa says. "They're more human questions. It's part of our success. If you look at it, there's a lot of smiling faces on it. You don't run mugshots. Who wants to deal with a mugshot? You want to get across that these people are happy, they're happy to be here and to be doing what they're doing."
Services offerings
Kujawa says one of the elements that KEI brings to the table is its scope of services and its expertise in those services. KEI works to take the worry out of property management for its high-profile clients by handling everything outdoors and even some indoor aspects.
"We bring a level of expertise that, frankly, just comes with having done this for 50 years," Kujawa says.
KEI offers landscape maintenance, landscape installation/enhancements, snow and ice management, holiday lighting and interior plantscaping to its customers. One service Kujawa says they are considering adding is the maintenance of parking structures.
"I think that's something that we could probably get into a little bit deeper," he says. "It would start with that, but then turn into the rest of the services as well so it's just another way to get in."
Landscape maintenance makes up 45 percent of the business and the install/enhancement is 25-30 percent. Snow and ice management, holiday lighting and interior plantscaping fill in the remaining piece of the pie.
"Very little of our install work or enhancement work is not done for existing clients," Kujawa says. "An existing client will throw off somewhere between 20 to 30, sometimes even 100 percent of enhancement work. Maintenance really drives the train and the enhancement work pulls from there."
KEI occasionally uses its snow and ice services to draw customers into a full-service package.
"For the most part, our snow and ice control is meant to be an ancillary service, as part of a full-service package to our existing customers," Kujawa says. "We will occasionally take on a snow account that is on its own, but that's always with an eye towards making it a full-service account."
When KEI works with a customer, it often creates a design roadmap and Kujawa says they tend to plan three to five years out with their designs because they expect to be working with the client for a long time. He says they will ask what the client wants them to do, but never leave it just at that.
"We try to draw out of them what their expectation is, and then you'll come up with the solution and the service," he says. "The other thing is we pride ourselves on being very creative and very innovative. I think that also speaks well to the whole concept of reliability and our can-do type of attitude."
KEI looked at the Christmas Decor franchises when it came to holiday lighting, but found it was more suited for suburban properties, while KEI decorates the majority of downtown Milwaukee businesses for the Christmas season.
"With our clients, they want what they want, and they want to be different," Kujawa says. "Christmas Decor couldn't help us with custom vignettes of penguins playing hockey, bears around the grand piano, stuff like that. Our custom lobbies are really pretty special. We've always just been a little more custom."

Keys to success
No matter what industry you're in, Kujawa believes that simple hard work is one of the main keys to anyone's success.
He also says dedication to service is crucial, which is where you are not the most important thing and everyone else comes first.
"Service is service to your client, service to your people as a leader, service to your industry, but be dedicated to service," he says. "Everything that's out there is bigger than you are. You're not the most important guy in the room. As soon as you start thinking that, everybody else recognizes that that's what you're thinking and that comes across pretty quick."
Kujawa's third key to success is to be creative. He encourages others to embrace new ideas and not become so risk averse that you fall into a rut.
He says not to be afraid of anything, but if there is one thing to be afraid of, it is complacency.
"Really encourage, develop and mentor your people," Kujawa says. "Understand the evolving nature of what we do. Embrace creativity and change, and work with your people and just be afraid of complacency."
Two phrases that Kujawa hates are "We've never really done it that way" or "But we've always done it that way."
"I don't care," he says. "Let's figure out what's the best way. I don't care if we've done it or never done it. What's the best way to do it?"