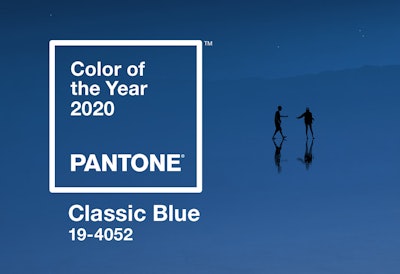 Pantone is kicking off the new decade with Classic Blue as its Color of the Year for 2020.
The authority on color says this is a timeless and enduring blue hue that is suggestive of the sky at dusk. Pantone says it highlights our desire for a stable foundation as we cross into a new era.
"We are living in a time that requires trust and faith," says Leatrice Eiseman, executive director of the Pantone Color Institute. "It is the kind of constancy and confidence that is expressed by PANTONE 19-4052 Classic Blue, a solid and dependable blue hue we can always rely on. Imbued with a deep resonance, Classic Blue provides an anchoring foundation. A boundless blue evocative of the vast and infinite evening sky, Classic Blue encourages us to look beyond the obvious to expand our thinking; challenging us to think more deeply, increase our perspective and open the flow of communication."
Pantone says this color is non-aggressive and lends itself to relaxed interaction.
While for flowering shrubs 2020 is the Year of the Hydrangea, according to the National Garden Bureau, you'll be hard-pressed to find a cultivar that provides an exact match to Classic Blue. The color is common enough in other industries, but in the natural world, finding true blue plants is rare indeed.
If you're looking to incorporate Pantone's predicted colors, you might be better off looking at the spring and summer color palette.
According to Pantone Color Institute experts, the colors for spring and summer 2020 express our desire for a sense of the familiar. Friendly and relatable, this palette of colors conveys a sense of ease, while taking some unique twists and turns. Sounds like just what your clients' landscapes might be yearning for.
These colors are bold and bright and include Flame Scarlet, Saffron and Orange Peel. Other shades of blue will also be popular with Faded Denim and Mosaic Blue. Rounding things out are the accent colors Biscay Green, Chive and Coral Pink.
"Combining our desire for stability, creativity and more spontaneous design approaches, the color palette for spring/summer 2020 infuses heritage and tradition with a colorful youthful update that creates strong multi-colored combinations as well as energizing and optimistic pairings," Eiseman says.