As part of Total Landscape Care's look back on 2019, here are the top 10 stories during the month of November.
10. Design/build: The benefits of gabion walls
There are many hardscaping elements that can be added to a landscape design that are both attractive and functional.
One example of this is the gabion wall. Gabion walls can be used in landscapes as retaining walls, decorative site walls, seating walls, accent walls and more.
Randy Jurgensen, president of Decorative Stone Solutions, based in Escondido, California, says gabion walls are well suited for mid-century modern designs as they tend to be more linear in shape and it's harder to make organic shapes with gabions.
Click here to read the full story.
9. AriensCo brands roll out a number of new products and upgrades at GIE+EXPO
The Ariens and Gravely brands rolled out a number of new mowers and announced updates on some of their product lines during the 2019 GIE+EXPO.
One of the new launches includes Ariens' first commercial zero-turn mower, Zenith. This ZTR was first introduced in the United Kingdom and Europe and following its success, Ariens is opening the product line to markets in the U.S., Canada and other regions of the Americas.
Click here to read the full story.
8. TruGreen partners with Brownstein Group for repositioning of the brand
TruGreen, a nationwide lawn care company based in Memphis, Tennessee, has recently partnered with Brownstein Group (BG) an independent marketing communications agency in Philadelphia.
BG has been selected as the Brand Strategy and Creative Agency of Record for TruGreen after a nationwide search for a strategic partner that would help the lawn care company grow its business through customer service and innovative digital solutions.
Click here to read the full story.

7. Final tire test update: Cooper AT3-XLT
It's been more than 30,000 miles and 11 months since we launched our extended tire test of Cooper's AT3-XLT pickup tire – a 2018 addition to Cooper's A/T3 truck tire lineup with fitment specifically targeting varying usage segments.
To broaden the line's capability, Cooper launched the Discoverer AT3 4S for SUVs and light duty pickups used for commutes and all-weather driving; the Discoverer AT3-LT for medium-to-heavy duty pickups that haul and tow heavy loads; and the Discoverer AT3-XLT for lifted pickups capable of extreme hauling and aggressive off-roading.
Click here to read the full story.
6. Cutting edge: 2019 GIE+EXPO brings new chain saws to market
At this year's GIE+EXPO, multiple green industry brands showcased the newest additions to their lines of chain saws, both battery and gas-powered. Take a look at what you need to know about these new saws.
The MS 500i is the first Stihl chain saw with fuel-injection technology. Stihl's first usage of fuel-injection technology was launched on the TS 500i Cutquik cut-off machine.
Thanks to the fuel injection system, the MS 500i has a power-to-weight ratio of 2.07 pounds per break horsepower (bhp). The machine has instant acceleration and is hard to bog down.
Click here to read the full story.
5. The importance of speaking Spanish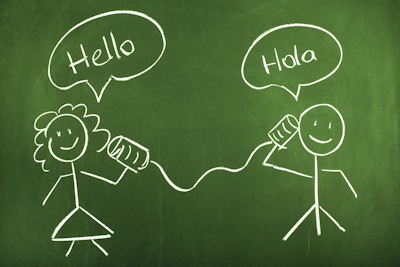 A number of landscaping companies hire H-2B workers to supplement their workforce, but even if you don't participate in the visa program, you've probably hired Hispanic employees at one point or another who may have had a limited vocabulary in English or not understood English at all.
According to the National Hispanic Landscape Alliance(NHLA), more than a half-million of U.S. Hispanic families depend on the landscape industry for their livelihood.
Click here to read the full story.
4. Tools of the trade: Landscapers' favorite attachments
Landscapers use a variety of attachments for doing everything from snow removal to jobsite cleanup, and regardless of how often they are used, every landscaper has a favorite attachment.
Total Landscape Care reached out to experts from John Deere, ASV and Toro to find out which attachments seem to resonate with landscapers.
Buckets (specifically a 4-in-1), pickup brooms, augers, nursery or pallet forks, forestry mulchers, landscape rakes and trenchers topped the list, according to these experts.
Click here to read the full story.
3. 10 attachments to help with productivity
The Kubota SC70 Skid Cutter is a 6-foot-wide heavy-duty attachment with a 7-inch cutting capacity for tackling small trees, shrubs, bushes and grass. Designed for Kubota's SVL95-2 compact track loader, the deck and side skirts are made of quarter-inch steel. The three-piece deck design has fewer weld points for added strength. Standard safety features include front and rear chains, a pusher bar and a patent pending bi-fold door that covers the cutting chamber when not cutting in heavy brush. A case drain and motor pressure gauge are optional.
Click here to read the full story.
2. Tiltrotators: Increasing the versatility of compact excavators
With no end of the labor shortage in sight, landscapers are looking for other methods to make the most out of their crews. One tool that is proving effective for early adopters is the tiltrotator.
This attachment does exactly what its name describes. It allows users to not only tilt an attachment left and right, plus-minus 45 degrees, but also rotates it 360 degrees on 1.5- to 40-ton excavators.
Invented in Sweden back in 1986, the tiltrotator is commonplace throughout northern Europe. However, it is relatively new to the North American market.
Click here to read the full story.
1. Pest control: Dealing with moles
Moles are just one of the many tunneling animals that can undermine your customer's well-maintained lawn, but they can be quite the challenge to get rid of if they are indeed the source of your client's subterranean woes.
When your client thinks that moles might be a problem on their property, it's important to first make sure that moles are indeed the culprit behind their yard woes.