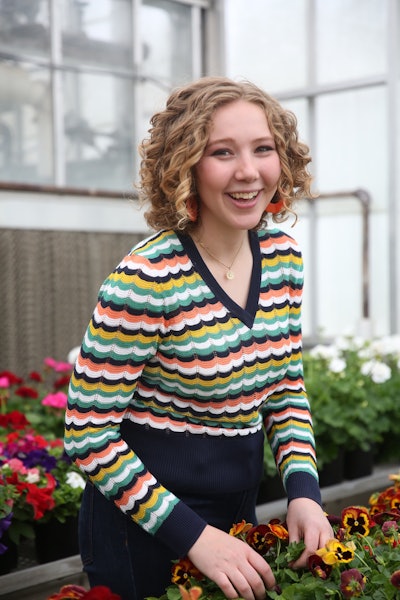 Although the 43rd National Collegiate Landscape Competition (NCLC) has been canceled due to coronavirus (COVID-19) and the traditional National Association of Landscape Professionals (NALP) Foundation scholarship reception was not held, we're still going to celebrate one of the many green industry students who received a scholarship.
Renata Goossen is a junior at Kansas State University who is majoring in horticulture production with a concentration in floriculture production and she earned the John Deere Landscape Industry Scholarship, worth $2,500.
"Getting the John Deere scholarship just by the name itself means a lot to me," she says. "I grew up with an agricultural background, not necessarily horticulture or landscape like a lot of the students I'm around, but we had John Deere equipment on the farm and growing up around that seeing the brand name was really cool and now being able to say that I won a John Deere scholarship is really a neat thing."
She says that winning the scholarship also helps with her education financially and will potentially allow her to study abroad. Goossen traveled to the Netherlands on a study abroad trip recently and would like to continue to gain an international perspective of the industry.
"We are inspired by Renata's passion for the landscape industry, and we are honored to name her as our 2020 scholarship winner," says Mark Schmidt, associate director of stakeholder relations and stewardship, John Deere. "Renata is an inspiration to her peers and her hard work, talent and devotion will certainly drive her continued success. We look forward to seeing the impact Renata will have on the industry."
Goossen was originally attracted to horticulture when she was a 10-year-old participating in 4-H. She says she participated in her county horticulture judging contest and was mentored by her horticulture agent and never looked back from there.
"I went to our state judging contest every year, then at Kansas State University, and was exposed to what a career could look like in horticulture," she says.
Goossen says it was an easy choice to pick Kansas State for her college, as it was in-state and is one of the only programs that has greenhouses on campus.
When she was a freshman, Goossen became involved with her horticulture club on campus. She says the club has been one of the best parts of her college experience because everyone is passionate about plants, nature and the environment.
"We do a lot of fun mixed with professional events, so that's really cool and we're all friends," Goossen says. "We're all taking classes together, so it really makes a tight-knit community in our department."
Because a lot of the students in the club attended NCLC, she quickly learned about the competition.
"I'm really competitive, so finding a way to compete on a collegiate level in something that I'm already so passionate about, something that I'm preparing to go into the career field doing was really, really cool," she says.
The first year Goossen went to NCLC, she didn't compete in an event because Kansas State has such a large team that attends each year. The following year, she decided that plant identification was her niche, so she competed in perennial and annual plant ID and placed 7th out of the 100 students who participated in the category.
"It's a lot of information to retain and then be able to apply," Goossen says. "By not knowing exactly what species they're going to give us of each plant or what state the sample is in, like a lot of the samples were so young, they're really hard to identify."
Goossen planned to partake in the perennial and annual plant ID again this year, before NCLC was canceled.
"It's a really good category for me because my main focus for my future career is in greenhouse production," she says. "So, I work with a lot of the plants that we actually judge during the event."
One of the other aspects of NCLC Goossen enjoys is the annual career fair where students can network and connect with future employers.
Goossen is currently considering two different career paths for after she graduates.
"I have a choice," she says. "I've really thought about pursuing the national or commercial level of greenhouse production. I'm really passionate about improving efficiency and innovation in the greenhouse so that we can decrease our footprint to the environment and also provide beautiful plants for the landscape industry and for people's homes. But also, I've thought about actually starting my own business. I have an entrepreneurship streak in me, and I love being around business-minded type people and marketing, especially horticultural marketing greatly interests me."