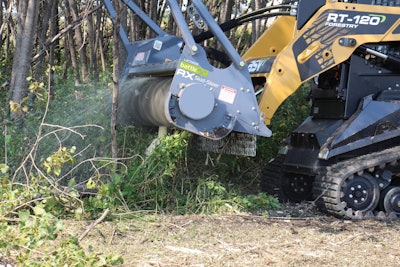 ASV Holdings Inc. partnered with Loftness Specialized Equipment to design a specialized Loftness S-series Battle Ax mulching head for optimized performance with ASV machines.
The company says the skid steer and compact track loader attachment available through ASV's dealer network is designed to produce a finer mulch with fewer passes. ASV says it pairs well with ASV's RT-75 heavy-duty and RT-120 forestry posi-track loaders.
The company says the attachment is ideal for improving productivity in forestry mulching, land clearing, trail development and right-of-way work.
"It is important to us that our partners' values align with ours, and we really see that in Loftness," says Buck Storlie, ASV Holdings Inc. product line manager. "It's why we worked so closely with them to make this specialized mulching head. The Battle Ax provides ASV customers the level of performance they need to get the most out of their machines."
The two companies say they worked together to match the attachment with ASV machines. ASV and Loftness say they extensively tested the Battle Ax with the RT-75 HD and RT-120F to optimize specifications and features including hydraulic settings, gearing, backpressure and more.
The company says the Battle Ax gives contractors the ability to fell large standing trees, shave off large material and complete forward and reverse mulching.
ASV says the attachment applies everything Loftness learned with the company's flagship Carbide Cutter G4 and takes it a step further. The signature shear bars and two-stage cutting chamber produce a finer mulch with fewer passes, according to Loftness.
ASV says the Battle Ax also includes the new Battle Ax rotor with built-in depth gauges, which are engineered to be less limiting than similar designs.
ASV says the Battle Ax is built with reliability in mind and includes steel housing for enhanced durability and a number of features that minimize moving parts and simplify maintenance. The company adds that an adjustable push bar and skid shoes give operators maximum control.
"We've worked with ASV for a number of years and we're excited that their customers have direct access to our Battle Ax," says Bill Schafer, Loftness product manager. "Extensive testing resulted in a unique attachment that pairs perfectly with ASV equipment's unmatched hydraulic power, reliability and performance."
When combined with ASV's RT-75 HD or RT-120F, the company says the Battle Ax performs at maximum capacity thanks to the perfect pairing between the attachment and the loaders' hydraulic system capacities and cooling systems. The company says these systems allow for operation even in high ambient temperatures with less risk of bogging down or overheating.
Additionally, ASV says its posi-track loaders' advanced suspension and flexible tracks provide more operator comfort and maintain better control of cutting height and speed as a result of the tracks flexing over obstacles instead of rocking over them.
The company says the unique undercarriage design also virtually guarantees the tracks will stay on, even in demanding brush clearing applications. ASV backs that up with the industry's first no-derailment guarantee.
ASV says the RT-75 HD and RT-120F include industry-leading enhanced operator protection, including a heavy-duty polycarbonate door, cross bracing and reinforced windows on a falling object protective structure (FOPS) and rollover protection (ROPS) cab.
The company adds that models also include metal guarding against brush and debris around lights, the AC condenser and rear screen. The company says machines blow debris from mulching applications out of the engine compartment screens with a hydraulically driven, auto-reversing cooling fan, and a full rear brush guard is also available as a factory-installed option.
Conserva Irrigation debuts in Utah, expands in Colorado and Texas
Conserva Irrigation recently announced the addition of seven new territories.
Despite economic uncertainty caused by COVID-19, Conserva Irrigation says it continues to grow and will now welcome four new franchisees to the system, expanding across Texas and Colorado, as well as debuting in Utah. Partnering with franchisees possessing corporate and maintenance experience, the company says it is slated to expand throughout the following territories:
Fort Collins and Southeast Denver, Colorado
Southern Salt Lake City, Utah
North Frisco, Texas
With the addition of seven territories in three states, Conserva Irrigation says it has now grown its footprint across 90+ territories in markets throughout the country. As a result of a strong company culture and recession-resistant franchise model, the company says sales were up 65 percent year over year (YOY) in Q1.
Conserva Irrigation says it has surpassed revenue goals for the year by 20 percent YOY.
"We've been fortunate enough to sustain success during the economic downturn because of continued strong consumer demand for our services, the ability to continue to operate as an essential service, our hardworking franchisees, technicians and corporate staff," says Russ Jundt, founder of Conserva Irrigation. "We're looking forward to launching in our newest territories. As our new territories launch, we'll begin hiring technicians, which will provide employment opportunities for those looking for a career in smart irrigation. It's been a challenging time for all of us, but our culture and togetherness have helped everyone pull through and we believe that's a major part of why entrepreneurs want to join this brand."
To quickly onboard new franchisees, Conserva Irrigation says it has launched a virtual franchisee training that includes in-depth videos showing franchisees how to use the equipment.
The company says sample equipment is shipped to the franchisee directly, so the training is interactive and engaging. Additionally, the company says to ensure proper social distancing measures are met as each territory opens, Conserva Irrigation is now utilizing contactless payment, as well as wiping down equipment consistently, limiting vehicles to one person and enforcing frequent handwashing and sanitization.
The company adds that all technicians must also stand 6-feet apart from one another and the customer.
Belgard University goes virtual with Belgard Training Center
Belgard recently debuted the Belgard Training Center, an online resource for landscape and hardscape trade professionals, including contractors, dealers, architects, designers and more.
The company says this resource center will house live and recorded Belgard University events, product installation guides, certification courses, third-party expert panels, virtual lunch and learns and other relevant content.
In addition to ongoing training and support, the company says the Belgard Training Center includes programming specific to the COVID-19 landscape, including insights on navigating work while keeping safety and health a top priority.
In tandem, Belgard says it is conducting training to internal team members to arm employees with tools necessary to support trade professionals at the local level.
The resource is located online and is available for free to all trade professionals. Belgard says third-party certification and courses with additional costs will be noted.
Aquascape offers full-spectrum lighting options
Aquascape Inc. recently added to its selection of pond and landscape lighting products with the Aquascape LED color-changing lights and Smart Control App.
The company says users simply plug the lights into the Smart Control Hub (sold separately) and pair with the Aquascape Smart Control App to control lights at any time from anywhere using a smartphone or tablet.
"The LED color-changing lights add personality to any water feature," says Dave Kelly, vice president of product development for Aquascape Inc. "The RGBW diodes allow you to choose from a wide array of color options, as well as a true white option. The possibilities are endless when using the Aquascape Smart Control App. The App allows you to choose colors, control brightness, set schedules and create themes."
Aquascape says the LED color-changing lights offer:
Durable, fully sealed, metal housing with a dark bronze protective finish
High-output, color-changing diodes with a true white option
Removable, injection-molded stand and stake to fit into any landscape or pond
Weatherproof quick-connect fittings to make installation quick and easy
Four color-changing light options are available: an 8-Watt spotlight, a 4.5-Watt spotlight, a 2-Watt light for waterfalls and a 2.5-Watt fountain light
The company says a Smart Control Hub and a low voltage transformer (sold separately) are required to run the lights.