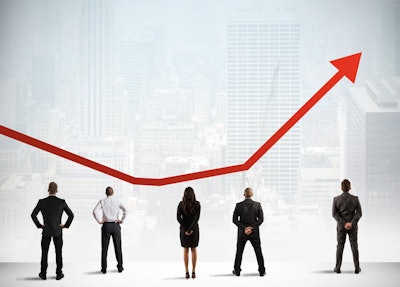 When COVID-19 hit back in March, many businesses scrambled to adapt to the newest way of operating, as well as implement different ways of interacting with customers.
For many small businesses and those in the trade industry, business began to suffer the longer the lockdown continued, but for the green industry, reports from Jobber show that many landscapers across the country fared well throughout those first few hard pandemic months.
The initial hit
According to Abheek Dhawan, Jobber VP, landscaping and lawn care clients are some of the largest industry segments for the company.
Before COVID-19, Abheek says the green industry portion of Jobber was growing at a rate of roughly 10 percent year-over-year, with a peak of 12 percent in March.
"If the pandemic didn't occur, it's reasonable to assume that this level of growth would have sustained through April and May instead of remaining nearly flat year-over-year, especially since the green segment tends to be seasonal with the bulk of work being conducted during spring," says Abheek. "The positive news is that June showed a pre-pandemic rebound to 10 percent year-over-year growth."
Across all home service industries, businesses saw the hardest hit in April. Abheek says this aligns with the record unemployment that was seen across the nation and the stay-at-home orders that went into effect.
According to Abheek, many states across the country began implementing stay-at-home directives as a result of the pandemic on March 19. By March 23, he says there were nine such statewide orders in place, and by March 30, that number hit 30.
Abheek says since many of these businesses were fortunate enough to still operate under essential status in many states, they were able to work outside. Due to the outdoor nature of landscaping work, Abheek says green industry businesses fared better than most because they were able to still perform their work while maintaining social distancing and proper sanitation practices.
As a result, Abheek says green industry segments never experienced a decrease in year-over-year growth, as revenue growth was essentially flat in both April and May.
"Aligned with this, there was a very quick drop in new work scheduled from roughly 16 percent year-over-year growth in the first half of March to -3 percent year-over-year decline towards the end of the month and into April," says Abheek. "This year-over-year decline lasted for six weeks before we saw this trend go back to positive in May. Revenue growth saw a similar decline at a similar pace, and for roughly the same amount of time. However, many of these businesses were able to sustain themselves on pre-scheduled work."
Abheek says that new work scheduled for the green industry began increasing modestly in May and ramped up in June, and he says the same holds true for revenues.
In June, both metrics looked positive, with new work scheduled growing by 26 percent year-over-year and revenue growing by 10 percent year-over-year. Abheek says both of these numbers are at or above pre-COVID levels, and he predicts revenue should continue to grow well in Q3.
"Apart from these dynamics, as many people have started spending a lot more time at home working remotely or generally isolating, we believe that many of them have taken the money they would have spent on a family vacation and spent it on home-related projects such as renovations or upgrading their outdoor space instead," says Abheek.
The road to recovery
While there's still uncertainty surrounding the coming months, Abheek says it is still possible that landscapers could recover from the 10 percent loss in expected growth now that the economy has re-opened. Overall, he says it ultimately depends on customer spending patterns.
"We do believe we're seeing a strong recovery, and unless states re-enact stay-at-home orders, I think we're past the worst of it and looking towards greener pastures," says Abheek. "That said, it's hard to know exactly what will happen with certainty. We are seeing a resurgence of COVID-19 cases in the US, and there's talk of a second wave in the fall. There is also still very high unemployment across the country, and it's hard to tell how consumer spending will be affected in the long term by all the changes we have seen in the last six months."
With social distancing practices here for the foreseeable future and many companies providing more work-from-home flexibility, Abheek says it's possible that homeowners will increase their investments in home maintenance projects since personal outdoor spaces are becoming more important than ever.
"One lasting positive effect that the pandemic will have on the green segment is the acceleration of technology adoption, especially solutions and software that allow for operations to be contactless," says Abheek. "Reliance on pen-and-paper has long been an inefficient practice, but now it's an unnecessary contact point that can be easily eliminated. Solutions that enable better communication with crews and homeowners, as well as digital payments, will become part of the new normal."