Launched in 2019, Bobcat says its Machine IQ wireless communication is a service designed to help owners and fleet managers better utilize their machines.
The company says it's been upgraded with two new subscription packages – Machine IQ Basics and Machine IQ Health and Security – for customers to check on the health of machines and remotely track information that enhances maintenance, security and performance.
The company says the Bobcat Machine IQ wireless communication solution connects customers to their machine's information anywhere and from any device.
Using Machine IQ, Bobcat says customers can monitor vital, time-saving information about their Bobcat compact excavators, skid-steer loaders or compact track loaders. The company says this information helps customers better track and utilize their equipment while making maintenance and asset management more efficient.
The company says information recorded by the Bobcat Machine IQ system is delivered to the Bobcat Owner Portal. With access to more information, the company says owners can better manage their Bobcat equipment and maintenance needs to increase machine uptime.
The company says the Machine IQ Basics package is a subscription service that allows customers to effectively manage their fleet, and the service is free for the first three years from the original equipment purchase date. Machine IQ Basic features include:
Basic telematics – Tracks key information points, including GPS location and history, operating hours and last recorded fuel levels.
Custom asset name – Allows customers to create personalized names to quickly identify machines in a fleet.
Maintenance interval tracking – Tracks regular planned maintenance and custom maintenance schedules and allows customers to view high-level instructions in the portal for each.
The company says the Machine IQ Health and Security package gives customers the ability to upgrade their machine subscription to proactively monitor their equipment.
Bobcat says this service is $200 per year plus a one-time $100 activation fee, and it includes all Machine IQ Basic features plus the following advanced features:
Maintenance reminder email alerts – Notifies customers via email when they are approaching regular maintenance. The alert provides high-level information on how to perform regular maintenance as well as on relevant parts. Customers can access the regular maintenance tracker to see what planned maintenance is coming up.
Fault code notifications and troubleshooting – Distributes alerts, a clear description and troubleshooting steps if the machine reports a fault code. Customers can also subscribe to email notifications for alerts and troubleshooting.
Geofence creation and breach notification – Provides customers with the ability to set up custom boundaries and receive email notifications the moment the machine leaves the specified operation footprint.
Curfew creation and breach notifications – Alerts customers via email if their equipment is being operated outside of designated days or hours.
Machine utilization reporting – Tracks machine efficiency and utilization to help customers make more informed decisions. The feature compares idle time, working time and fuel usage as well as generates custom reports.
In-portal notification management – Gives customers the ability to monitor notifications within the portal. A clear notification counter on the home page provides a singular place to manage all important machine notifications.
Ruppert Landscape announces promotions, new employees
Ruppert Landscape recently announced the promotion of Jamison Moore to director of information technology (IT).
Moore studied at Cornell University and is pursuing a B.S. in project management from Colorado State University Global. The company says he has over 17 years of experience in the IT industry, ranging from software development to project management, including defense research, interactive exhibits and serious games.
He joined Ruppert in February of this year as the digital project manager and the company says he quickly demonstrated his potential.
"Over the last several months, Jamison has proven to be an excellent addition to the IT team and continues to guide us to greater organization and efficiency," says Mike Felts, vice president of human resources and information technology. "He has the right mix of project management capabilities and hands-on experience to help drive our IT initiatives, and we are looking forward to benefitting from his expertise."
In his new role, he will be responsible for the management and development of the company's IT team, ensuring they are providing the best support possible for the company's internal users.
In addition, the company says he will act as the liaison between the IT department and the business by communicating strategy, employee needs, project ROI's, hardware/software needs, outsourcing opportunities and budgets to the executive team.
The company also welcomed Jason Dixon to the team as director of business development in the company's landscape management division. In this position, he will focus on all aspects of sales for the division including training, estimating, customer relationship management and more.
The company says Dixon's hire builds upon his existing relationship with Ruppert, having worked very effectively with both divisions through the company's long-time partnership with Neuberger & Co, a sales training and management consulting firm where he worked for 12 years and was a partner in the business.
Recently, he chose to leave Neuberger to focus his career on sales management. Ruppert says its leadership team felt that he would bring a wealth of knowledge to the team and would be a great fit and so, with the Neuberger team's blessing, brought him on board full-time.
"Jason knows the Ruppert culture, is an excellent trainer and has substantial sales team management experience," says Tom Barry, president of the company's landscape management division. "We are excited to have him join our ranks and look forward to his influence on our sales team."
Dixon has over 23 years of experience in sales management and business development. He has built and managed teams for one of the world's largest therapeutic equipment manufacturers, a national media organization and a global supply chain company, among others. He graduated from Penn State and has served on the boards of the YMCA and Little League Baseball.
"I am so excited to be a part of the Ruppert team," says Dixon. "Having the unique advantage of working closely with Ruppert for the last six or seven years, I already had exposure to many members of the team and the incredible culture. Culturally and philosophically it's a great fit and already feels like home."
Large rental companies join nationwide ARA 'Clean. Safe. Essential.' program
The American Rental Association (ARA) says that many of the equipment rental industry's largest and most widely recognizable companies have integrated the "Clean. Safe. Essential." program into their operations.
H&E Equipment Services, Herc Rentals, Sunbelt Rentals, Sunstate Equipment, United Rentals and others are participating in the nationwide, rental-industry-specific ARA member program designed to help keep the rental experience safe through the COVID-19 pandemic and beyond.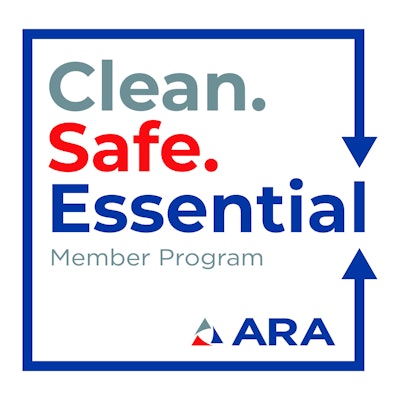 With implementation from the five largest equipment rental companies, the ARA says that more than 3,000 ARA member stores across the construction/industrial, general tool/light construction and party/special event segments are now recognized as "Clean. Safe. Essential." after completing the "Clean. Safe. Essential." training certificate program or an equivalent.
The ARA says their endorsement provides key support for a national rental awareness campaign that will be rolled out in 2021 as it continues to support members and the vitality of the industry.
The ARA says its "Clean. Safe. Essential." program provides member stores with consistent training on measures to minimize exposure to the coronavirus for customers, staff, vendors and guests. The ARA says training is based on expertise from the U.S. Centers for Disease Control and Prevention (CDC), World Health Organization (WHO), rental operators and equipment manufacturers.
The ARA says training is also updated with new guidance from these health organizations, and the group says it is currently on the third iteration of the content. Upon completion of the "Clean. Safe. Essential." online training program, the ARA says members receive a certificate and an implementation kit for their specific location.
"We're pleased that the largest organizations in our membership see the benefits of adding 'Clean. Safe. Essential.' to their existing safety initiatives," says Tony Conant, ARA CEO. "We appreciate their shared commitment to the safety of the rental experience. As more and more rental stores continue to complete the training, the next step is to increase national awareness that rental is clean, safe and essential to customer success."
Registration opens for reVISION ASLA 2020
Registration for the American Society of Landscape Architect's (ASLA) fall virtual event, reVISION ASLA 2020, is now open.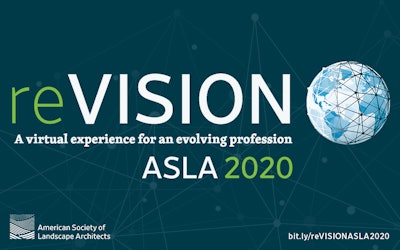 ASLA says the event will provide education sessions and discussions of some of the biggest challenges facing landscape architects and the design industry.
During the event, ASLA says there will be discussions focused on acknowledging racism, increasing diversity in the field and designing for diverse communities.
The group says that they will also have hands-on information to offer on the new "Design Day" that focuses on practice and innovations.
From high-profile speakers to virtual field sessions, to mentorship and peer-to-peer connections, ASLA says reVISION ASLA 2020 is a reimagined, virtual experience for an evolving profession.
Echo expands brand with wheeled trimmers and chipper/shredders
Echo recently announced the addition of two new product categories to the brand portfolio – wheeled trimmers and chipper/shredders. The company says these products are essential tools for landscapers, farm and ranch owners and various agricultural applications.
"It's an exciting time for Echo as we continue to expand our categories and offer innovative solutions to end users," says Jason Wilk, product manager, Echo Inc. "Like all our products, the new wheeled trimmers and chipper/shredders are built to be durable, powerful and reliable tools that get the toughest jobs done quickly and efficiently."
The company says key applications for the walk behind wheel trimmers include cutting dense weeds and mowing tall grass, with five times more power than a handheld trimmer.
Echo says the heavy-duty, commercial design allows for easy and convenient trimming along retaining walls, fences and other tight areas. The company says large 16-inch diameter wheels are designed for smooth maneuverability over rough terrain, while an extra-wide 24 in. cutting swath, coupled with ultra-heavy duty .155" Cross-Fire trimmer line increases cutting performance and efficiency.
Echo has three wheeled trimmer models to choose from:
WT-1610: 163 cc Briggs & Stratton engine. MSRP $559.99
WT-1610T: 163 cc Briggs & Stratton engine with the ability to tilt the deck. MSRP $699.99
WT-1610HSP: Self-propelled model with 160 cc Honda engine and 3-speed transmission. MSRP $999.99
The company says the three new chipper shredders are compact, powerful and loaded with heavy-duty, professional features. Echo says the thick-gauge steel chipping and shredding hoppers handle material ranging from light brush to large branches.
The company says the chipping hopper, with sharp, heat-treated blades mounted to a heavy-duty flywheel, can chip branches up to 3" in diameter. Additionally, the company says the shredding hopper contains free-swinging shredder blades that can pulverize lightweight material up to 3 ⁄4" thick and handle other garden waste.
Echo says all three models feature convenient, flat-free tires and handles for easy transport, and there are three chipper/shredder models to choose from:
SC-2013, 208 cc Briggs & Stratton engine. MSRP $1,299.99
SC-3013, 306 cc Briggs & Stratton engine. MSRP $1,699.99
SC-4213, 420 cc Briggs & Stratton engine MSRP $2,049.99