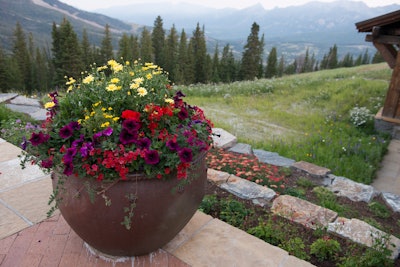 Blanchford Landscape Group
The bright beautiful blooms and unique arrangements of seasonal container gardens help them give them serious wow factor to the fronts of homes and businesses. Carrie Rule, a landscape designer with Blanchford Landscape Group in Bozeman, Montana says that the key to successful container gardens is proper maintenance. After all, there's nothing more frustrating than having one or two plants shrivel up, leaving a big hole in the arrangement.
Most important to a thriving container garden is the proper amount of water, says Rule. Forgetting to water the containers is the number one reason for their demise. That's why whenever possible, Rule recommends that these containers be tied into a property's drip irrigation system. It removes all of the guesswork of watering.
"We have also created self-watering containers for clients who are not able to tie into an existing irrigation system," Rule adds. "This is done using pond liner material or something else that water cannot cut through. We then create a water reservoir and use rope material and an irrigation tube so that the plants can 'drink' as needed."
Container garden care
In addition to watering, container plants can also benefit from regular fertilization. This helps give plants an added boost to continue to perform optimally. Along with that, Rule says that deadheading is also important.
"Cutting back the dead parts of the plant will push more blooms," Rule explains. "When deadheading is performed properly, you'll be able to keep your container gardens blooming with fuller and more vibrant blooms. We even see possible re-blooming of some buds with this technique."
In Montana, where wildlife is abundant, Rule says that container gardens should also be sprayed with deer repellent to keep these grazing creatures from making a meal out of the plants. Rabbits, squirrels, and other hungry critters are also common container garden threats. If this is an ongoing problem, moving pots up high—such as on a table—can help keep animals from reaching them. In a worst-case scenario, they could be moved to a garage or inside overnight.
Finally, light clean-up is also a regular part of container garden maintenance. Keeping these arrangements looking neat and tidy means regularly cleaning up debris (such as fallen leaves or blooms) and even occasionally cleaning up the pots themselves.
Container gardening as a professional service
With so many of their clients being second homeowners in Montana, Blanchford Landscape Group not only creates but also maintains seasonal container gardens as an additional landscaping service. According to Rule, clients want their container gardens to consistently look beautiful and well-maintained, they just don't have the time to do it. When clients are at their Montana vacation home, they just want to be able to enjoy it.
"In addition to performing all of the maintenance tasks needed to keep container gardens looking great, we're also replacing dying or fading plants as needed as part of this service," Rule explains. "That means that our clients' containers continue to look full and beautiful all season long. Even when properly maintained, certain annuals just have a short lifespan. But we're replacing them so that the gardens continue to look full without any gaps or holes."
Rule says that for some clients, seasonal container gardens are a year-round addition to their property. This means continually switching out plants as the seasons change. In the winter, she'll create pots with evergreen branches, pinecones, and more. But, if homeowners prefer to have their pots cleaned out and stored for the winter months, Blanchford Landscape Group will take care of that, too.
"Many of our clients are just looking for peace of mind that their second home or vacation property is getting what it needs and will look great when they come to visit," Rule says. "Beautiful and well-maintained container gardens have been an important part of that effort."