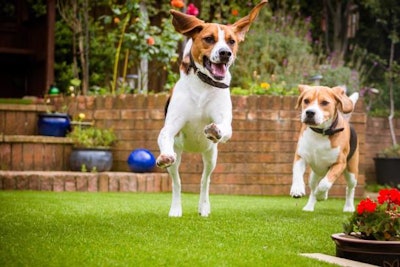 For many of your clients, their dogs are a part of the family. Because of that, they'll want to know that any lawn care treatments that you're performing are safe for their furry family member. They may also have concerns about lawn damage that has been caused by their pet.
Joey Steele, a lawn and plant health care manager at Master Lawn, a lawn care company based in Olive Branch, Mississippi, says that safety is always a priority. The company prides itself on great communication with clients about their pets.
"If they have a dog that will be at home during the time of lawn care treatments, we let the client know it's important to keep their pet inside," Steele says. "We are also careful about closing and latching gates when we leave."
Steele says that some clients have questions about the safety of the products being used. He tells them that products are safe when dry, so keeping pets inside during that initial drying period is key.
Solving lawn damage concerns


Clients who have dogs also commonly have questions about potential lawn damage. Master Lawn lets its clients know that there is no magic cure for a problem like urine burn, but that they can work with them to come up with solutions.
"Because dog urine is high in nitrogen and urea, in large amounts it can begin to burn the grass," Steele explains. "This can become problematic as many dogs tend to use the same spot in the yard over and over. We will talk to clients about whether they can train their dog to use a side yard or a far corner of the yard for this purpose. Or we can come up with another solution, such as eliminating grass in certain areas and adding mulch or rocks instead."
Another common lawn gripe for homeowners with pets is torn-up areas, which can harm grass and even create a muddy mess after rain. Again, this problem does not have a single, simple solution. Instead, Master Lawn works with each client to determine what works best for them.
"Some clients do have a side yard that works well as a 'dog run' type of area—and they don't care if it gets torn up because only the dog uses it," Steele explains. "But we have other clients who really want an immaculate yard. They often compromise by taking their dog on a lot of walks or taking advantage of a local dog park where their pet can get its energy out."
Professional flea and tick treatments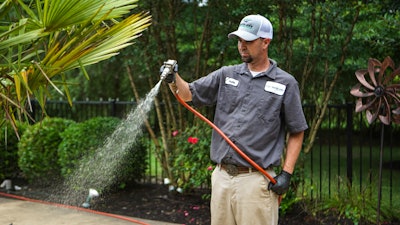 Steele says that the company has also found success in making clients' yards more "dog-friendly" with their flea and tick treatments.
"Our professional flea and tick spray is a popular service for clients with pets," he says. "We offer six visits, and we target the specific habitats where fleas and ticks are lurking on our clients' properties. This gives them peace of mind that their pets are protected."
Ultimately, it boils down to honesty and great communication, says Steele. Any company that is making promises about cure-all fixes for urine burn or being unrealistic about torn-up areas is only doing the client a disservice, he adds.
"We find that clients appreciate our open and honest communication with them," he sums up. "We have dogs, and we love them, too so we understand where homeowners are coming from. It's rewarding to help come up with solutions that will work for them."