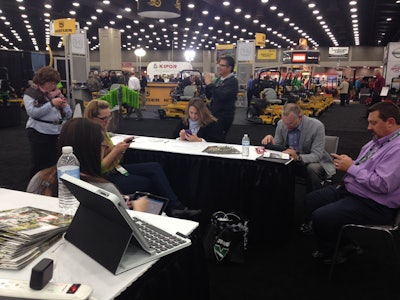 GIE+EXPO came to a close on Friday, and overall, it was a success.
We're excited to say our #landscapechat on Thursday went extremely well and meeting fellow tweeters was quite a thrill.
For those who may not know what #landscapechat is, we all come together over the social media platform of Twitter and talk.
A number of people from all over the country come together to talk about the green industry, and on Thursday, we all discussed the ins and outs of GIE+EXPO with members of PLANET, the Professional Landcare Network.
For landscapers who want to tap into the digital realm, get on Twitter.
It's a great social media platform to talk with other industry professionals and market what your business has going on.
Landscapers should get involved with the #landscapechat, and learn to talk to manufacturers, clients and dealers.
We hosted the #landscapechat in our booth on Thursday, and we had a good handful of people show up just to meet and greet.
Networking can start with the click of a button.
It was a great feeling to connect and work with industry professionals to bring important and relevant news to others about GIE+EXPO.